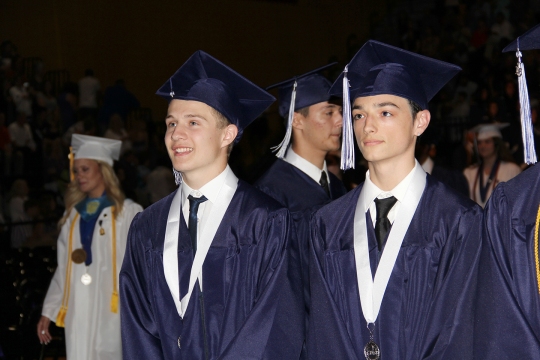 Graduation ceremonies for the county's seven public high schools were held June 2-4 at the Charles County Public Schools Convocation Center. La Plata High School staff and Board of Education members handed out 326 diplomas to the second largest Charles County Public Schools senior class in a graduation ceremony held June 4. La Plata's Class of 2016 earned more than $9 million in scholarship offers. Pictured are La Plata graduates Cole Baucom, left, and James Barton, right.
LA PLATA, Md.
(June 7, 2016)—Seniors from La Plata High School graduated on Saturday, June 4 in a ceremony that hosted the second largest Class of 2016 for Charles County Public Schools. A total of 326 graduates walked across the stage at the Charles County Public Schools Convocation Center.
The ceremony was filled with laughter and moments of remembrance as student class leaders reflected upon their high school careers and celebrated their futures to come.
La Plata High School senior class president Kristopher Lukas is salutatorian of the Class of 2016 and brought greetings to graduates and guests. He plans to attend the University of North Caroline at Chapel Hill to study biomedical sciences.
Lukas reminded his peers to remember those who helped them reach this point in their lives. "It is important not to forget anyone who got us to this point. We are like a symphony in a way... and the grand masterpiece is before you today. We each have our own part... us as the players and the faculty as our conductors. We have crossed over to the path of success," Lukas said.
Class valedictorian T.C. Martin, who told his peers for years that a longtime goal of his was to lead his class as the top student achiever, gave a heartfelt speech to his fellow graduates. "Let us support each other in whatever it is we decide to do. As we reflect on the past four years at La Plata High School, we know we are a class that helps one another succeed. We push each to do better, to be better," Martin said.
Martin is attending Yale University in the fall and plans to major in Spanish and modern middle east studies.
This was the first high school graduation for La Plata Principal Douglass Dolan. In comments to his senior class, Dolan thanked the Class of 2016 for their commitment to academics and school spirit.
"Thank you for making my first year at La Plata a success. When I looked up the definition of warrior I found it as a person who shows great rigor or courage. This class embodies those ideals in the best way possible. And I might add the characteristic of perseverance too," Dolan said.
La Plata's Class of 2016 earned more than $9 million in scholarship offers with additional offers to come. The La Plata ceremony marked the sixth high school graduation ceremony hosted by Charles County Public Schools at the Convocation Center June 2-4.
Photos from all graduation ceremonies will be posted on the school system website this week at
http://www.ccboe.com/graduation2016.php.