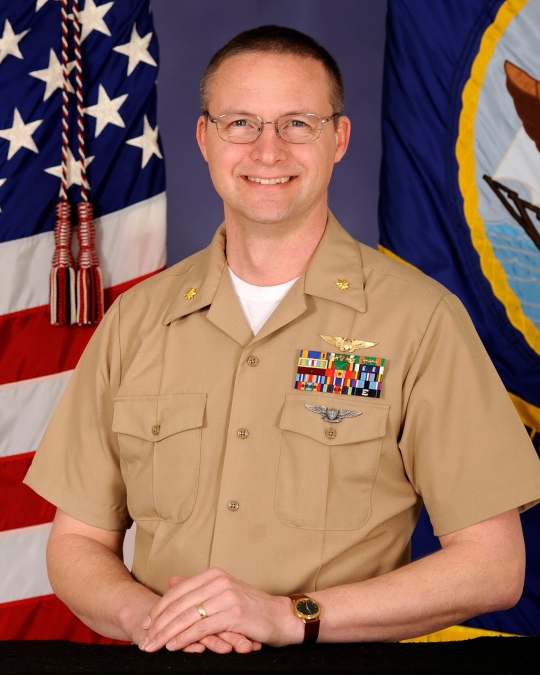 Lt. Cmdr. Glenn Rioux. (U.S. Navy photo)
This is one in a series of stories that feature military personnel serving at Naval Air Station Patuxent River.
PATUXENT RIVER, Md.
(June 7, 2016)—A 1990 Canyon Osbourn Park High School graduate from Manassas, Virginia native is serving with Naval Test Wing Atlantic (NTWL) supporting the future of naval aviation aboard Naval Air Station Patuxent River, Maryland.
Lt. Cmdr. Glenn Rioux is a naval flight officer serving with NTWL, responsible for the life cycle of mission systems on the MQ-8 Fire Scout Unmanned Aircraft System (UAS). He is a key member of a war fighting team that researches, develops, supports and manages sensor systems on the Fire Scout aircraft.
"What I enjoy most about my job is having the opportunity to work with an amazing group of professionals serving their country through military, government, and contractor service to fulfill Fleet requirements for an unmanned surveillance platform," said Rioux.
NTWL is responsible for safe and efficient execution of developmental ground and flight testing across all naval aviation platforms and systems.
It consists of five component commands, air test and evaluation squadrons, VX-20, HX-21 and VX-23, the Unmanned Aerial Systems Test Directorate and U.S. Naval Test Pilot School.
Rioux works directly for PMA-266, an unmanned aerial systems test directorate, which is responsible for testing and evaluating the Navy's newest and most advanced aircraft systems.
"Every command is different, each command has a different flavor, a different climate and a different pace," said Rioux. "PMA-266 definitely reflects the attitude of its commanding officer, Capt. Jeff Dodge, who is a great leader and an amazing advocate for making sure we are providing the right product at the right performance at the right time to those defending our country. He sets the tone of this program office to enable this team to aggressively pursue providing capability to the Fleet while being good stewards of our taxpayer's dollars."
NTWL includes approximately 3,800 personnel, including 400 military, 800 civilian, 2,500 contractors and 65 students at any given time. Working together to accomplish the command's test and evaluation mission, they do everything from maintaining aircraft airframes, electronic systems and engines, to handling administrative requirements, developing test plans, reporting test results, handling weapons and flying the aircraft.
"The men and women of Naval Test Wing Atlantic do great work every day to keep naval aviation at the cutting edge, said Capt. Brett Pierson, NTWL commander. "Whether they are flying or maintaining our aircraft, developing or executing test plans, or taking care of all the support we need in order to do what we do so well, our team takes pride in ensuring systems are ready for the fleet. I am very proud of our people for what they do to defend our nation."
Serving in the Navy, Rioux is learning about being more of a leader through handling numerous responsibilities.
"Enlisting in the Navy right out of high school, I worked my way up through the ranks, earned my college education, excelled in flight school, sacrificed to serve my country, and am now on track to be the commanding officer of the U.S. Naval Test Pilot School in roughly two years," said Rioux. "Since serving in the Navy for 25 years, I have learned that no matter your history, if you take pride in your work, are honest, display integrity, work hard, respect people, study the art of your trade, seek advice of those who have gone before you and stay true to your religion, yourself, your family, and your friends, not only can you make something of yourself serving in the military but in life as well."