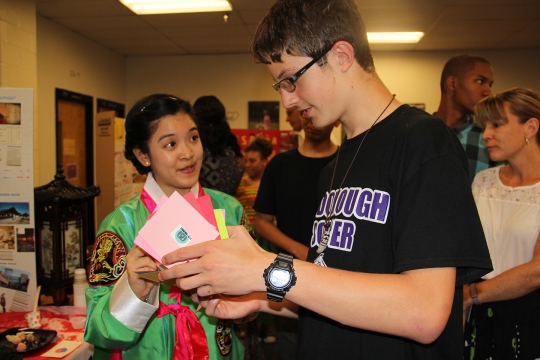 Maurice J. McDonough High School sophomore Eunyeong Joo, left, is a native of South Korea. During the International Festival she talked to Denver Bennett, a sophomore, about her home country's traditions and cuisine. Students had their "passports" stamped as they visited different stations during the fair.
LA PLATA, Md.
(June 7, 2016)—At Maurice J. McDonough High School, world geography was scrambled May 31 with Vietnam next to Spain, Jamaica bordering Pakistan, Finland neighboring Portugal. Several of the school's students—immigrants or the children of immigrants—hosted an International Fair to showcase the cultures of their native countries.
The newly formed International Club came about when three or four students met in the library during Herd Time—the school's one-hour lunch period. Soon, others trickled in, intrigued by the idea of bonding with peers, sharing stories and advice about being in a new country. Eventually the club lit on the idea of holding a festival that would highlight history, culture, cuisine and traditions of countries such as Vietnam, Mexico, El Salvador, Jamaica, Guatemala, South Korea, Venezuela, Nigeria, The Gambia, Pakistan, Uzbekistan, Iran, Spain and others.
With the help of media specialist Stephen Fitzgerald, the fair drew about 200 guests—even without the senior class in school—who signed up through English classes. Everyone received a "passport" and were encouraged to visit the displays to learn more about where their classmates' families called home before moving to the States. Many of the students with booths at the fair are those in the Secondary Academy of International Languages (SAIL), an academy for the English language learners (ELLs) enrolled in the English for Speakers of Other Languages (ESOL) program.
"People judge you because you act differently," said sophomore Ellie Karimi, whose family immigrated from Iran last year. She said her country doesn't have the best reputation in the U.S., but it's a culture of kings and queens and one which values poetry. "I have lots of friends who are ESOL or from different cultures," Karimi said. "The fair was a good chance for us to talk about our cultures. We learned a lot about each other. This is who we are, not everyone is the same."
Chad Nusang, a freshman, is from Jamaica and he's proud of it. "Nobody can beat Jamaica," he said. "The food, the beach …"
"The food," sophomore Oshae Johnson, also a native of Jamaica, echoed. "It's a bond you have with your family." Nusang and Johnson said their favorite hometown meal is oxtail with rice and peas.
"You can't get it anywhere here," Johnson said. "And if you can, it's expensive."
"In Jamaica, they give it away," Nusang said.
Food was a common theme at the festival, with each "country" touting theirs is the best.
Juniors and twin sisters Chinazam and Chisom Ojukwu were born in the States to parents who immigrated from Nigeria in the late 1990s. "We've never really done anything to express our culture," Chinazam said, adding that Nigeria is "so lively and the food is really good."
"Our food is different from other cultures, it's more spicy," said Ana Chavez, a junior originally from Mexico. Chavez painted her face in calavera makeup representing the Mexican holiday of Dia de los Muertos, or Day of the Dead.
Fitzgerald is quick to point out the fair was student-driven and organized. "A lot of work has gone into this, and I hope you get a lot of out of this," he said to visiting students before the start of a third session of the fair.
"It gives you a different perspective about everyone here," freshman Lauren Haley said after visiting Chavez's booth. "You don't learn a lot about this during the school day."
"Sometimes there's cultural ignorance, and that can cause a lot of problems," said Charlie Olmsted, a sophomore who had just visited Sohna Sallah's The Gambia booth.
"You can't just stay in America and have an Americentric view of things," said junior Mya Harding. "We need to open our minds a little bit more."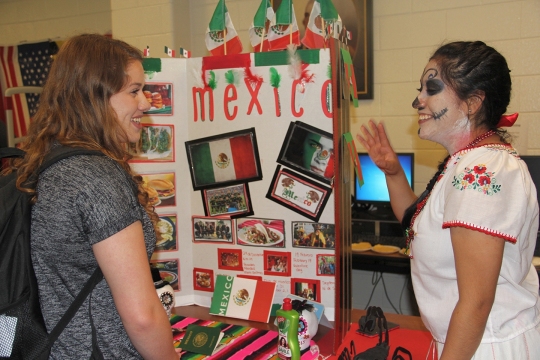 Ana Chavez, right, a junior at Maurice J. McDonough High School, talks to freshman Lauren Haley about Mexico's Dead of the Dead.