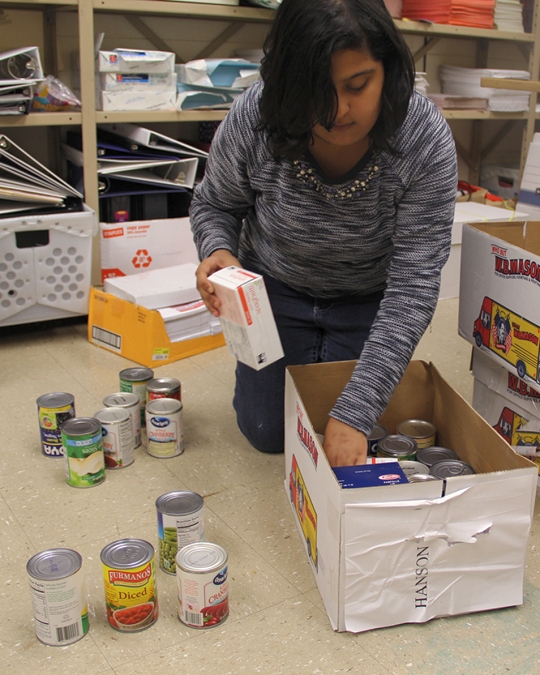 Yachi Madaan, a John Hanson Middle School seventh grader. The school is located in Waldorf, Charles County.
WALDORF, Md.
(June 6, 2016)—Yachi Madaan is the type of kid who when a teacher stops her in the hall and has a last minute favor—would she mind leading the Pledge of Allegiance at an assembly—she doesn't hesitate before shrugging and saying, "Sure." Madaan, a John Hanson Middle School seventh grader, also didn't miss a beat when she learned that some families struggle with hunger.
"Our families, our teachers always tell us to help our community," Madaan said. "I want to help kids and families that struggle with hunger. I wanted to do something for someone else."
She said that clothes, toys, extra food shouldn't be thrown away, it should be given away to help those in need. "We have to do something with it, so why not give it to someone who needs it more than you?"
Madaan asked Hanson Principal Susan McCormick if she could hold a food drive at the school. McCormick signed off on it and suggested donations go to the Southern Maryland Food Bank. The first week of May, Madaan started making announcements in the morning and at lunch, and going door-to-door to classes encouraging students to bring in donations. A "penny war" was held each day at lunch, with sixth grade ultimately winning by donating about $80, Madaan said.
The drive ran through May 28 with five boxes of food collected and $159 raised. For each can donated, the student received five "Pat Bucks," the school's currency that can be used at the end-of-the-year carnival.
McCormick said that Madaan's initiative and commitment to the project was "awesome." "It gives you hope for the future," she added. "She is thinking about others; it's a testament to her character."