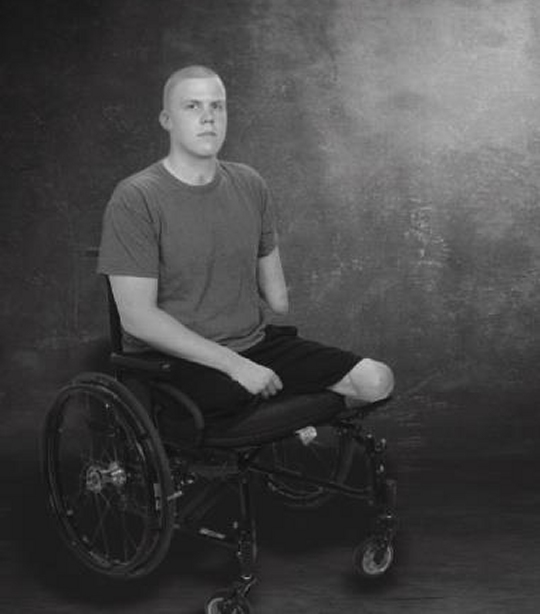 Thomas Caleb Getscher, a U.S. Marine critically wounded from a bomb blast in Afghanistan in 2012.
HOLLYWOOD, Md.
(June 2, 2016)—Thomas Caleb Getscher, a U.S. Marine critically wounded from a bomb blast in Afghanistan in 2012 that left him a triple amputee, will be moving into a custom built home designed specifically for him to get back to living a more normal life.
The new home on Juniors Court in Leonardtown is a spacious, single-level house with state of the art appliances and amenities designed to give Getscher freedom of movement and ease of access to all parts of the house.
"It's awesome that I'm getting this house in just six days," Getscher told The County Times. "I'm super stoked about the things I'm going to be able to do once I'm in there. "It's a great place for a new family."
The new home is situated close to Benjamin Banneker Elementary School, which Getscher said is one of the best reasons for living there.
"My daughter is going to school right behind the house," he said. "You can't get any better than that.
"I'm extremely grateful and blessed to be living there. There are a lot of good people who made this happen, the just give and give."
The
Stephen Siller Tunnel To Towers Foundation
, named for a New York firefighter killed in the 9/11 attacks, is responsible for the funding behind Getscher's new home.
"There's a real need for these homes," said John Hodge, spokesman for the foundation. "We have over 200 people on our list.
"It's all about donations and fundraising at this point."
Getscher's is one of 15 homes that the foundation builds every year for wounded war veterans, Hodge said.
The entire home is being given to Getscher at no cost to him.
"He's getting the house, he's getting the furniture, he's getting the electronics," said John Ponte, foundation COO overseeing the construction of the so-called "smart home."
The amenities include motorized doors, music-on-command that can be played throughout the home, temperature and lighting that can be controlled by an iPhone, fully automated toilets.
Also included are lowered cabinets and countertops to allow access from Getscher's wheelchair as well as a room-to-room intercom.
For more local news stories from the County Times newspapers, visit ct.somd.com