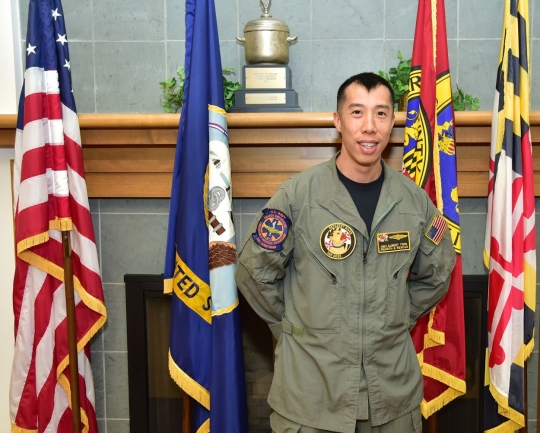 Petty Officer 1st Class Albert Tran is a hospital corpsman at NAS Patuxent River. (U.S. Navy photo)
This is one in a series of stories that feature military personnel serving at Naval Air Station Patuxent River.
PATUXENT RIVER, Md.
(June 3, 2016)—A 2003 Mark Keppel High School graduate and Monterey Park, California native is serving "Where the future of naval aviation begins" at Naval Air Station (NAS) Patuxent River, located in Patuxent River, Maryland.
Petty Officer 1st Class Albert Tran is a hospital corpsman at NAS Patuxent River, responsible for the overall health and well-being of sailors and leading the command search and rescue team on various missions, training exercises and operations.
"I enjoy the excitement of being a part of the search and rescue unit that serves not only sailors, but the Patuxent community as well," said Tran. "Additionally, I'm the leading petty officer for my division and I love leading and mentoring my junior sailors."
Tran said he and other sailors are proud to be serving at a command that readily defends America at at all times.
"Not only do I like the great camaraderie that I share amongst my fellow sailors, but the outstanding support up and down the chain of command I receive on a day-to-day basis is great," said Tran. "Everyone takes care of one another here on and off duty."
Serving in Navy, Tran is learning about being more of a leader through handling numerous responsibilities.
"The Navy has given me a sense of direction and it's helped me establish goals both professionally and personally," said Tran. "I also love the traveling aspect while being on deployment. Not only do I get to visit different countries and experience different cultures, but as part of the world's finest Navy, I get a sense of pride knowing that we are making differences throughout the world."