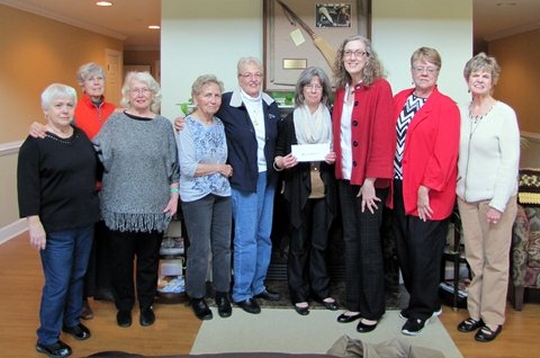 Members of the Chesapeake Garden Club. (Submitted photo)
PRINCE FREDERICK, Md.
(June 3, 2016)—The Chesapeake Garden Club presented
Calvert Hospice
with a $500 donation from a fundraiser that they held in Grace Sturdevant's honor. Ms. Sturdevant was instrumental in starting the Chesapeake Garden Club in Calvert County more than 50 years ago. She was a Master Gardener in addition to her membership with the club. Her daughter, Kay Hardisky, said that her mother enjoyed her flowers, the companionship, and the opportunity to give back to the community that the club provided.
The fundraiser started in January 2016 at the Executive Meeting of the Chesapeake Garden Club, a member of the Federated Garden Clubs of Maryland. The local chapter was able to sell the arrangements that were made and designed for the larger meeting, netting $475 in donations. They made up the additional $25 from a personal donation by one of the members.
Seven members of the Chesapeake Garden Club attended the check presentation: Helen Downey (President), Linda Springfield (Guest member), Carol Orlando (Vice President), Bev Steadman (Member), Pearl Haley (Corresponding Secretary), Kay Parris (Recording Secretary), and Norma Phelps (Member).
The Chesapeake Garden Club has several ongoing projects. They created and maintain a butterfly garden at Battle Creek Cypress Swamp, and they renovated and maintain two gardens at the Fairview Branch of the public library. The club installed 26 bluebird boxes at the Naval Radar Station and Twin Shields golf course in Chesapeake Beach. They make small floral arrangements for female inmates who are released from the prison in Jessup so that they have something cheerful when they are released. Four times a year the group goes to Calvert Pines Senior Center and the North Beach Senior Center for garden therapy. Chesapeake Garden Club provides all the materials for seniors to make their own flower arrangements that they can take home with them. The group finds that attendees look forward to the visits and truly enjoy the time they spend with the flowers.
The local club has about 28 members and meets the 3rd Tuesday of each month at 10 am at All Saints Episcopal Church. New members are always welcome. If you would like more information, contact Helen Downey at 410-535-0780.