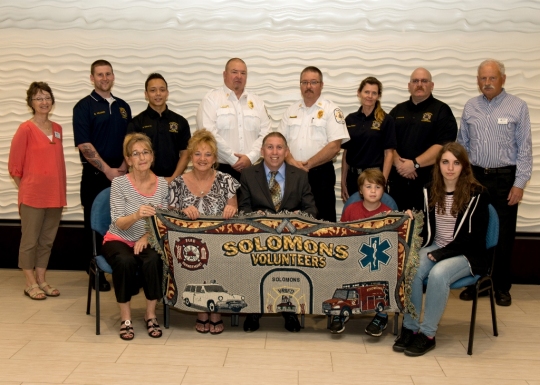 Pictured (l to r) seated are Mr. Lankford's daughters Betty Norris and Charlene Lankford, Commissioner Mike Hart, Zachary Hart and Lexi Hart. Back row (l to r) Sherrod Sturrock, Acting CMM Director, Solomons VRSFD crew Britton Williams, Devin Edwards, President John Pardoe, Chief Joe Ford, Alison Dickson, Joey Leannarda and Richard Dodds, Curator of Maritime History. (CMM photo courtesy Robert Hall)
Commemorative Throw Donated to CMM in Honor of Raymond Lankford
Raymond Lankford, a lifelong member of the Solomons Volunteer Rescue Squad and Fire Department (VRSFD), was determined to see that the Calvert Marine Museum received one of the department's special commemorative throws. It was, he believed, a piece of local history worth keeping. On May 25, he got his wish. Representatives from the Solomons VRSFD, joined by Mr. Lankford's daughters, Betty Norris and Charlene Lankford, Commissioner Mike Hart and his children, presented the throw to Sherrod Sturrock, Acting Director, and Richard Dodds, Curator of Maritime History, for the museum's collection.
Raymond Lankford was born in 1926 on Solomons Island and has been an active member in the community for many years. He and his wife Betty have been married for 70 years, raising 10 children, and enjoying dozens of grandchildren and great-grandchildren. Mr. Lankford is a legend in Solomons Island.
A dedicated volunteer in many organizations, Raymond Lankford is well known and respected, especially by members of the Solomons VRSFD. President John Pardoe shared that Lankford was one of the founding fathers and has been an active member for 60 years. He joined the department in 1956 when the Calvert County Volunteer Rescue Squad (as it was called back in the day) was where the Thai Restaurant in Solomons is now located. The building had a single bay with a 1955 Studebaker as the first ambulance. Lankford was president for 12 years and was instrumental in the purchase of the property where Solomons VRSFD is today.
In early April, the Solomons VRSFD honored Mr. Lankford for his years of service with a surprise celebration. He and other lifelong volunteers were presented with several gifts, one of which was a commemorative throw depicting the history of the equipment. At Mr. Lankford's suggestion, the Solomons VRSFD graciously donated one of the throws to the Calvert Marine Museum in honor of Mr. Lankford, where it will be added to the historical Solomons collection.
New Exhibit Opens in the Mezzanine Gallery
Vanished Steamboats on display now through December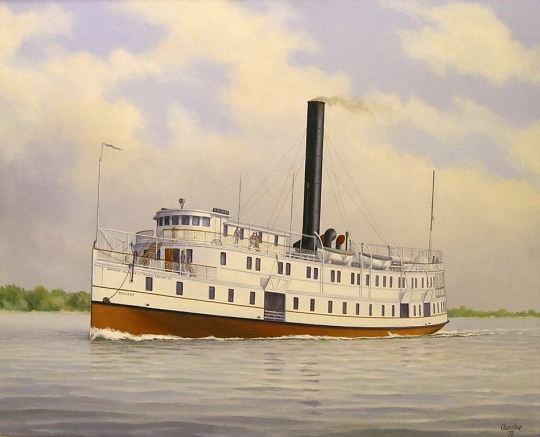 Oursler painting "Calvert Approaching."
Steamboats were once a familiar site on the Chesapeake Bay and provided rural tidewater areas a lifeline to Baltimore, Norfolk, and Washington, D.C. Vanished Steamboats: The Maritime Art of C. Leslie Oursler, beautifully captures the spirit of a bygone age through several art mediums. The exhibit is on display in the museum's Mezzanine Gallery now through the end of December.
Vanished Steamboats offers a thoughtful perspective of Oursler's lifework—not only in paintings, but also in sketches, drawings, ship's models, and ceramics. As a backdrop for the artworks, museum muralist Tim Scheirer created a 36' image of one of Oursler's drawings. The exhibit includes a graphic explanation of how he took a 36" drawing and created a 36' mural, illustrating each step in the process.
Clarence Leslie Oursler (1913-1987), a self-taught Maryland artist had a passion for painting ships, seascapes, and waterside scenes of the Chesapeake Bay region. Oursler painted over 180 marine works during his career and the Calvert Marine Museum is fortunate to curate the largest collection of his works dating from 1967 to 1986. The exhibit explores the changes in the artist's painting techniques from his realistic portrayals at the height of his career to a more impressionistic approach to painting in his later years.
For generations, steamboats affected the way people traveled, earned a living, and socialized around the bay. Vanished Steamboats depicts the beauty of these vanished icons with selected works from the museum's collection, along with items loaned for the exhibit by steamboat historian and guest curator, Jack Shaum.
Jack Shaum, a Baltimore native and veteran reporter who worked in print and broadcast journalism, met Oursler in the 1960's through their shared interest in steamboats. They became good friends and Shaum began collecting the artist's works. His love for steamboats and his journalism career allowed Shaum to profile the artist on several occasions. He was guest curator for CMM's first C. Leslie Oursler exhibit in 1991 and spoke at the private opening of this new exhibit on May 6. Speaking about Oursler's work, Shaum said: "His work deserves to be better known and it's wonderful that the museum has so many of his paintings. This exhibit is a very good cross-section of his work."
C. Leslie Oursler's artwork also appears in the collections of the Chesapeake Bay Maritime Museum, The Mariners' Museum, the Maryland Historical Society, the Steamship Historical Society of America, and the Steamboat Era Museum, as well as in many privately held collections.
The museum will host a lecture series around the Vanished Steamboats exhibit in the fall of 2016. Jack Shaum, guest curator and steamboat historian, will return on Thursday, September 8, to share his stories about the artist and his works. Ralph Eshelman, local historian and former CMM director, will talk about steamboats in Southern Maryland on Thursday, October 6. On Thursday, November 10, Pete Lesher, Curator of Maritime History at the Chesapeake Bay Maritime Museum, will talk about steamboats in the Chesapeake.
Lore Oyster House Days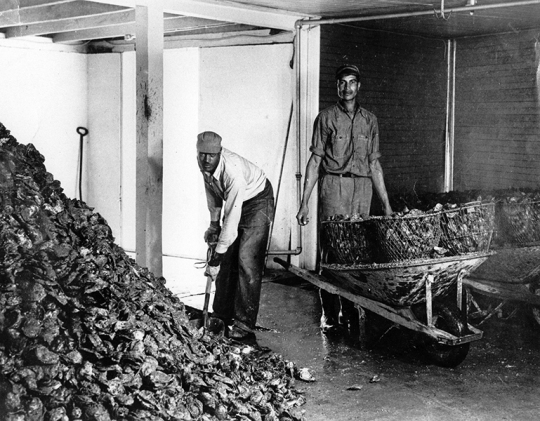 Historic photo from the Lore Oyster House on Solomons.
Come learn everything you want to know about oysters! Join us for Lore Oyster House Days on Saturdays, June 25, July 16, and August 20 from 1:00 p.m.–4:00 p.m. at the J.C. Lore & Sons oyster house in Solomons. FREE program.
Travel back in time to the days when the J.C. Lore & Sons oyster house was a thriving oyster packing house. Meet the skimmer, who tracks how many pints are shucked and what the shuckers should be paid. Tie on an apron, become a shucker and experience the challenges and rewards of a piecework wage earner. Along the way, try your hand at oyster tonging; learn to tie a tow line and coil a rope; measure oysters with a special tool; and follow the path an oyster takes through the packing house from unloading at the dock to the shipping room.
Restored Antique Canoe Restoration For Sale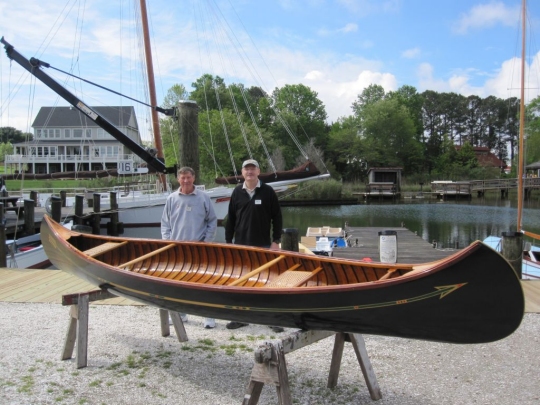 This restored canoe is for sale.
The Patuxent Small Craft Guild (PSCG) members were very busy over the winter and completed many projects. One of which was the restoration of this 1925 Kennebec Wood and Canvas Canoe. This beautiful antique boat is selling for $2,500 with all proceeds benefiting the museum activities supported by the Guild. Pictured behind the boat from left to right are PSCG members, Tony Pettit and Brian Forsyth. For more details, please contact George Surgent at 410-586-2700.
Catboats Return by Popular Demand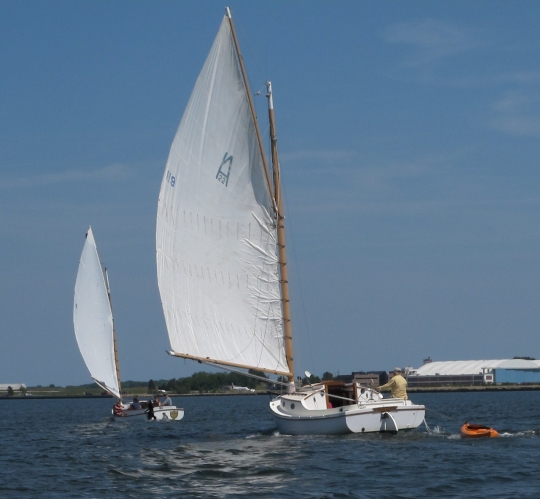 Back by popular demand, catboats return to Solomons on Father's Day weekend for the annual Patuxent River Shootout. They will arrive mid-afternoon at the Lore Oyster House, Saturday afternoon, on June 18.
The Shootout will begin at approximately 1:00 p.m. on Sunday, June 19 and can be seen from the Solomons boardwalk. After the race, meet the captains and see the boats on display in the Calvert Marine Museum boat basin until 5:00 p.m.
The Catboat is a New England traditional sailing craft with a design that dates back to the 1800s, but with origins in England some say. Originating in name and most commonly referred to as the Cape Cod Catboat, it was first used as a fishing boat, and can be found in many design variations. It became the dominant inshore workboat in New England, as well as a boat for both social and racing pleasures. It is most often seen on the East Coast, from the Chesapeake to New England. Typically half as wide as it is long, and best known by its shallow draft, gaff rig and mast forward in the bow of the boat, this boat is ideal for cruising the shallow waters of the Chesapeake Bay. Typical boats are between 14 and 25 feet long, but feel much larger and are easily sailed by one, though when the wind pipes up another hand can be welcome with the typically large/oversized mainsail. A Menger 23 carries 435 square feet of sail.
For more information on catboats and catboating events locally, visit the Chesapeake Catboat Association's website at
www.chesapeakecatboats.org
, contact Steve Flesner at flesner00@comcast.net or call 410-610-8859.