K9 Officers Participate in Prestigious Airport Explosive Detection Training in Canada
St. Mary's County Sheriff's Office Canine (K9) Officers Cpl. Todd Fleenor and Cpl. Shawn Cathcart traveled to Montreal, Canada, during the week of May 15-19, 2016, to participate in canine officer training exercises. With their canine explosive-detection partners, "Filly" and "Jasmine", they practiced scanning for suspected explosive devices in the airport terminals, passenger airlines, passenger baggage systems, and surrounding grounds of the Montreal International Airport. The canine teams also responded to a 'live' call for service and assisted in the investigation of suspicious packages in and around the airport terminal.
In addition, during Basic Patrol Canine Training, International Police Work Dog Association (I.P.W.D.A.) Master Canine Trainer Corporal Fleenor conducted evaluations of several other canine teams. Patrol Canine duties consist of building searches, tracking, area searches, evidence/article searches, aggression control, and obedience to commands. During the assessments, Cathcart assisted as a decoy for the patrol canines.
"The timing of this training could not have been more fitting," said Captain Steven Hall, Commander, Special Operations Division. "Based on recent world events, the experience our K9 officers obtained while training in an airport environment will prove to be invaluable. I am proud of the St. Mary's County Sheriff's Office K9 Unit, their dedication to duty, and the reputation of excellence they have earned both nationally and internationally."
Along with Sheriff Tim Cameron and Captain Steven Hall, Fleenor extended his thanks and gratitude to the members of the Montreal Canadian Airport Canine Unit for their hospitality, especially Head Trainer Yanick Choquette. "This was the experience of a lifetime for Corporal Cathcart and me," Fleenor stated. "The knowledge and expertise we gained in Canada will be applied daily while performing our K9 duties." He added, "Thank you to the Montreal Canada Canine Unit for the invitation to participate in this valuable training and for our continued partnership. Also, thank you to Sheriff Tim Cameron for your continued support of the K9 Unit."
Sheriff's Office Implements Body-Worn Cameras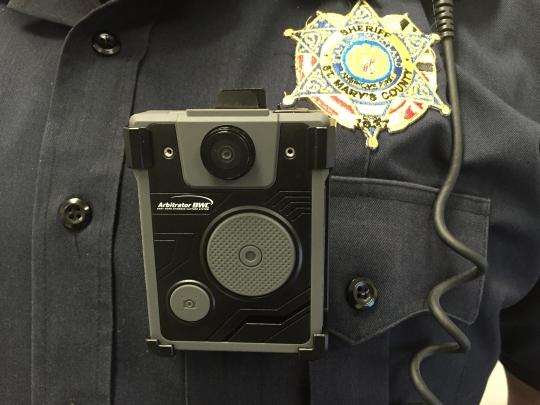 The Sheriff's Office selected the Arbitrator body-worn camera made by Panasonic because the in-car and body-worn cameras use the same software and share the same database. (Photo: SMCSO)
In a pilot program, started in early April of this year, the St. Mary's County Sheriff's Office officially implemented the use of body-worn cameras. Two deputies from each patrol squad have been outfitted with a body camera, along with every deputy in the Lexington Park COPs Unit. That brings the total number of body-worn cameras to thirteen for the agency. The funding for the cameras was secured mainly through the Department of Justice.
The Edward Byrne Memorial Assistance Grant has supplied $17,127 for the cameras and has been endowed for two years. A secondary mountable camera with a unit price of $300, along with $960 for accessories, which include a USB offline device, and charging bay, brings the total expense to $17,680. The balance of $733 is being paid out of the Sheriff's Office's operating expenses.
"Since 2011, the Sheriff's Office has utilized an in-car video system that has proven to be an effective policing tool, providing invaluable assistance in the prosecution of cases. Further, we have been able to identify driving habits of officers that have benefited from additional training, along with customer service concerns that have been improved," says Captain Edward Willenborg, Criminal Investigations Division Commander. "The implementation of body-worn cameras is the next logical step, and will only enhance our in-car video program," adds Sheriff Cameron.
The Sheriff's Office selected the Arbitrator body-worn camera made by Panasonic because the in-car and body-worn cameras use the same software and share the same database. This correlation makes for a smooth transition for deputies and their supervisors. The deputy activates the camera upon response to any incident that is determined to be investigative or enforcement in nature.
Senate Bill 486, signed by Governor Larry Hogan, encourages all agencies to initiate a pilot program in Maryland. To assist in the implementation of such programs, the legislation provides a model policy written by the Maryland Police and Corrections Training Commission. The St. Mary's County Sheriff's Office adopted that model and adapted it to fit the needs of the agency.
Sheriff Cameron says, "In the past when adopting new programs, at times our agency was too fast and at other times we were too slow. I believe we are right on the mark this time. Before implementing the program, we researched and developed our policy and training in conjunction with the law."
The body-worn cameras will serve many purposes, with the obvious being the collection of higher quality evidence in the prosecution of criminal cases. Previously, deputies were limited to what they could capture with the in-car video. Now, with the utilization of high definition, wide-lens, in-color body-worn cameras, they will be able to capture foot pursuits and other encounters which were not previously recorded.
The body-worn cameras will also increase the agency's ability to improve its service to the community, by using the footage to provide scenario-based training to officers, and to identify other areas which may need improvement, including communication, customer service, and police tactics.
Sheriff Cameron noted that while the body-worn cameras serve as a conduit for transparency and openness with the community, he is also aware of the criticisms. "Our goal is to try out the cameras, put them to use and then thoroughly evaluate the technology and hardware, in addition to soliciting feedback from the officers and the community." He added, "We will continue to move forward respectfully."
As the program progresses, the Sheriff's Office will provide further information regarding the body-worn camera program, in addition to seeking feedback from the community.
Sheriff's Office Participates in Annual Law Enforcement Appreciation Day
On Tuesday, May 10, 2016, the St. Mary's County Department of Aging & Human Services, along with Triad/SALT (Seniors and Law Enforcement Together), held their annual Law Enforcement Appreciation Day at the Southern Maryland Higher Education Center in Hollywood, MD.
Posting of the colors was presented by the St. Mary's County Sheriff's Office and the Knights of Columbus, followed by the National Anthem, sung by students from the Leonardtown Middle School Chorus. St. Mary's County Sheriff's Chaplin Steve Kooy led the invocation, memorial service, and benediction, asking everyone to "honor those who put their lives on the line every day, and thank them for what they do."
Sheriff Cameron presented the opening remarks for the program saying, "They [law enforcement officers] have endured! Despite the danger of their jobs, they continue to serve. The manner in which they perform their jobs is an example for all of us." He added, "We should be proud of them and thankful that each one of them is a person of demonstrated integrity and character, who chose to be a 'guardian of the community.'
Each Law Enforcement Officer of the Year received several citations from local and state delegates. The ceremony ended by recognizing the 2016 officers of the year, from agencies in St. Mary's County.
On behalf of Sheriff Cameron and the men and women of the Sheriff's Office, congratulations to all of the award recipients:
• Deputy First Class Rozier L. Steinbach, St. Mary's County Sheriff's Office
• Correctional Officer First Class Kristie L. Ardire, St. Mary's County Sheriff's Office, Corrections Division
• Deputy Fire Marshall II Melissa R. Decker, Maryland State Fire Marshal, Southern Regional Office
• Public Safety Officer Lori Brasko, St. Mary's College of Maryland, Department of Public Safety
• Trooper First Class Casey M. Ruth, Maryland State Police—Leonardtown Barrack "T"
• Patrolman First Class Joseph Figert, Patuxent River Police Department, Public Safety
• Maryland State Police Civilian Pilot III Claude J. Boushey, Sr., Maryland State Police—Aviation Command
• Officer First Class Jason Kreider, Maryland Department of Natural Resources Police, Southern Region—Area 4
• Petty Officer Second Class Walter R. Urban IV, United States Coast Guard, St. Inigoes
• Assistant State's Attorney Jaymi Sterling, Office of the State's Attorney
Homeless Inmates Leaving Jail Receive Backpack Gift as Part of Re-Entry Program
It can be a struggle for any inmate to re-enter society after being released from jail. To ease the transition, the St. Mary's Detention Center has instituted a number of Re-Entry Programs. As the Re-Entry Coordinator for St. Mary's County, Correctional Officer First Class (CFC) Roberto Ramos-Blancos links inmates to various resources within the community, such as social services programs and housing. Still, for newly-released homeless inmates, the most basic items may seem out of reach.
When CFC Ramos-Blancos saw a basic need that hadn't been filled, he introduced the concept of 'Welcome Packs' to St. Mary's County. Upon release from the St. Mary's Detention Center, each homeless inmate is given a backpack full of personal hygiene products and basic protective weather gear. Inspired by the success of a similar program in Prince George's County, Ramos-Blancos wanted to provide the same resources to local inmates.
"We empower inmates by connecting them with the resources they need to make a smooth transition back into the community. It's a very rewarding experience to see them get their life straight with help from correctional officers," says CFC Ramos-Blancos.
Captain Michael R. Merican, Corrections Division Commander, adds, "Re-entry Programs such as 'Welcome Packs' helps inmates to prepare for life outside of jail, by providing them with a head start. These kinds of support services decrease the likelihood that an inmate will become just another recidivism statistic, and ultimately end up back at the detention center."
In addition to personal hygiene products, the 'Welcome Packs' contain a pair of socks, a hat and gloves, and a pair of underwear. Extras like an alarm clock, a non-perishable snack, and a pocket calendar have also been supplied to those in need. One unique element of the program: An individual note of encouragement written by Catholic Charity volunteers is carefully placed in each backpack. CFC Ramos-Blanco states that the St. Mary's County Detention Center has given out four backpacks since the program started in January of this year.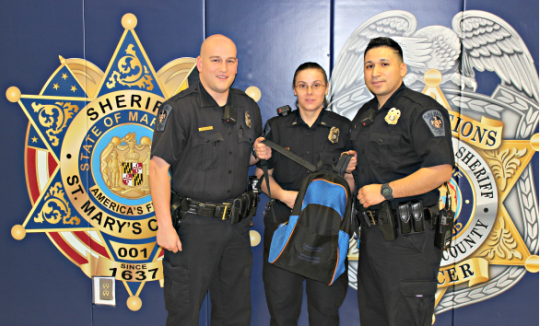 (L-R Deputy Patrick Britt, Lt. Christa Morzes-Cook, and CFC Roberto Ramos-Blanco, hold a 'Welcome Home' Re-entry Program backpack. The backpacks are given to homeless inmates leaving the Detention Center, as part of the Re-Entry Program. (Photo: SMCSO)