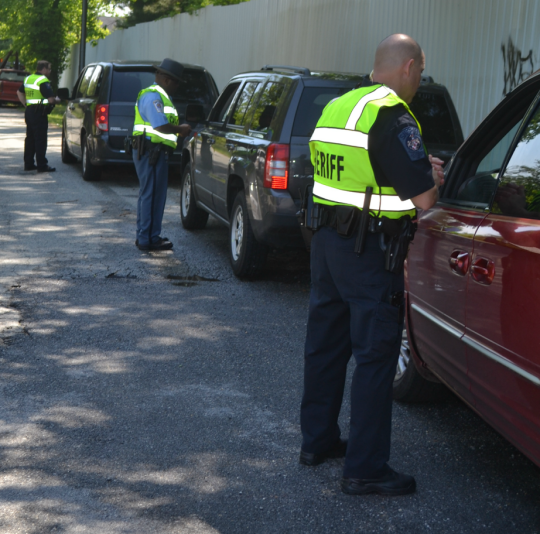 Deputies in St. Mary's speak with motorists who were stopped during a federally funded seat belt compliance operation. (Photo: St. Mary's Co. Sheriff's Office)
Calvert-St. Mary's Co. Seatbelt initiative, May 24
On May 24, deputies from the St. Mary's Co. Sheriff's Office, the Calvert Co. Sheriff's Office, and troopers from the Maryland State Police, Leonardtown and Prince Frederick Barracks, conducted seat belt compliance checks on both sides of the Thomas Johnson Bridge, as part of the "Border2Border" Seat Belt Compliance Initiative.
During the operation, a total of 44 vehicles were stopped, resulting in seven seat belt citations, 17 cell phone citations, and two safety equipment repair orders.
The sheriff's office also conducted seat belt compliance checks at all three public high schools, stopping 11 vehicles. Those vehicle stops resulted in eight seat belt citations, one cell phone citation, two registration violations, and two safety equipment repair orders.
Charles-Calvert Co. Seatbelt initiative, May 25
On May 25 between 10 a.m. and 12 p.m., the Charles Co. Sheriff's Office Traffic Operations Unit conducted a Border-to-Border Seatbelt initiative with the Calvert Co. Sheriff's Office. The Traffic Operations Unit observed and stopped vehicles on the west side of the Benedict Bridge. As a result of the two hour initiative, officers stopped 20 vehicles, issued 14 warnings, 7 citations and arrested 2 suspended drivers.
The Calvert County Sheriff's Office contacted 24 vehicles on the east side of the Benedict Bridge and issued 21 citations and warnings. Additional enforcement, which is supported by a grant, will take place in the coming weeks.
State Police Enforcement Statistics for Memorial Day Weekend
Maryland State Police troopers were involved in extra patrols and focused enforcement initiatives throughout the Memorial Day weekend, making more than 8,400 traffic stops and arresting more than 90 impaired drivers.
From May 27th through May 30th, troopers stopped 8,443 vehicles and issued 5,793 traffic citations, 4,831 warnings and 798 safety equipment repair orders. Troopers arrested 93 drivers for impaired driving.
During those traffic stops, troopers made 67 criminal arrests and issued 61 civil citations for offenses. Troopers also arrested 71 people who were wanted on warrants.
Troopers coordinated enforcement along the entire length of I-95 through Maryland as part of Operation Millipede. Troopers made nine impaired driving arrests and stopped 542 vehicles on I-95 during this initiative.
Along the route to and from the beach, additional troopers worked Operation Showboat. Troopers made four impaired driving arrests and stopped 746 vehicles along Rt. 50.
During the holiday weekend period, state troopers investigated 16 traffic crashes that involved drivers believed to be impaired. One crash involved an impaired driver who sideswiped a Maryland State Police patrol car that was stopped behind a traffic violator's vehicle in St. Mary's County. The trooper was outside his patrol car when the crash occurred and was not injured.
Troopers investigated three fatal crashes during the holiday weekend. The fatal crashes occurred in Allegany, Harford and Queen Anne's counties. Investigation into the causes of those crashes continues.
DNR Police Report Safe Memorial Day Weekend Seen in Maryland
A safety-conscious public and a concerted effort by Maryland Natural Resources Police kept the Memorial Day weekend free of fatalities and with just four reported boat accidents.
"We did everything in our power to be visible, to interact, to educate," Natural Resources Police Superintendent Colonel Robert K. "Ken" Ziegler Jr. said. "Our officers spoke with nearly 18,000 boaters, anglers and state park visitors. Together, with our reserve officer force, they conducted more than 2,400 free boat inspections across the state."
Boating accidents declined 55 percent this Memorial Day weekend compared to the same period last year and none of the mishaps resulted in life-threatening injuries. Two incidents involved boats capsizing on Chesapeake Bay tributaries, one was a minor tubing accident on Deep Creek Lake and the fourth occurred as a boat docked at Smallwood State Park.
Statewide, officers responded to 620 calls for service, a five percent increase over 2015. They arrested 15 people for impaired boating or impaired driving, compared to seven arrests last year. They wrote a total of 402 tickets and 1,297 warnings for all offenses, increases over last year of four percent and 17 percent respectively.
Officers worked with allied agencies, such as the U.S. Coast Guard and local police and fire marine units, to be a highly visible presence on the Chesapeake Bay, the Atlantic coastal bays, and rivers and tributaries.
Ziegler said the strategy this year is to get the boating season off to a good start that can be sustained through Labor Day. Last year, 21 people died in boating accidents, a 20-year high. Only three of the victims were wearing life jackets.
"We aren't doing this to rack up tickets or generate revenue," he said. "We are doing this to keep our citizens and visitors safe so that they can continue to enjoy Maryland's lands and waters."
The safety campaign will continue June 24-26, with Operation Dry Water, a nationwide crackdown on alcohol- and drug-impaired boaters. Natural Resources Police will once again partner with other maritime law enforcement agencies to patrol waterways from Deep Creek Lake to the Atlantic Ocean.