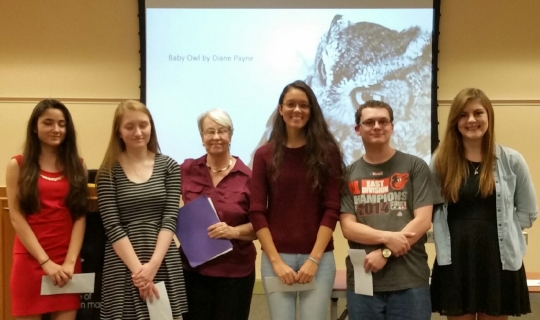 Winners of the first Maryland Writers' Association, Charles County Chapter Young Writers' Contest are (left to right) Ellie Karimi, Alicia Brosco, MWA President Edna Troiano, Emily Smith, James Walls and Corrine Hickin.
LA PLATA, Md.
(June 2, 2016)—The Maryland Writers' Association, Charles County Chapter, selected five young writers as winners in their new contest for fiction and poetry.
Two high school students: Alicia Brosco (9th grade, Westlake High School) ; and Elmira "Ellie" Karimi (10th grade, McDonough High School) won first place in their categories.
Brosco's short fiction, "His Daughter," tells the story of a young girl and how she copes with an alcoholic father and a mother who was forced to leave her.
Karimi, who said she grew up in a Persian family, said, "Poetry has always been a big part of my life. But I started writing poems, in English when I was 13 years old. I thought it would be nice to be part of this contest, and share some of my poems." Her poem "Dream Land" earned her first place in the poetry category.
Three College of Southern Maryland students, all under the age of 24, earned a spot in the contest rankings. Emily Smith won for her poetry, while James Walls and Corrine Hickin tied for first in short fiction.
Smith, who is 19 years old and in her second year at CSM, said she uses poetry "as a method to control my madness and it works as a great stress reliever." Her poem "Times Have Changed" earned first in the college poetry category.
For 20-year-old English major Hickin, writing brings her the most pleasure. "I've been writing fiction and non-fiction stories for 15 years now, but this is my first time submitting any of my work to be published," she said. "I think telling stories is cathartic and I can't imagine finding this much joy in anything else." Her story, "My Sappy, Cheesy, Super Lame, and Absolutely Perfect Love Story" tied for first in short fiction.
Walls, a 21-year-old who graduated with an English degree from CSM in May, said he "grew up reading a variety of literature, ranging from mythology to biography." He said he plans to continue his education at the University of Maryland and in his free time, he said he enjoys listening to and mixing electronic music. His story, "Talking with Pets" tied for first in short fiction.
Each of the students had their writing published in CSM's "Connections" literary magazine and won $100 from the MWA, Charles County Chapter.
The young writers' contest will open again next March to Charles County residents (9th-12th grade, public and homeschoolers) and College of Southern Maryland students (Charles County residents) aged 18-24. Entries may include poetry (no more than three poems) or fiction/non-fiction (no more than 5,000 words). Submissions should be submitted electronically to mchristian@csmd.edu by March 16, 2017.
MWA's diverse membership ranges from professional freelancers and published authors, to writers aspiring to be published and those who write as a creative outlet. Members produce both non-fiction and fiction, including novels, short stories, poetry, plays, scripts, speeches, feature articles and essays. The MWA meets at CSM's La Plata Campus, where professional speakers and writing workshops are held regularly.
For more information about membership and the upcoming meeting, contact Edna Troiano, EdnaTroiano@gmail.com, or Michelle Brosco Christian, mchristian@csmd.edu. Also, visit the chapter's site at
http://mwacharles.wordpress.com
and the MWA state-wide website at
http://www.marylandwriters.org.