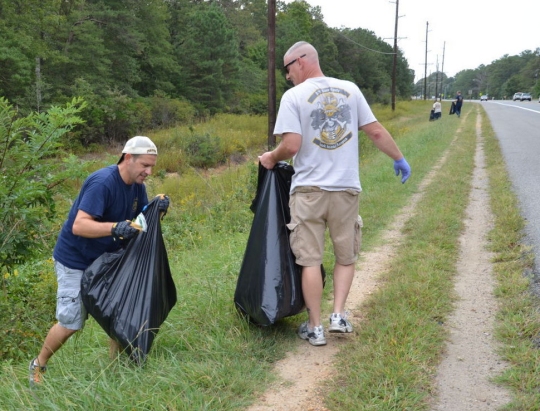 Volunteers from the NAS Patuxent River CPO Association collecting bags of trash from a stretch of Three Notch Road in Sept. 2015. (U.S. Navy photo by Donna Cipolloni)
PATUXENT RIVER, Md.
(June 2, 2016)—Demonstrating their commitment to community service and proving their civic pride, military and civilian volunteers, representing various organizations from across NAS Patuxent River, periodically hit the roadways of St. Mary's County to clean up the mess others leave behind.
Working with the Maryland State Highway Commission's Adopt-a-Highway (AAH) program, the groups agree to adopt a particular stretch of Maryland highway and promise to remove all litter and debris at least four times a year.
As many as 28 people participate from Naval Health Clinic Patuxent River (NHCPR) and once a month, whoever is available to help, will meet to clear litter from a mile long stretch on St. Andrew's Church Road.
"We start at the intersection past BJ's and go down past the trash dump," said Hospitalman Conner Fuller, a NHCPR phlebotomist and the group's coordinator. "We'll meet up around 10 a.m. and gather the supplies we need to get to work. Depending on how many people are participating and how we split up, it takes us anywhere from one to two hours and we'll typically collect two to six bags of trash, depending on the time of year."
All program participants are given safety training materials in advance and are supplied with brightly colored vests and trash bags. AAH also places road signs recognizing the volunteers' organization at both ends of their adopted roadside.
Volunteers from Test and Evaluation Squadron (VX) 23 are coordinated by the squadron's First Class Petty Officer Association and are responsible for cleaning up the area of Three Notch Road just outside the installation, between Gates 2 and 3.
"We wanted to be involved in something that benefits the community while allowing us to build comradery within our association," explained Aviation Maintenance Administrationman 1st Class Robert Cohen, VX-23's contractor oversight for Logs and Records. "We hold an event at least each quarter but will try to do it more often, especially when the weather is nice. We'll split into groups—one at Gate 2 and the other at Gate 3—and then we'll walk towards each other until we meet in the middle."
The VX-23 group consistently removes about 10 large bags of trash, which are then left by the side of the road for pre-arranged collection by AAH.
NAVAIR's Professional Development Council (PDC) volunteers are responsible for the two-mile stretch of roadway between Gates 1 and 2.
"We do quarterly cleanup," said Emily Carroll, chair of the PDC Volunteering Committee. "PDC's goal is to provide opportunities for our Engineer and Scientist Development Program employees to grow professionally and personally, and get involved in their community."
The group from U.S. Naval Test Pilot School is just getting started. They currently number 17 participants, but that number is still growing.
"We just got the program implemented in April and our first clean-up is scheduled June 7," added Aviation Maintenance Administrationman 1st Class Anna Densmore, Aviation Program Team.
Densmore said her group plans to clean up their adopted roadway—on Highway 4, right off of Three Notch Road—once or twice a month, depending on the weather.
"At TPS, we truly believe in helping each other out and making it a safer and cleaner environment for our families," she said. "When you contribute and get your name out there, there's a sense of pride and accomplishment. That sense of community is what drives us to do better."
Since the AAH program started in 1989, the State Highway Association has partnered with more than 120,000 Marylanders who have cleaned and enhanced over 15,000 miles of roadside.
"People take cleanliness for granted; you wouldn't believe the things people throw out their windows while driving," said Cohen, adding that we should all be aware of the consequences of our actions. "This is a great program for any group that wants to do something good for the community."
To learn more about Adopt-a-Highway visit www.roads.maryland.gov.