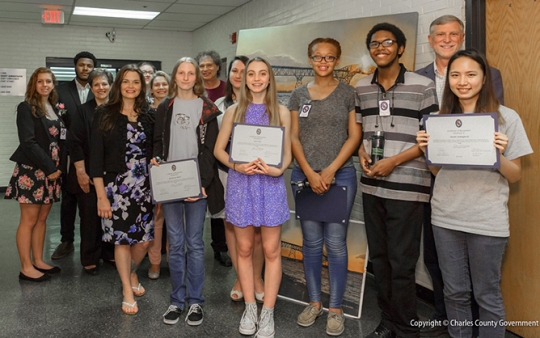 Pictured with Commissioner President Peter F. Murphy and Commissioner Ken Robinson (District 1) are local artist and teacher Vicki Marckel and Henry E. Lackey High School art students. (Photo: Charles Co. Gov.)
Local Artist and Students Display Paintings of the Governor Harry W. Nice Memorial Bridge
On Thursday, May 26, the Charles County Commissioners hosted the "Ponte" Exhibition at the Charles County Government Building. This exhibit featured paintings from local artist and teacher, Vicki Marckel, and her students from Henry E. Lackey High School, of the Governor Harry W. Nice Memorial Bridge in Newburg, Maryland. These paintings are the result from the "paint-in" event held at Captain Billy's Crab House restaurant on Saturday, April 30. Marckel's painting will be displayed at the Welcome Center in Newburg, Maryland to commemorate and preserve the history of the bridge for years to come.
Community Services Summer GUIDE Available June 1
The Charles County Department of Community Services Summer edition of The GUIDE will be available online Wednesday, June 1 at www.CharlesCountyParks.com. Online registration for most programs is available. The GUIDE contains information on youth camps, sports leagues, aquatic programs, trips, discount tickets, and more. Find out what is available in your area.
For more information on other events and opportunities offered by the Department of Community Services, visit
www.CharlesCountyMD.gov/CS
or call 301-934-9305 or 301-870-3388.
Citizens with special needs may contact the Maryland Relay Service at 711, or Relay Service TDD: 800-735-2258.
Charles County Fiscal 2017 Budget Video Available
The Charles County Commissioners are pleased to present the video, "A Look at the Budget," highlighting the fiscal 2017 budget. The video is available in two formats—a snapshot five-minute video and a full length video that runs approximately 30 minutes. The video is available on the county's YouTube channel (keyword: CCGTVCommissioners), and on the county website at
www.CharlesCountyMD.gov
in the CCGTV Digital Library. To access the digital library, under "Get Connected," click "More CCGTV"; and then click "CCGTV Digital Library."
"A Look at the Budget" features Commissioner President Peter F. Murphy, County Administrator Michael D. Mallinoff, and Director of Fiscal and Administrative Services David Eicholtz. Discussion topics include:
• General fund allocations
• County Administrator's Monthly Report
• International City/County Management Association Insights
• Recap of the budget process
• Fiscal accomplishments
DVD copies of the "A Look at the Budget" video are available for $6. To request a DVD, visit
www.CharlesCountyMD.gov
, click on "More CCGTV," click "request DVD copies," and fill out the online form.
For more information, contact the Public Information Office at 301-885-2779 or PressRoom@CharlesCountyMD.gov. Citizens with special needs may contact the Maryland Relay Service at 711, or Relay Service TDD: 800-735-2258.
Economic Development Strategic Plan Now Available Online
The Department of Economic Development has released its Economic Development Strategic Plan, a five-year action plan to increase the county's long-term economic prosperity. The Strategic Plan is available for online viewing at
www.MeetCharlesCounty.com
. The county developed the plan in partnership with Development Counsellors International (DCI), one of the country's leading economic development and tourism marketing firms, and Garner Economics, LLC, specialists in site selection, industry targeting, and organizational development.
The Strategic Plan includes more than a dozen recommendations to improve the county's competitiveness, strengthen existing businesses, and identify new investment opportunities. Highlights from the plan include a comprehensive, analytics-based update and rationale for a new set of target industries, including new industry sectors.
"We are taking a professional and inclusive approach towards planning our economic future. A strategic guide with concrete action steps will ensure our efforts have benchmarks and a road map for achieving the Commissioner's goal of expanding the county's commercial and industrial employment and tax base," said County Administrator Michael D. Mallinoff.
"The plan represents a monumental shift in the way Charles County approaches economic development and building prosperity for our community, where decisions are based on data and research, and are not merely anecdotally driven," said Darrell A. Brown, director for the Department of Economic Development and representative member of the Charles County Chamber of Commerce Board of Directors.
The plan identifies key target industry groups that best match Charles County's competitive advantages. The county will focus on future business expansion, retention, and attraction efforts toward companies in the following four industries: federal contracting and high-value professional/business support services; health services; entrepreneurial and retail development; and research, development, engineering, and computing.
The plan includes a snapshot of the county's overall competitiveness based on Garner Economics' research, analysis, and feedback from stakeholders. Garner Economics conducted an in-depth assessment of the county's competitiveness, which included a demographic and economic analysis, labor market and cluster analysis, comparison of benchmarked communities, and a community assets and challenges assessment. Garner Economics gathered stakeholder input through four focus group sessions in October 2015, followed by a county-wide electronic survey completed by 510 residents. These findings helped redefine the county's target industries, and serve as the rationale for the strategic recommendations detailed in the plan.