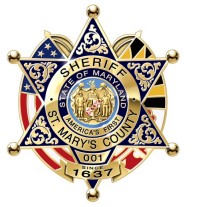 LEONARDTOWN, Md.
(May 31, 2016)—The St. Mary's County Sheriff's Office released the following incident reports.
Motor Vehicle Collision at Mechanicsville Road and Gander Court
On Monday, May 30, at approximately 2:22 p.m., deputies were dispatched to a serious motor vehicle collision on Mechanicsville Road in the area of Gander Court. Units arrived on scene to find two vehicles involved in a head-on style collision. Due to the severity of injuries, the Collision Reconstruction Unit was requested.
A preliminary investigation determined a 2013 Hyundai Accent, operated by Kellie Murphy, age 19, of Mechanicsville, was traveling northbound on Mechanicsville Road, when for unknown reasons the vehicle crossed the center line and struck a 2010 Toyota Sienna, operated by Joseph Thomas, age 72, of Mechanicsville. The Hyundai was occupied by two other passengers, Bryce Hurry, age 20, of Chaptico, and Jeffrey Townsend, age 18, of Mechanicsville. The Toyota was occupied by one passenger, Ann Thomas, age 68, of Mechanicsville. At this time, it is believed the primary cause of the collision is interference from a passenger in the Hyundai.
Both operators and all passengers were transported to area hospitals for treatment. Bryce Hurry remains in critical condition.
Anyone with information regarding this collision is asked to contact Corporal Brandon Foor at 301-475-4040.
ATV Collision on Fresh Pond Neck Road
On Saturday, May 28 at 9:00 p.m., deputies responded to the report of an ATV collision on Fresh Pond Neck Road. Officers arrived on scene and discovered the ATV in a grassy area on the side of the road. The driver and passenger both had serious injuries and were transported to Prince George's Hospital. Due to the seriousness of the injuries, the Collision Reconstruction Unit was requested.
Preliminary investigation determined the ATV was operated by Thomas Edward Dean III, age 19, of Scotland. He was traveling westbound on Fresh Pond Neck Road when for unknown reasons he lost control. Dean and the juvenile passenger were ejected from the ATV. Neither party was wearing a helmet and both were seriously injured.
Anyone with any information regarding this incident is asked to contact Deputy First Class Christopher Beyer #246 at 240-925-5313.
Incident Briefs
COUNTERFEIT COMPLAINT: An unknown suspect passed a fake bill, and received an undisclosed amount of currency in change at the Food Lion on Alton Lane in California. CASE# 27538-16
MOTOR VEHICLE THEFT: Unknown suspect(s) stole a motor vehicle that was parked in the 48000 block of Mayflower Drive in Lexington Park. Deputy H. Smith is investigating the case. CASE# 22780-16
MOTOR VEHICLE THEFT: Unknown suspect(s) stole a motor vehicle that was parked in the 48000 block of Pickett's Harbor Court in Lexington Park. Deputy H. Smith is investigating the case. CASE# 27822-16
BURGLARY: Unknown suspect(s) attempted to force entry into Global Community Pharmacy, located in the 21000 block of Great Mills Road in Lexington Park. DFC J. Krum is investigating the case. CASE# 22787-16
BURGLARY: Sometime between 5/27 and 5/30, unknown suspect(s) entered an unsecured vehicle in the 36000 block of Ryceville Road in Mechanicsville. Nothing appeared to be missing from the vehicle, but the garage door opener was utilized to enter the garage where several items of personal property were removed. DFC K. Flerlage is investigating the case. CASE# 28028-16