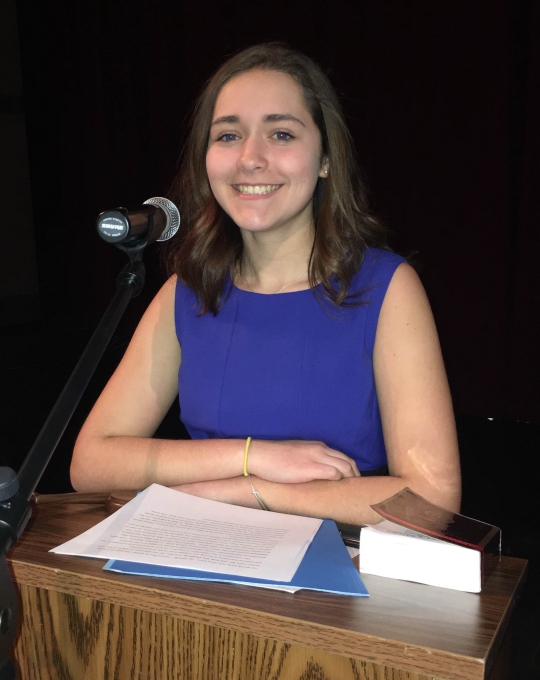 Lucie Roach, sophomore at Huntingtown High School. (Submitted photo)
Lucie Roach Sworn In as Student Member of the Board of Education
Lucie Roach, sophomore at Huntingtown High School, was sworn in as the 2016-2017 Student Member of the Board of Education (SMOB) at the Board's meeting on May 12, 2016. The SMOB is elected by the Calvert Association of Student Councils (CASC), which includes members from the four high schools and six middle schools in the district.
Lucie has been active in student government since she was a student at Plum Point Middle. She has served as the CASC Relay for Life Coordinator, CASC Maryland Association of Student Councils (MASC) Liaison, and the MASC Evaluations Coordinator.
As SMOB, Lucie remains committed to the goals she established during her campaign, including continuing the Student Advisory Council begun by previous SMOB Alexya Brown, a senior at Patuxent High, and spending time in Calvert County middle and high schools to gain perspective about current issues. She also plans to explore additional avenues to promote causes that are important to her fellow students.
The position of SMOB is established by the Annotated Code of Maryland. Officially, the student is a non-voting member of the Board; however, the student may cast a symbolic vote on all matters coming before the Board.
The student member must be a rising high school junior or senior in a Calvert County public high school. The student member's term runs from June 1 through May 31. Further details about the requirements for service and the selection process can be found in the Calvert County Public Schools Procedure 1200.1 Regarding the Student Member of the Board of Education.
One of the primary responsibilities of the student member is to facilitate the flow of information between the Board of Education and students. The student member is expected to share appropriate information from the Board with students using a variety of communication methods. The student should also elicit a variety of student viewpoints on issues before the Board.
Code of Conduct Approved
At the May 12, 2016 meeting, the Board of Education approved the 2016-2017 Students' Rights, Responsibilities, and Code of Conduct.
The most significant changes in the document involve the student dress code. Kim Roof, Director of Student Services, said the system carefully considered input from students when revising the guidelines. At the Student Town Hall Forum held earlier this year, middle and high school students spoke persuasively about the need to update the dress code to reflect current styles. Consequently, leggings are no longer prohibited. Skirts, skorts and shorts must be longer than the longest fingertip when students stand with arms fully extended downward at their sides, rather than being required to be no more than three inches above the knee. This adjustment, said Ms. Roof, allows for differences in body proportions rather than relying on an arbitrary measurement.
Minor adjustments were made to the attendance policy. The Code now stipulates that attendance is taken every day that school is in session. Students who leave early, come in late or fail to attend school the last several days school is in session will be marked accordingly. "It's essential for safety purposes," said Ms. Roof, "that we have an accurate record of who is and is not in our schools at all times."
The Students' Rights, Responsibilities, and Code of Conduct was revised based on research of policies in other school districts in addition to input from staff, students and community members. The document was presented to the Board of Education for review at the April 14, 2016 meeting. The Board received public comments through May 11 and considered the community responses prior to approving the Code.
Students and Teacher Honored at Maryland History Day
Four students from Calvert County Public Schools (CCPS) advanced to the National History Day Contest after competing at Maryland History Day on May 7, 2016. These students conducted research and completed projects based on the 2016 theme of Exploration, Encounter, Exchange in History.
The students advancing to the Kenneth E. Behring National History Day Contest held in College Park, Maryland, June 12-16 are:
• Parker Nickels—Northern Middle School, Individual Exhibit;
• Tyler Cassidy and Edward Williams—Plum Point Middle, Group Exhibit; and
• Brian Holt—Huntingtown High School, Individual Website.
In addition to the student honorees, Adam Muffley, teacher at Plum Point Middle School, received the Calvert County History Day Teacher of the Year award. Supervisor of Social Studies Rebecca Bowen spoke highly of Mr. Muffley, saying, "He is a dynamic teacher who truly brings history to life in the classroom. From his engaging lessons to his extensive content knowledge, Adam provides a rich and rigorous social studies experience for all of his students."
Maryland History Day is the culmination of a year-long educational program sponsored by the Maryland Humanities Council and affiliated with National History Day, which was created to inspire students to conduct original historical research. After selecting a historical topic that relates to an annual theme, students conduct extensive research by using libraries, archives, museums and oral history interviews. They analyze and interpret their findings, draw conclusions about their topics' significance in history and create final projects that present their work.
Scott Goldstein Wins Student Government Advisor Award
Patuxent High School social studies teacher Scott Goldstein is the 2016 winner of the Mike Michaelson Advisor of the Year Award. The award, given annually by the Maryland Association of Student Councils (MASC), recognizes the contributions of advisors to student council success across the state. Mr. Goldstein sponsors the Patuxent High Student Government Association (SGA), as well as the Calvert Association of Student Councils (CASC).
Supervisor of Social Studies Rebecca Bowen, who oversees the SGA programs in the district, said, "Due to Mr. Goldstein's efforts and dedication to the program, CASC has become a well-respected entity in the state of Maryland. Many of our local student government leaders become leaders within MASC, primarily due to Mr. Goldstein's support and guidance."
Mr. Goldstein has sponsored student government groups for thirty-one years. Twelve of those years were at Frederick Douglass High in Prince George's County, and nineteen have been at Patuxent. He began sponsoring CASC in 2001 and enjoys watching students learn to take an active role in their school and community. He sees great value in giving students the opportunity to develop leadership skills and subsequently train their peers. A highlight of his work is watching graduates use the skills they learned in SGA as they embark upon college and careers.
Alexya Brown has been involved with the CASC Executive Board since 2011 through her role as the Student Member of the Board of Education. "Mr. Goldstein makes the difference for so many students, both in SGA and by extension in our school communities at large," she said. "He is so supportive of CASC's visions and goes the extra mile to see our success every single time. No one deserves this distinguished honor more than Mr. Goldstein."
In addition to sponsoring the two student government organizations, Mr. Goldstein serves as an assistant coach for football and men's basketball and is the Advanced Placement coordinator at Patuxent. He is a College Board exam reader and currently serves as a table leader for the AP summer scoring process. He was the 2015 Washington Post Agnes Meyer Outstanding Teacher Award winner for Calvert County. He has twice been chosen as Teacher of the Year for PHS, has won the Dana Kirkman Student Mentorship Award and the Rutgers University Honors Program Award.
MASC strives to foster a statewide environment for all secondary school students to express and exchange opinions and ideas, develop leadership skills, and promote student representation and involvement in all groups and organizations impacting the lives of students.