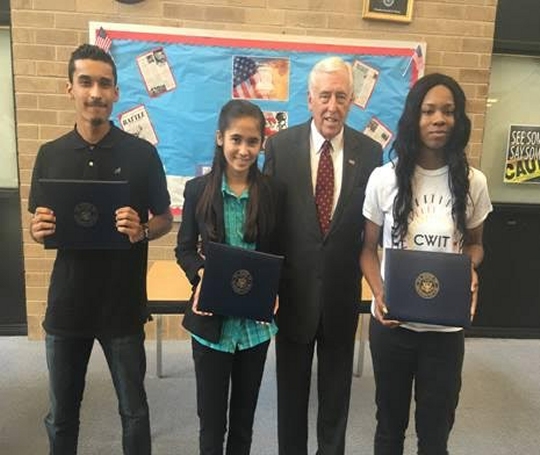 Congressman Steny H. Hoyer and 3 of the student winners of the Fifth District Congressional App Challenge. L to R: Alexander Lugo (first place winner); Nicole Balay; Steny Hoyer; and Jasmine Brunson. Not pictured is Fernanda Jimenez. (Photo: Steny Hoyer)
GREENBELT, Md.
(May 27, 2016)—Today, Congressman Steny H. Hoyer (MD-5) hosted an event to recognize the participants of the Second Annual Fifth District Congressional App Challenge. The event was held at Eleanor Roosevelt High School in Greenbelt, Maryland, where most of the 32 participating students, including all of the winners, attend high school. The participating students also had the opportunity to demonstrate their apps at the event.
The following students were recognized today:
First-place winner:
Alexander Lugo
—for his app called "Little Elf," a fantasy game for android phones featuring advanced graphics and animations. A video presentation of Alexander's winning app will be on display in the U.S. Capitol for the next year.
Second-place winners:
Nicole Balay
—for her app called "Roosevelt Routing," which features an interactive map and routing program to help students navigate Roosevelt High School.
Jasmine Brunson
—for her game on the live-code platform called "Crypt the Code," which enables users to test their math and puzzle skills as cryptographers for the FBI or CIA.
Fernanda Jimenez
—for "Magical Matching," a memory app for young children that teaches colors, numbers, shapes, letters, and animal names using fun, interactive games.
"I was pleased to recognize the ingenuity, hard work, and creative spirit of our 2016 Congressional App Challenge participants today," said Congressman Steny Hoyer. "Congress created this app challenge in 2013 to promote coding and computer science skills. Modeled after the long-running Congressional Art Competition, it asked high school students from every Congressional District across our country to design and code apps for mobile devices, tablets, or computers."
"These students who designed, built, and submitted apps are part of a generation of young Americans whose fluency with technology will help maintain America's role as the world's leading innovator and economic powerhouse for the 21st century," continued Congressman Hoyer. "It's crucial that we are doing everything we can to make sure our students can learn coding and other technology skills to be competitive for jobs that will help them get ahead in our economy. That's why I've been working with my colleagues in the Maryland Congressional Delegation and from districts around the country to promote investment in STEM education, quality public schools, and greater access to affordable higher education. I would like to thank Eleanor Roosevelt High School teacher Mr. Cyril Pruszko, parents, and the competition judges for their support and encouragement that have been critical to these students."