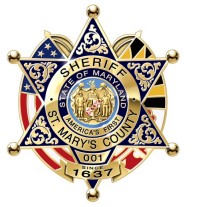 LEONARDTOWN, Md.
(May 27, 2016)—The St. Mary's County Sheriff's Office today released the following incident and arrest reports.
Multiple Motor Vehicle Thefts, Drug Sales at Myrtle Point Park in California
On Wednesday, May 25, at approximately 3:30 p.m., officers responded to Myrtle Point Park in California for the report of underage drinking and fighting on the beach. While responding to the scene, a witness called 911 advising multiple suspects were breaking into motor vehicles and stealing property. Upon arriving on the scene, Cpl. James Stone observed two of the suspects inside a vehicle and determined it to be one they had broken into earlier. Stone attempted to detain them at which time one suspect ran and a foot chase ensued. Maryland State Police Trooper Evan Krenik detained the second suspect,
Christian Jamal White, age 20, of Waldorf
, who remained at the vehicle. Sgt. Clay Safford gave chase and apprehended a
17-year-old male
suspect from Waldorf.
In their possession were a large amount of small plastic containers containing suspected marijuana and multiple suspected Alprazolam tablets, in addition to suspected stolen property—including cell phones.
Further investigation revealed that there were a total of six suspects. One of the six suspects stole an iPhone off a beach towel, and all of the suspects were witnessed selling suspected marijuana.
Two additional suspects,
Damon Lamont Pleasant, Jr., age 18, of Waldorf
, and
Jelonnie Dujuan Johnson, age 19 of Waldorf
, were located a short time later by DFC Vince Pontorno in the same area. Johnson initially provided a false name and identification to DFC Pontorno.
A fifth suspect, a
17 year-old-juvenile
, was located later at Elms Beach in St. James. In his possession were materials indicating he was selling narcotics out of his bookbag.
All five suspects were arrested and charged with various criminal and drug offenses.
The Sheriff's Office is seeking the public's help locating the sixth suspect
, who deputies believe was operating a dark colored Honda Civic at the time of the thefts.
Deputies recovered multiple stolen items believed to have been taken from a minimum of six vehicles and returned them to their owners. However, there is still stolen property which has not been claimed.
Deputies believe the suspects are responsible for additional thefts from motor vehicles and beach towels at Myrtle Point Park. If you believe you have been a victim of theft or have additional information, please contact Corporal James Stone at James.Stone@stmarysmd.com or 301-997-8531.
ENHANCED IMPAIRED DRIVING INITIATIVES: The Sheriff's Office, with the assistance of the Maryland State Police, will conduct enhanced impaired driving initiatives surrounding Memorial Day weekend extending from Friday, May 27 through Monday, May 30. The efforts include increased patrols throughout the weekend and a sobriety checkpoint the evening of Friday, May 27. Officers will evaluate drivers for signs of alcohol or drug impairment, in addition to other traffic infractions. The funds for the checkpoint are provided by the Maryland Highway Safety Office.
THEFT: Unknown suspect(s) entered a hotel room at La Quinta Inn and Suites in California and stole property. DFC T. Teague is investigating the case. CASE# 27321-16
BREAKING AND ENTERING TO A MOTOR VEHICLE: During the overnight hours of 5/24 into 5/25, unknown suspect(s) entered a motor vehicle and stole property. Deputy Bare is investigating the case. CASE# 26968-16
BURGLARY: Between 5/24 and 5/25, unknown suspect(s) entered a residence and stole property in the 44000 block of Blake Creek Road in Valley Lee. Corporal B. Foor is investigating the case. CASE# 27024-16
COUNTERFEIT: Unknown suspect(s) attempted to pass counterfeit bills in the 21000 block of Great Mills Road in Great Mills. DFC Schultz is investigating the case. CASE# 26818-16
Disclaimer: In the U.S.A., all persons accused of a crime by the State are presumed to be innocent until proven guilty in a court of law. See: http://so.md/presumed-innocence. Additionally, all of the information provided above is solely from the perspective of the respective law enforcement agency and does not provide any direct input from the accused or persons otherwise mentioned. You can find additional information about the case by searching the Maryland Judiciary Case Search Database using the accused's name and date of birth. The database is online at http://so.md/mdcasesearch . Persons named who have been found innocent or not guilty of all charges in the respective case, and/or have had the case ordered expunged by the court can have their name, age, and city redacted by following the process defined at http://so.md/expungeme.