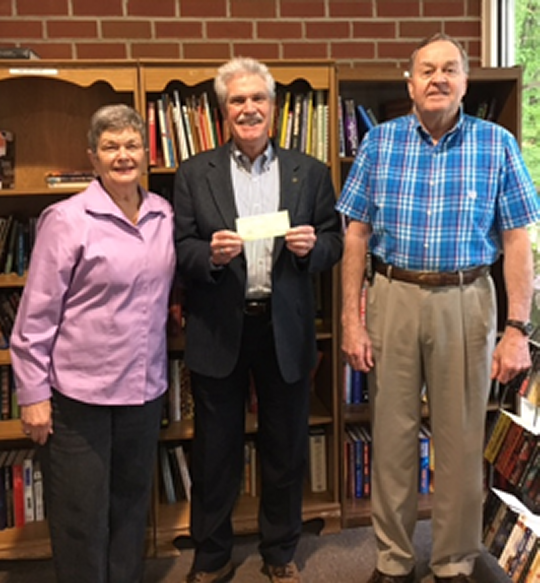 From left to right: Shirley Havelka, store manager for SMILE; Rich Fleming, interim Rotary Club president; and Bruce Robinson, board president of SMILE. (Submitted photo)
PRINCE FREDERICK, Md.
(May 26, 2016)—The
Rotary Club of Prince Frederick
has continued its support for the hungry by contributing $916 to
SMILE
, an interdenominational food ministry serving southern Calvert County.
Interim Rotary Club President, Rich Fleming, recently presented a check to Shirley Havelka, store manager, and Bruce Robinson, board president of SMILE. Fleming also serves as the Vice President/Dean of the Prince Frederick Campus of the College of Southern Maryland.
"All Rotary Clubs are encouraged to raise special funding to assist the homeless and food-challenged, and our club has chosen to support SMILE each of the last several years," said Fleming. "Many donors contribute during the Thanksgiving to Christmas period, so we chose to help replenish their supplies during this off-season. The demand for food support continues year-round."
The SMILE food pantry is open on Wednesday and Friday, from 10 a.m. to 2 p.m. and on Saturday from 9 a.m. until noon. However, guests wishing to take advantage of the pantry are required to register first. Complete details of the
requirements for a person to be accepted as a guest
are available online.
SMILE is happy to accept donations from the community in the form of time and talent; money; food items such as canned goods or packaged foods; and clothing and household goods which they can sell in their thrift shop to generate funds. Find out more about
how to donate
on their website.
The Rotary Club of Prince Frederick has served Calvert County for over fifty years. In addition to supporting the hungry, the club also awards scholarships to graduating seniors and provides dictionaries to each third grade student in the county. As a part of Rotary International, the Prince Frederick club also supports the eradication of polio and other international Rotary campaigns.
The Rotary Club meets the second and fourth Mondays at Stoney's in Prince Frederick. For more information contact, Rich Fleming at 443-550-6011.