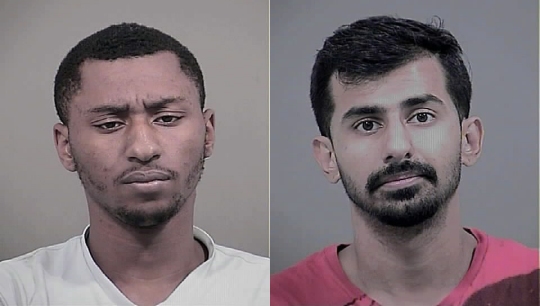 William Timothy Franklin, age 24, and Jasminder Sethi, age 26, both of Waldorf, Md. (Booking photos Charles County Sheriff's Office)
FAIRFAX, Va.
(May 23, 2016)—Two Waldorf men have been arrested in connection with the armed robbery of Dubai Jewelers at 7041 Brookfield Plaza in Springfield, Va. on Saturday, May 21. Twenty-four-year-old William Timothy Franklin was arrested at his home on Monday, May 23 around 9 p.m. with assistance from the Federal Bureau of Investigation's Violent Crimes Task Force, the Prince George's County Police Department and the Charles County Sheriff's Office.
At about the same time, agents from U.S. Customs and Border Patrol along with officers and the Port Authority Police of New York & New Jersey, arrested 26-year-old, Jasminder Sethi at an airport in Newark, New Jersey.
Felony warrants have been obtained charging Franklin with Robbery and Use of a Firearm in the Commission of a Felony. A felony warrant has been obtained charging Sethi with Robbery. Both arrestees are awaiting extradition back to Fairfax County.
The scene unfolded when officers responded to the report of an unknown situation at 7041 Brookfield Plaza at approximately 12:22 p.m. on Saturday, May 21. Once on scene, officers quickly determined that there was an armed robbery in progress. As the suspect exited the Dubai Jewelry store, an officer challenged the suspect and the suspect fired a handgun at the officer. From behind cover, the officer returned fire as the suspect fled on foot. A motorist, passing by in the background was struck by a bullet that appears to have been fired by the suspect. That victim was transported to a local hospital with life-threatening injuries.
The injured citizen's condition has now changed to non-life-threatening. The officer involved in the shooting is a 7-year veteran assigned to the patrol bureau.
Fairfax Co. police say the suspect then entered a vehicle and fled and then crashed at Spring Village Drive and Hampton Creek way. The suspect then carjacked a vehicle and fled again, this time, crashing in the 7600 block of Hooes Road where he bailed out of the vehicle and fled on foot. No motorists were injured during the carjacking.
Franklin is no stranger to crime. He has 37 records in the Md. Judiciary database dating back to 2010. Charges range from traffic violations to crimes, which include assault, theft, burglary, possession of a handgun, resisting arrest, and possession of marijuana, among others. In many cases, the charges were either dropped or the case was put on the stet docket. He was sentenced to 3 years in one case for "Handgun: Wear/Carry & Transport In Vehicle/Public Roads." He is currently under an open criminal indictment filed on Feb. 12 for an incident on Jan. 16. There are 17 criminal charges on that indictment which include armed robbery and the use of a firearm in a felony crime.
To add insult to injury, Franklin was just released on bail on May 2 in connection with 2 theft charges on March 17 in Montgomery Co. Court records list the bail bondsman as Ruth Ruskowski of Rockville, Md.
Sethi's criminal record is less impressive. He has 14 traffic cases listed dating back to 2013. His one criminal case is for possession of marijuana and possession of not-marijuana on Dec. 15, 2015. Both charges were put on the stet docket.

The state of Maryland appears to have some difficulty properly assessing Sethi's race. In some court records he is listed as "UNKNOWN, OTHER." In several other cases, he is identified as "

WHITE, CAUCASIAN, ASIATIC INDIAN, ARAB."

In at least one case he is identified as "

BLACK, AFRICAN AMERICAN."