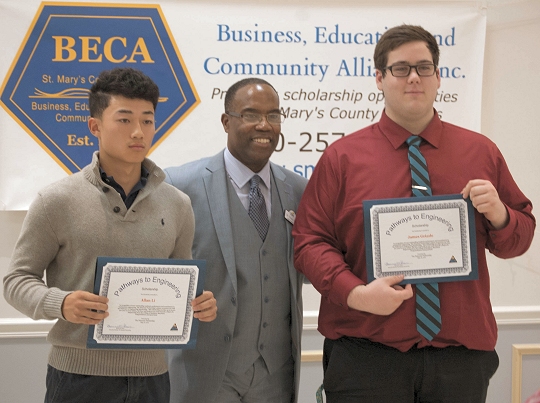 Dr. Tracy Harris, Vice President and Dean, CSM Leonardtown Campus, TPP Board of Directors, presents Allan Li and James Grizzle with scholarship certificates for the Pathways to Engineering program.
LEXINGTON PARK, Md.
(May 20, 2016)—In 2012, The Patuxent Partnership (TPP) initiated their Pathways to Engineering Scholarship program in support of the University of Maryland Mechanical Engineering program at the Southern Maryland Higher Education Center (SMHEC). The program was the result of an Education Partnership agreement with the College of Southern Maryland (CSM), University of Maryland (UMD) and the Naval Air Warfare Center Aircraft Division (NAWCAD). This partnership encourages local students to pursue an education and career in engineering.
The Pathways to Engineering program is designed so that students may complete a four-year degree right here in Southern Maryland. Students complete their first two years of college at CSM and then transfer to the UMD James A. Clark School of Engineering to complete their final two years of studies. The majority of the UMD course load is offered at the Southern Maryland Higher Education Center, and students accepted in the program participate in a rigorous curriculum tailored to engineering requirements at Pax River Naval Air Station.
During their studies TPP assists the students in securing internships, giving them real world experiences within government and industry. Students also may apply for the NAWCAD Pathways program through USA Jobs, a highly competitive internship program with opportunity for advancement after graduation.
The program is expanding to include Electrical and Computer Engineering. TPP has successfully supported a total of five students as they make their way through the Pathways to Engineering program. This year, TPP has awarded two more student scholarships bringing the total to seven engineering students living, learning and eventually working in Southern Maryland.
The 2016 TPP Pathways to Engineering scholarship recipients are James Grizzle, Chopticon High School, and Allan Li, Great Mills High School. Both young men have demonstrated extraordinary academic achievement while attending high school and have chosen to pursue careers in engineering.
"During the Pathways to Engineering program we build lasting relationships with these students," said Bonnie Green, Executive Director of TPP. "We assist them through-out their academic career with internships and other resources, something that could not be done if these students were not part of our local community."
The Patuxent Partnership works with government, industry and academia on initiatives in science and technology, hosts programs of interest to NAVAIR and the broader DoD community, supports workforce development including education initiatives and professional development. Visit www.paxpartnership.org.