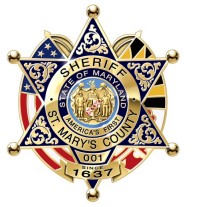 LEONARDTOWN, Md.
(May 20, 2016)—Just as police in St. Mary's Co. were hauling one drunk driver—who had just taken them on a dangerous chase—to jail, another drunk driver comes upon the scene and almost hits an officer who was directing traffic. The drama started to unfold around 12:30 a.m. Friday.
Police were first called to a domestic assault in the 48000 block of Long Lane in Lexington Park. While in route, the Emergency Communications Center broadcast that the suspect,
Stevyn John Lee, age 32, of Lexington Park
, was leaving in a white SUV bearing North Carolina tags. Deputy First Class Schultz observed the motor vehicle in the area of Hermanville Road and advised that the operator appeared to be under the influence of alcohol, based on his erratic driving and speed. DFC Schultz attempted to conduct a vehicle stop at which time the vehicle fled.
Police say Lee continued eluding them by traveling northbound on Route 5. An attempt to stop the vehicle was initiated utilizing stop sticks at Route 5 and the Fast Stop. The suspect stopped his vehicle in the area of Fast Stop, prior to striking the stop sticks. Lee refused to exit the vehicle upon being stopped. Forced entry was made, and Lee was extracted from the vehicle.
Lee was transported to MedStar St. Mary's Hospital for treatment, before being taken to the St. Mary's County Detention Center. He was charged with Second Degree Assault, Resisting Arrest, and Driving Under the Influence.
While police were on the scene of the vehicle stop, Corporal O' Connor was directing traffic when a Ford 500 passenger car failed to slow down and almost struck her. Corporal O'Connor initiated a vehicle stop, at which time she determined the operator of the motor vehicle,
Sean Crawford Caggiano, age, 21, of Leonardtown
, appeared to be under the influence of alcohol. Standardized Field Sobriety Tests were performed which he was unable to complete satisfactorily. He was placed under arrest and offered an alcohol concentration test, which he refused. Caggiano was transported to the St. Mary's County Detention Center and issued multiple driving citations, including Driving Under the Influence and Driving While Impaired.