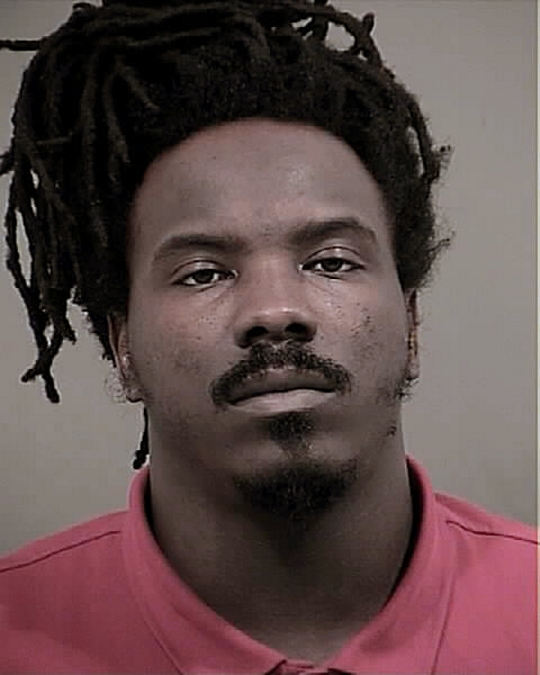 Delandre Bernard Rosier, 30, of Indian Head, was arrested in connection with a child sexual abuse incident which occurred on November 11 in Pomfret.
LA PLATA, Md.
(May 16, 2016)—The Charles County Sheriff's Office today released the following incident and arrest reports.
CCSO DETECTIVES IDENTIFY AND ARREST SUSPECT IN SEXUAL ASSAULT CASE: Charles County Sheriff's detectives assigned to the Judicial Services Unit arrested
Delandre Bernard Rosier, 30, of Indian Head
, in connection with a child sexual abuse incident which occurred on November 11 in Pomfret. A warrant charging Rosier with sexual child abuse was obtained soon after the report was made; however, he eluded arrest. On May 12, Rosier was located and arrested at a residence in Ft. Washington, in a joint effort by the CCSO Judicial Services Unit and the United States Marshals Service. Rosier was processed and ultimately held without bond. Detective J. Long investigated.
DETECTIVES IDENTIFY AND CHARGE SUSPECT IN SHOOTING: On May 7, detectives assigned to the Charles County Sheriff's Office Criminal Investigations Division, along with members of the U. S. Marshals Task Force, arrested
Marcell Hemsley, 15, of Accokeek
, and
Glenn Wade, 17, of Waldorf
, in connection with the April 29 shooting of a 29-year-old man. The shooting occurred on Bridle Path Drive during which Hemsley, Wade, and the victim were making a drug transaction involving marijuana. The suspects attempted to rob the victim of cash and shot him during the course of the robbery. The victim drove to a nearby gas station where he called for help. Both suspects were charged as adults with attempted murder. Det. J. Elliott is investigating.
COMMERCIAL BURGLARY: On May 13 at 12:03 a.m., an unknown suspect broke a rear window and entered a business in the 5000 block of Hawthorne Road in Indian Head. Once inside, the suspect removed a video surveillance camera which was mounted on the ceiling before fleeing. It does not appear that anything was taken. M/Cpl. R. Cadrette is investigating.
TRESPASSING, FRAUD, POSSESSION OF CONTROLLED DANGEROUS SUBSTANCE: On May 10 at 9:47 a.m., officers responded to a hotel located in the 11000 block of Business Park Drive in Waldorf for a trespassing complaint. Upon arrival officers located the suspect and placed her under arrest for trespassing, during which she actively resisted. A search revealed that the suspect had provided a false name. Heroin and related paraphernalia were also located.
Whittney Elise Woods, 29, of La Plata
, was arrested and charged with trespassing, identity fraud, and possession of a controlled dangerous substance. Officer J. Pogar investigated.
CCSO WARNS CITIZENS AGAINST SCAMS: The Charles County Sheriff's Office has recently received several calls from citizens regarding continued phone scams. The latest scam involves the caller claiming that they are from the IRS and stating that the person receiving the call owes back taxes. The caller states that in order to avoid being arrested, the person must pay their back taxes by way of iTunes gift cards.
Please note that the IRS will not:
• Call you to demand immediate payment. The IRS will not call you if you owe taxes without first sending you a bill in the mail.
• Demand that you pay taxes and not allow you to question or appeal the amount you owe.
• Require that you pay your taxes a certain way (for instance, with a prepaid debit card).
• Ask for your credit or debit card numbers over the phone.
• Threaten to bring in police or other agencies to arrest you for not paying.
The CCSO urges citizens to be wary of these types of phone calls and to reference this article from the IRS website:
https://www.irs.gov/uac/irs-urges-public-to-stay-alert-for-scam-phone-calls
.
Disclaimer: In the U.S.A., all persons accused of a crime by the State are presumed to be innocent until proven guilty in a court of law. See: http://so.md/presumed-innocence. Additionally, all of the information provided above is solely from the perspective of the respective law enforcement agency and does not provide any direct input from the accused or persons otherwise mentioned. You can find additional information about the case by searching the Maryland Judiciary Case Search Database using the accused's name and date of birth. The database is online at http://so.md/mdcasesearch . Persons named who have been found innocent or not guilty of all charges in the respective case, and/or have had the case ordered expunged by the court can have their name, age, and city redacted by following the process defined at http://so.md/expungeme.