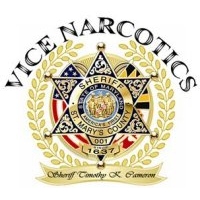 LEONARDTOWN, Md.
(May 12, 2016)—The St. Mary's County Sheriff's Office Vice Narcotics Division released the following incident and arrest reports. The Division is an investigative team comprised of detectives from the St. Mary's County Sheriff's Office and Federal Drug Agents (HIDTA Group 34). The Division was established on September 1st, 2007.
INMATE RECEIVING LETTERS SOAKED WITH SUBOXONE: Vice/Narcotics detectives received information that an inmate,
Paul Daniel Panholzer, age 32, of no fixed address
, was receiving mail into the jail which was tainted with Suboxone. During the course of the investigation, evidence was recovered from his cell as well as from intercepted incoming mail. Letters were being sent into the secure facility after being soaked in the drug. Once inside the jail, Suspect Panholzer would eat the paper to ingest the drug. He was indicted and charged with several criminal charges including Introducing Contraband into a Detention Facility. At least one additional arrest is expected as a result of this investigation.
POSSESSION OF METHADONE:
Mirone Dewayne Smith, age 44, of Lexington Park
, was arrested and charged with Possession of Methadone.
PRESCRIPTION FRAUD RACKET: Vice/Narcotics detectives responded to a pharmacy in St. Mary's County for a reported fraudulent prescription. Information was then forwarded to surrounding agencies and the suspect was identified as
Gina Marie Krouse-Boswell, a/k/a Megan Baker
.
On May 3, the detectives were contacted by Narcotics detectives from Calvert County Sheriff's Office regarding the suspect Krouse-Boswell attempting to pass a fraudulent prescription in their jurisdiction.
Shortly after being contacted, a St. Mary's County Vice/Narcotics detective was conducting an unrelated investigation at a pharmacy when they observed suspect Krouse-Boswell arrive and enter a Charlotte Hall pharmacy, pass a counterfeit prescription for Oxycodone and exit the establishment waiting for the prescription to be dispensed.
Suspect Krouse-Boswell was arrested. Recovered from her person and vehicle were numerous items of evidence. Nineteen additional fraudulent prescriptions were recovered, some of which were signed and made under various names. The phone number on the prescription was called and it prompted the suspect's cell phone to ring. A prescription bottle containing several Oxycodone tablets was located as well and it was revealed it was also obtained through this fraud scheme.
Detectives will continue the investigation within our jurisdiction and assist the Calvert County Sheriff's Office in their investigations as well. Additional charges are pending a review with the State's Attorney.
Disclaimer: In the U.S.A., all persons accused of a crime by the State are presumed to be innocent until proven guilty in a court of law. See: http://so.md/presumed-innocence. Additionally, all of the information provided above is solely from the perspective of the respective law enforcement agency and does not provide any direct input from the accused or persons otherwise mentioned. You can find additional information about the case by searching the Maryland Judiciary Case Search Database using the accused's name and date of birth. The database is online at http://so.md/mdcasesearch . Persons named who have been found innocent or not guilty of all charges in the respective case, and/or have had the case ordered expunged by the court can have their name, age, and city redacted by following the process defined at http://so.md/expungeme.