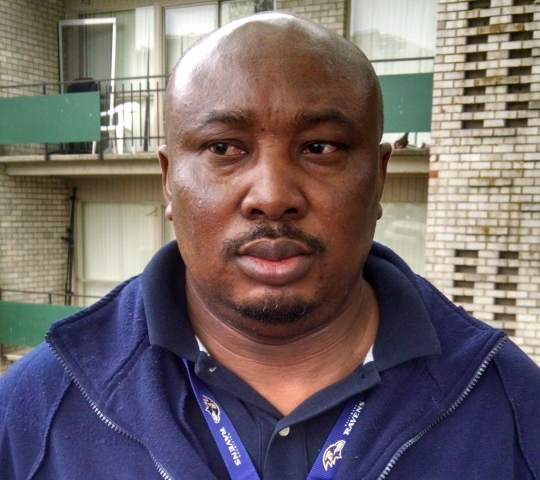 Justice Chikod Ezuokeaba, age 28, was arrested in connection with an online scam.
PRINCE GEORGE'S COUNTY, Md.
(April 28, 2016)—An online scam which robbed over $23,000 from a victim in Kentucky has led to a man in Prince Georges County. When a search warrant was executed Wednesday, 11 individuals from Nigeria were identified inside the residence.
In February, 2016, the Maryland State Police, Criminal Enforcement Division-Central South Region, was contacted by investigators from the Lexington Kentucky Police Department, Bureau of Investigation-Financial Crimes Unit, regarding a bank fraud scheme.
MSP-Central South investigators learned in November 2015, Kentucky investigators initiated an investigation into the alleged fraudulent transfer of funds to a bank whose account owner is in New Carrollton, Maryland. According to the victim, she was contacted by the suspect, Justice Chikod Ezuokeaba, 28, of the 7800 block of Riverdale Road, New Carrollton via social media. The suspect requested money from the victim to ship a package from London to Maryland. Over $23,000 in wire transfers were sent to the suspect.
On April 22, 2016, investigators met with an Anne Arundel County District Court judge and received a search warrant for the suspect's New Carrollton residence. Investigators applied for and received an arrest warrant for the suspect through Prince Georges County for theft and theft scheme over $10,000/under $100,000.
Early on April 27, 2016, investigators from MSP-Criminal Enforcement Division-Central South Region, Prince Georges County Financial Crimes Unit, Department of Homeland Security Investigations and a uniform trooper from the College Park Barrack served a search warrant at the Riverdale Rd address.
Investigators secured the residence where 11 individuals from Nigeria were identified. Warrant, citizenship, and residency checks were performed by the Maryland State Police and Immigration and Customs Enforcement (HSI). All wanted checks were negative. The Department of Homeland Security Investigations will follow up on additional residency status.
The suspect, Ezuokeaba, arrived at the residence prior to investigators departing. He was placed under arrest and transported to the College Park Barrack for processing. Later, Ezuokeaba, was served with an additional open warrant from Kentucky. He was transported to the Hyattsville Detention Center, Prince Georges County.
If Ezuokeaba is found guilty on the Maryland charges, he could face up to 15 years in jail and/or up to $15,000 in fines.