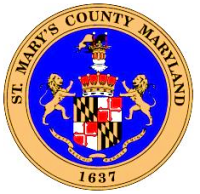 Gas Main Relocation Scheduled Along Airport Road
Washington Gas will be performing a gas main relocation along Airport Road during the week of April 24—April 30. The work will impact the MTA Commuter Bus service located at the St. Mary's Regional Airport.
Citizens who utilize this park and ride lot and the commuter bus system should to be prepared to park in the adjoining parking lots immediately in front of the Captain Walter F. Duke Terminal Building located at 44200 Airport Road. During this time, the commuter buses will pick-up and drop off riders directly in front of the terminal building.
For additional information contact the St. Mary's County Department of Public Works and Transportation, Administrative Office at 301-863-8400.
Economic Development Commission Cancels Meeting
The April 20 meeting of the Economic Development Commission was canceled.
The next meeting of the Commission will take place on Wednesday, May 18 starting at 6 p.m. in the commissioners meeting room inside the Chesapeake Building, at 41770 Baldridge Street, Leonardtown, MD.
For more information about the St. Mary's County Economic Development Commission, contact Chris Kaselemis, Director, St. Mary's County Department of Economic Development at 301-475-4200, ext. *1405.
2015 Gold Star Award Winners Announced
The St. Mary's County Health Department announced recipients of the 2015 Gold Star Award given annually to food service facilities that achieve superior food safety standards. Thirty-eight award recipients for calendar year 2015 were recognized at a ceremony held April 7 in Leonardtown. Dr. Meena Brewster, St. Mary's County Health Officer, was joined by Robin Finnacom, Deputy Director of the St. Mary's County Department of Economic Development, in welcoming the attendees. Recipients of the Gold Star Award also received special recognition from the Maryland General Assembly via the office of Senator Steve Waugh.
"Routine monitoring of food establishments—including restaurants, catering businesses, school cafeterias, and other food service facilities—is a vital public health service that helps us avoid foodborne disease outbreaks," said Brewster. "Our Gold Star Award Program recognizes those facilities that meet standards of excellence in food safety."
The Gold Star Program has recognized food establishments for superior compliance to food safety standards with this annual award since its inception in 2007. Environmental health specialists at the health department regularly inspect nearly 500 food service facilities in St. Mary's County to ensure food safety is being adequately addressed.
"These establishments have demonstrated exceptional attention to public health safety and sanitation," stated Mark Morris, Food Safety Director at the health department. "They deserve to be recognized for achieving such high standards."
The food establishments that achieve this high level of compliance receive a certificate and a window sticker designating them as Gold Star establishments. The requirements to earn a Gold Star are:
• No critical violations (based on COMAR 10.15.03)
• No temperature violations cited during a monitoring inspection
• All violations noted by an inspector must be corrected by a 30-day follow-up inspection
• No confirmed unsafe food handling complaints
• At least one food service worker completed a recognized and approved "Food Service Sanitation and Safety Class" within the last two years
For more information about the Gold Star Program and for a list of the 2015 Gold Star Award winners, please visit the health department's website at
www.smchd.org
.
Commissioners to Hold Public Forum on May 3
The Commissioners of St. Mary's County will host their third Public Forum of 2016 on Tuesday, May 3 at 6:30 p.m. The forum will take place in their meeting room, inside the Chesapeake Building, at 41770 Baldridge Street in Leonardtown.
Citizens unable to attend the forum in person, and wishing to voice a concern, can do so on social media. Residents can post comments or questions using the hashtag #CSMCforum to the county's Facebook page (www.Facebook.com/StMarysCountyGovernment) or twitter feed (@StMarysCoGov). Time permitting, comments and questions will be read at the forum. Citizens should include their full name and the area of the county in which they live when posting to social media as the comments will become part of the official record.
Commissioners of St. Mary's County Public Forums are televised live on St. Mary's County Government TV 95 (SMCG TV 95) on Metrocast Cable and streamed live for online viewing on the county's website at
stmarysmd.com/broadcast.asp
. Click on the LIVE link at the top of the page (note: this feature is not available on Apple or mobile devices).
A rebroadcast of the forum can be seen on SMCG TV 95 on Sunday, May 8 at 7 p.m. Forums are also available for viewing on demand on the county's YouTube channel at
youtube.com/user/StMarysCoMDGov?feature=mhee
.
Individuals wishing to speak at the Public Forum will be allowed up to three (3) minutes to address the Commissioners (those representing a group will be allotted five (5) minutes to speak.) Anyone wishing to provide more detailed comments may do so via email or regular mail.
Commissioners will hold additional Public Forums in 2016 on the following dates:
• September 13
• October 18
The Commissioners of St. Mary's County can be reached via e-mail at csmc@stmarysmd.com or by U.S. mail at Commissioners of St. Mary's County, P.O. Box 653, Leonardtown, Maryland 20650.
Commissioners to Host Final Code Home Public Hearing May 10
The Commissioners of St. Mary's County will hold their eighth and final Code Home public hearing, on Tuesday, May 10, 2016 in their meeting room inside the Chesapeake Building. The address is 41770 Baldridge Street, Leonardtown, MD 20650. The hearing will begin at 6:30 p.m.
A move to Code Home Rule would allow county commissioners to exercise authority to enact local laws on a number of subjects without having to await action by the Maryland General Assembly. Under Code Home Rule commissioners could not enact any new taxes or regulatory fees.
Code Home Rule would give the commissioners legislative authority throughout the year. Public hearings on legislation would be held in Leonardtown, rather than in Annapolis during the winter. The public could demand a referendum on any new public local law, something which does not currently exist. St. Mary's County is one of six counties in Maryland which has yet to adopt some form of home rule.
Commissioners will meet to decide whether to place a referendum on the November 2016 ballot in upcoming weeks. Voters in St. Mary's County would have to approve the referendum to adopt Code Home Rule during the general election in November. If approved, the county would become a Code Home county on December 8, 2016.
Additional information about Code Home Rule can be found at www.stmarysmd.com/pio/codehome.asp. Citizens may forward questions and comments to: CodeHomeRule@stmarysmd.com.