LA PLATA, Md.
(April 13, 2016)—High school students in jazz band have different musical heroes than some of their peers. The names of contemporary singers or rappers don't come to mind when they think of cool. It's names like Freddie Hubbard. Buddy Rich. Freddie Green. Those are the guys jazz players want to emulate. They are the horn players, the ones who keep the rhythm, provide the beat on which a number builds and swings.
"It's America's music," Rodney McGee Jr., a Maurice J. McDonough High School sophomore and trombone player, said of jazz.
"Jazz is organic," Daniel Campos, a McDonough senior who plays trumpet in the school's jazz band, said. "It's the original American art form. All others came out of jazz. It's the root."
Jazz bands from McDonough, St. Charles, North Point and Westlake high schools took part in the 13th annual Jazz Fest hosted by the College of Southern Maryland. The festival is a weekend-long event featuring performances by local musicians and guest artists. But on Friday morning, high school jazz musicians get to play for a professional musician, who gives them tips, critiques and inspiration.
Gregg Bissonette, a Los Angeles-based drummer who has toured with Ringo Starr's All Starr Band, played on Santana's award-winning "Supernatural" album and was a member of David Lee Roth's band, was the guest musician at this year's Jazz Fest. Playing for a renowned musician like Bissonette is an enriching experience for young musicians, said Randy Runyon, director of Solid Brass, CSM's jazz ensemble.
"It inspires them," he said. "Sharing a stage with someone like this, they see what they can do and if they really want to do it, if they roll up their sleeves and put in the practice, the right kind of practice, they might be one of the world's best someday."
In jazz ensembles, the lead trumpet "sort of leads the way," Bissonette said before asking to hear Campos solo again, adding that the rest of the band should follow his lead and play accordingly. "You bring it down and tell [him] where to go … and he took you to some cool places," Bissonette said.
Caitlin Dunleavy, a McDonough music teacher, said the session gives her students more exposure to music and to those who play it. "We're always looking for more performance opportunities," she said. "And to get feedback." Her students look forward to Jazz Fest and take what they learn and apply it to their music.
Glenn De Los Santos has been drumming since he was in second grade. Now a sophomore at St. Charles High School, he said the session with Bissonette was encouraging. "It fired up my inspiration," De Los Santos said. "The big thing is to stay inspired, keep playing and keep learning."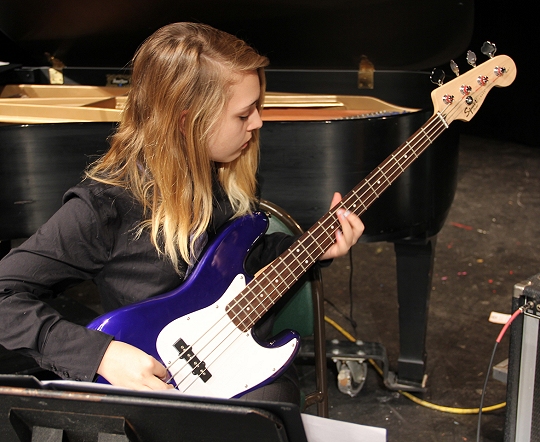 Shelby Midgett, a Maurice J. McDonough High School junior, plays the bass in the school's jazz band. (submitted photo)