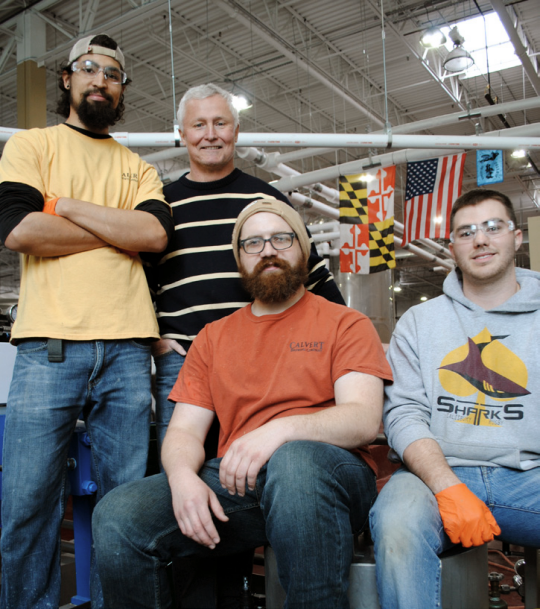 From Left to Right: Matt Ducey-Head Brewer, Mike Scarborough- Co-Owner and Managing Partner, Nick Finney- Assistant Brewer, Jacob Cusic- Brew Hand. (Photo:

Crista Dockray)
HOLLYWOOD, Md.
(April 8, 2016)—Calvert Brewing Company is Maryland's first designated farm brewery. They are also the largest microbrewery to open up in the country in five years, based on their square footage.
The establishment of the brewery actually stems from a winery.
Managing partner and co-owner of Calvert Brewing Company, Mike Scarborough and his wife Barbara Scarborough planted their first grape vines in 2002 to make wine for their personal consumption. They ended up going past the legal limits of production, so they turned it into a commercial operation in 2007 named Running Hare Winery.
After a few years at the winery, Scarborough came to a realization.
"It became apparent, at least to me, that beer was becoming the new wine," said Scarborough.
"A lot of what young people are doing is that they're drinking beer and they are drinking really good beer and they know their beers pretty well. It became obvious that there is a pretty significant market out there," he said.
So for one of his birthdays, Scarborough decided to buy himself a one barrel brewing system. Although he did not know how to brew beer, he had some friends that did.
He said the beer they were producing out of his system was really phenomenal.
"I realized that you can make beer that is competitive with anything that's made in the marketplace, and so that was the genesis of Calvert Brewing," said Scarborough.
Calvert Brewing Company received their license to make and serve beer in September 2014. Around that time, Scarborough had planted some hops on his winery property, which they started using in the brewing process. This qualified them as a farm brewery, the first of its kind in the state.
For two and a half years, Calvert Brewing Company brewed out of their property in Prince Frederick and they even opened up a beer garden there before their 28,000 square foot production facility and public tap room opened in January 2016.
According to Scarborough, Calvert Brewing Company always had the production facility in mind, but it took two and a half years to raise the money, go through the permit process and finish construction.
The money was raised due to the fact that the ownership of the company went from one to nine.
Besides Scarborough, Calvert Brewing Company has eight other owners. Ken Gerhart and Kevin Owen were Scarborough's first partners and later came Kevin Kerwin, Steve Huter, John Burroughs, Jeff Gerhart, Bud Williams, and SSW Enterprise.
"I've owned and run a few businesses and I've never seen this much talent around a table before," said Scarborough.
The production facility, which has six 60-barrel and four 120-barrel fermentation vessels, produces their four base beers, their IPA, Pale Ale, Wye Rye, and Cream Ale. It also produces their seasonal and experimental brews.
"We ask the brewer to dream up some things that he wants to try. We make them on my old one barrel system… and we'll put it on tap," Scarborough said. After, they will see if customers enjoy their creations.
Scarborough said that he believes that this is the best way to do market research.
"We can think that we know everything all day long, but the truth is, until somebody that is sitting over on the other side of that bar says 'I want a second one of those' or 'I want a third one of those' do we get any sense of what really has legs," he said.
To make the beer, Calvert Brewing Company has the IDD Mash Filtration System, which is one of only nine in the world. Scarborough said that this is easily the most efficient system that exists.
He said they can brew beer with less than half the water, less than 60 percent of the energy needed, and with a 20 percent reduction in the amount of grain needed to brew.
Also, because of the mash filter, they have the ability to brew every two hours rather than the industry average, which is every five to six.
Once the beer is brewed, they add another interesting twist. Calvert Brewing Company will take used, wet wine barrels from Running Hare Winery and age some of their beers with it.
"We have the unique ability to take the skill sets that we know from the winemaking side, including the use of wine barrels, and to marry that together with the great brewing ability our brewer has," said Scarborough.
Scarborough said they are currently experimenting with woods, and other beers in other barrels.
When all is said and done, the beer is put in its newly designed packaging. Calvert Brewing Company used to bottle its beers, but recently made the decision to switch to cans because there is no light degradation, the cans are lighter, recyclable, and it fits their mission statement to be green.
The beer is then distributed in Washington, D.C. and in every single county in Maryland, besides Garrett County. According to Scarborough, they are looking to get into northern Virginia by the end of this year and then from there, expand to Richmond and its surrounding counties. They already have a wholesaler picked out for when this comes to fruition, Scarborough said.
At some point Scarborough said they want to look to Delaware, eastern Pennsylvania, and southern New Jersey, then sit on that market and become the eastern seaboard standard of good beer.
"Frankly, I think we are making some of the best beer in the state," said Scarborough. "We'll absolutely put our beer up against anyone."
Besides brewing and distributing its own beer, Calvert Brewing Company offers a contract-brewing program.
Scarborough explained that craft brewing is exploding on the east coast. Although it is very popular, many microbreweries are started by people who were home brewers and don't have the ability to expand as much as they need. If that happens, these microbreweries have somebody else make their beer or make the excess beer their system can't handle.
Currently Calvert Brewing Company brews the beers of Smoketown Brewing Station and Greenspring Brewing Company. They plan to get more companies on board in the future.
According to Scarborough, if they used the amount of space their production facility has to offer, they could probably produce upwards of 100,000 barrels.
"We have built the brewery with the sole intent of this thing growing dramatically…we have not cut any corners on any of the things that we are doing…just watch us grow and drink our beer," said Scarborough.
Calvert Brewing Company's farm brewery and beer garden is located at 150 Adelina Road in Prince Frederick. They will be opening up again for the season this weekend on Saturday, April 2. They will be open from noon to 6 p.m. and will have live music from 1 to 5 p.m. On April 23, they will have their Spring Festival. Calvert Brewing Company's production facility and public tap room is located at 15850 Commerce Court in Upper Marlboro. Tours of the facility are available. For more information on both of these locations, visit www.calvertbrewingcompany.com or call 240-245-4609.
For more local news stories, visit the County Times newspapers online at http://ct.somd.com/