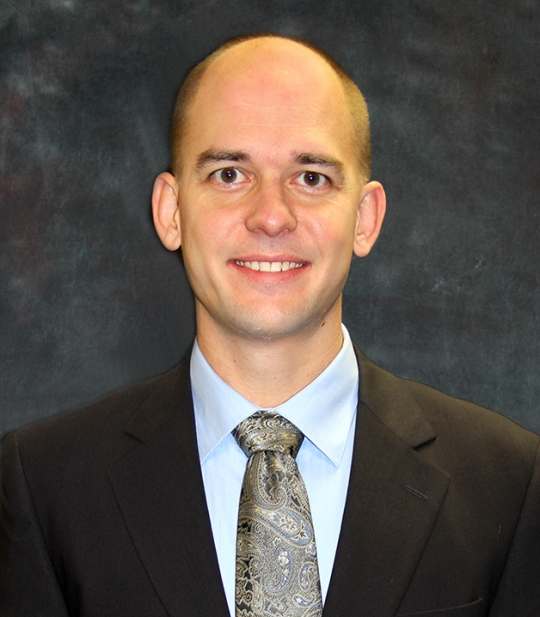 Kevin Barry.
LA PLATA, Md.
(April 8, 2016)—Dependable. Trustworthy. Competent. Driven. These are examples of qualities teachers strive to model in their classrooms and interactions with students. At La Plata High School, Kevin Barry, a longtime social studies teacher at the school, emulates these characteristics and more as his passion for teaching and learning is evident in all that he does. His lessons are engaging and often include the use of instructional technology to make the content come alive for his students.
Among his peers, he is well known as an exemplary teacher for his passion for teaching and pushing students to do their best, both in the classroom and in extracurricular activities and sports. Among La Plata students, he is known as a wonderful and motivational teacher. Also dubbed the 2015 "Faculty King" by students for his immense school pride and spirit, Barry is committed to fostering positive relationships with his students, colleagues and the school community.
For his passionate and engaging demeanor in the classroom and his commitment to connecting students with technology to learn, Barry was recently honored as Charles County's finalist for the 2016 Washington Post Teacher of the Year Award. Barry credits the staff and students at La Plata for inspiring his passion for education.
"The students I have taught and the players I have coached who challenge me and inspire me every day over my career. When I am able to see them have success in school, on the field, or when they graduate it makes everything I do worthwhile. The staff at La Plata High School whom has always made coming to work exciting and help create a community that I love to be a part of. An award like this is a credit to all of the hard work they put in to make our school a great place to work," Barry said of his recognition.
Formerly the Agnes Meyer Teacher of the Year program, the Washington Post Teacher of the Year program now recognizes one teacher from each participating school district as a finalist. One overall recipient for a regional award is ultimately chosen by the Post. Among La Plata staff, Barry was a standout candidate to nominate for the recognition.
Leslie Schroeck is a resource teacher at La Plata and spearheaded Barry's nomination. She said when staff at the school met to discuss a teacher who they would nominate for recognition, they quickly agreed that Barry was an excellent choice.
"Just spend a few minutes in the classroom with Kevin Barry and you will see evidence of well-planned lessons consisting of engaging learning activities. The Washington Post Teacher of the Year should be a teacher who others wish to emulate. Kevin Barry is that kind of teacher. He has shown through his teaching, coaching and leading that he is deserving of the title," Schroeck wrote in a nomination letter.
Barry has been teaching at La Plata since 2006. His subject areas include local, state and national government (LSN) and U.S. History classes to Advanced Placement (AP) Human Geography and exploring computer science courses. He is well known for providing an atmosphere for students that fosters academic achievement. He infuses technology into his lessons to expose students to history, geography and computer science in real time and connects them to the world. Barry is a teacher who understands the importance of providing students with real world applications to enforce what they learn in the classroom.
Lynne Arnold, principal at the Robert D. Stethem Educational Center, served as a vice principal and principal at La Plata for several years. During her tenure at La Plata, Arnold worked with Barry and said he is an exemplary role model of a professional educator. "Mr. Barry has consistently sought out ways to enhance his knowledge of teaching in order to provide his students with a broad range of experiences. He is always eager to learn new things and more importantly, bring that knowledge back to his students and staff. It is without reservation that I recommend Kevin Barry for recognition as an exemplary teacher. He represents everything we want in an educator and is well deserving of this honor," Arnold wrote in a nomination letter.
Barry said several individuals and experiences helped shape his desire to become an educator. As a child, he took road trips with his family and said his father would tell him stories about history that always inspired him to want to know more. During his grade-school years Barry had several teachers, Ms. Lombard, Coach McLeod and Ms. Christianson, who taught with such passion that it instilled in him a love of learning. "Those teachers had a passion for teaching and because of them I wanted to have the opportunity to inspire and teach when I grew up," Barry said. He also credits his teacher mentors during his internship with helping him to develop his teacher voice and inspiring him to find new ways to reach students.
Barry not only inspires students in the classroom, but also in athletics and extracurricular activities. He has coached the girls' varsity soccer team since 2007 and has helped the team achieve several awards for outstanding sportsmanship and ethics to academic achievement recognition. He pushes his athletes to do their best in the classroom and on the field. Barry expects his soccer players to act as model student athletes not only to support the program, but to demonstrate hard work and personal responsibility.
Another role Barry holds at La Plata is Telepresence coordinator, in which he coordinates virtual classroom lessons for all students and researches engaging lessons to present using the latest technology. He is also a national Code.org facilitator, which is part of Charles County Public Schools' partnership with Code.Org to enhance computer science initiatives. In this role, Barry works with partner school systems to present professional development sessions and trains teachers on how to infuse computer science and technology ­into lesson plans.
Ben LeBarron is a junior at La Plata and wrote a letter of recommendation for Barry's nomination. In his letter, LeBarron describes Barry as one of his favorite teachers. "His class discussions are very interesting and helps students learn of events in the entire world that they were never aware of. What separates Mr. Barry from other teachers is his knowledge and understanding of new technologies. Mr. Barry is a great teacher and I enthusiastically recommend him to be honored as the best teacher," LeBarron wrote.
Barry credits the social studies department, his family and other colleagues for supporting his passion to teach. "Chris Butler and the social studies department at La Plata who over the past 10 years have become part of my extended family. It is because of them I have learned so many different strategies and techniques that I would not be the teacher I am today without them," Barry said.
As the 2016 Charles County Public Schools finalist for the Post's Teacher of the Year, Barry will be honored by the Board of Education at its June 14 meeting. This year the Post changed their Teacher of the Year program. Finalists from each participating school district were in the running to be selected as one overall regional winner. Finalists, including Barry for Charles County, will be honored by the Post later this school year.