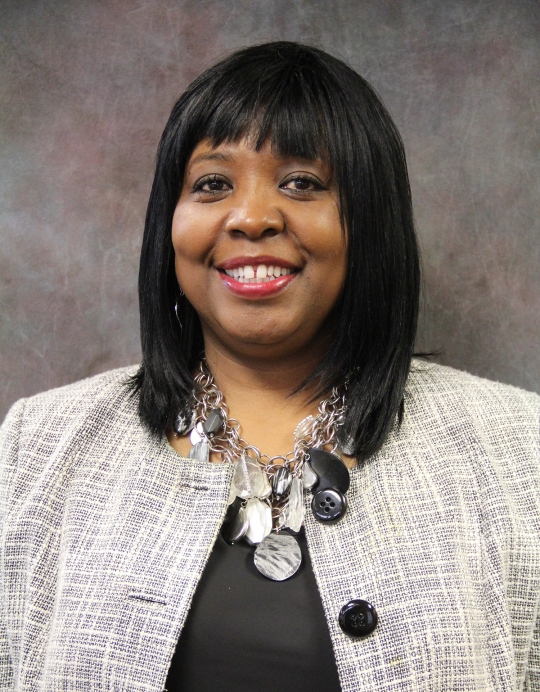 Sonia Blue Jones.
LA PLATA, Md.
(April 8, 2016)—At Mattawoman Middle School in Waldorf, a large banner hangs in the front entrance of the school that reads "Welcome to the Magic Kingdom—Where Dreams Really Do Come True." Students learn that education is key to endless possibilities in classrooms supported by caring and committed teachers. Mattawoman is referred to as the "home of The Magic" and students are eager to learn and excel not only in the classroom, but in additional activities that support a positive school climate.
Leader of this supportive kingdom is Sonia Blue Jones, a five-year veteran Charles County Public Schools principal. New this school year to serving as Mattawoman principal, Jones' leadership mission is to create an environment where teachers love to teach and students love to learn. In her first year at the school, Jones has earned the utmost respect of her staff. Jones' colleagues refer to her as a "glowing example" of a principal who goes beyond regular duty.
Jones is often sought out by students because she is viewed as a leader with a big heart who takes the time to stop, listen and support her students. Jones' magical "glow" extends outside of her school and in to the community she serves. Diana Scott, a Mattawoman teacher mentor, refers to Jones as a "force to be reckoned with" who tirelessly advocates for children. Others see Jones' passion, too, and for this and her commitment to educating all children, Jones was named the Charles County Public Schools 2016 Principal of the Year and finalist for the Washington Post's Principal of the Year awards program.
Jones said she is honored to be recognized for doing what she loves to do, each and every day. "This year I was assigned to Mattawoman Middle School. I was grateful for the opportunity to become acquainted with a new staff, students and a new community. I am proud to lead such an energized and devoted family of teachers who are committed to student achievement," Jones said.
Jones said her desire to become an educator stemmed from her upbringing. Her mother, Joan Blue, was a teacher and instilled in Jones all of her principles of teaching. "She was passionate, creative and most importantly effective," Jones added. When she first started her career as a teacher, Jones incorporated principles of teaching she learned from her mother in the classroom. She taught for several years at the elementary school level with Prince George's County Public Schools and transitioned to administration as an assistant principal with District of Columbia Public Schools in 2004. "My transition to leadership was born out of a desire to effect change on a larger scale," Jones said.
She joined Charles County Public Schools as a vice principal in 2010 at Matthew Henson Middle School, under the leadership of the late Ronald Stup. Jones credits Stup for providing her with several opportunities to hone her leadership skills and passing on his mantra of "leaders grow leaders."
According to her colleagues, Jones is quite the leader. Jennifer Branham is a vice principal at Mattawoman and member of Jones' leadership team. Branham said not only has Jones taught her how to become a strong, positive leader, but has become her mentor and helps her guide decision making and problem solving. "Ms. Jones has had a lasting impact on my style of leadership, and I believe in years to come, I will use her leadership style to guide me as a future principal," Branham wrote in a nomination letter.
Maria Parks is a school secretary at Mattawoman and describes Jones as an exceptional leader who has brought a "breath of fresh air" to the school. Jones appreciates the hard work and professionalism of all staff members and takes time to acknowledge their efforts. She is visible all over the school, from classrooms and the hallways, to the cafeteria and media center in order to be where the students are and spread positive support. She makes it a point to greet all students each morning at the start of the school day and students respect her for enthusiastic and supportive demeanor.
Mattawoman eighth grader Kadasia Barnes wrote a letter of support for Jones' nomination. In her letter, Barnes said the student body at Mattawoman is grateful to have Jones as its principal because she is a hard worker who makes learning fun. "She is always smiling and excited to come to school and see all of her students. She works hard at her job and is the best principal this school has ever had," Barnes wrote.
Cheyenne Owens also recommended Jones for recognition. The Mattawoman eighth grader wrote a letter of recommendation that details Jones' focus on the safety and security of staff and students. "Ms. Jones acts as a mother, she tries to keep us safe and in a healthy environment. She talks and interacts with us and enforces the rules for our safety," Owens wrote.
Jones first became a principal in 2011 at Henson, following nearly a full school year of serving as the school's acting principal after the death of former principal Stup. Jones jumped in to serving as principal and worked diligently to establish relationships with her school community—students, staff, parents and community members—built on respect, high expectations and consistency.
During Jones' tenure at Henson, Charles County Public Schools launched a middle school redistricting to relieve overcrowding at area middle schools. Students from several neighborhoods were rezoned to attend Henson and a negative perception about the school grew in local communities. Comments were made about Henson being an "aging facility" and "under resourced." Jones quickly rallied her staff with a plan of action to change this perception and show off all that the school had to offer.
"When our new families arrived we showed them why we were 'The Best School in the Universe.' We provided excellent customer service through phone calls and emails as well as walk-in conferences with administration. Under my leadership I created a healthy school climate where teachers enjoyed teaching," Jones said.
And her goal of supporting a healthy school climate where teachers enjoy teaching followed her to Mattawoman. Margot Savoy teaches eighth-grade language arts at Mattawoman and recalls a promise Jones made during their first staff meeting. "If you take care of the students, I will take care of you."
Savoy wrote a letter of recommendation on behalf of Jones' nomination and described in it all of the positive changes she sees occurring at Mattawoman. In particular, Savoy mentions an altercation among two students and overhearing their peers talk about staying focused in order to enjoy a positive, behavioral, interventions and supports (PBIS) event Jones coordinated for students who modeled good character. "It's nice to hear the students talk about staff in a positive way. They too are believing in the promise made. I can feel the change in the atmosphere throughout the school," Savoy wrote.
Jones is hard at work at Mattawoman with a new vision—to make the school a premiere science, technology, engineering and mathematics (STEM) middle school in Charles County. She plans to accomplish this by continuing to support a positive climate for students and staff. "My leadership mission is and always will be to create an environment where teachers love to teach and students love to learn," Jones said.
As the 2016 Charles County Public Schools Principal of the Year, Jones will be honored by the Board of Education at its May 10 meeting. This year the Post changed their Principal of the Year awards program. Finalists from each participating school district were in the running to be selected as one overall regional winner. Finalists, including Jones for Charles County, will be honored by the Post later this school year.