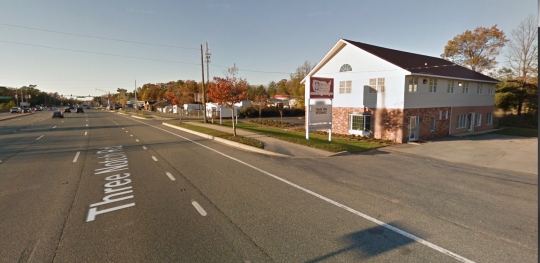 A view of the Franzen Realtors building as it appeared in Nov. 2015 via Google Street View. The building was virtually destroyed in Friday's fire.
LEONARDTOWN, Md.
(April 1, 2016)—Police suspect texting while driving was the reason for Timothy Hinson Baxley, 38, of Lexington Park, driving his vehicle into a building along MD Route 235 in the early morning hours. Subsequently, the building occupied by Franzen Realtors, Inc. caught fire and was seriously damaged.
The collision occurred at approximately 1:26 a.m. Friday morning.
The initial police investigation revealed that a Ford F150 operated by Baxley was traveling northbound on Three Notch Road in the 2200 block, just north of NAS PAXRVR Gate 1, when the vehicle left the roadway and struck the building.
Baxley was transported via Maryland Trooper 7 to Prince George's Hospital Trauma Center with non-life-threatening injuries.
Traffic in that area of Route 235 was shutdown and reopened around 5:55 a.m.
Corporal Brandon Foor is the investigating officer and charges are pending against Baxley.