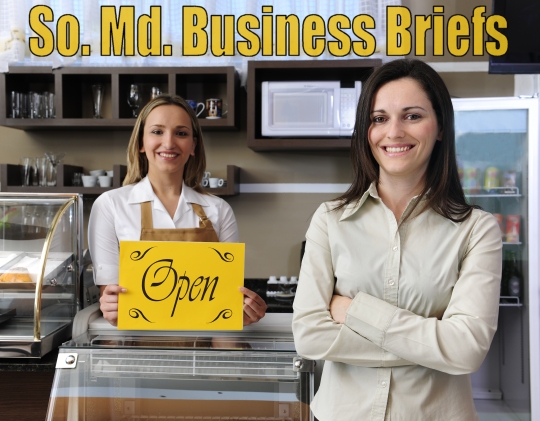 Murder Mystery Company Expands Live Theatre in So. Md.
CALIFORNIA—Hickory Dickory Dark Productions is a Southern Maryland murder mystery company founded in June of 2015. The company is owned and operated by Kristin Kauffman of California, Md.
"When I first moved to So. Md. 3 years ago, I quickly discovered that there was almost no paying theatre work down here, and I knew that had to change," said Kaufman. "So I approached the then-new Charles Street Brasserie in Solomons and asked if they might like to partner on a murder mystery venture for Christmas. The first performance was a sell-out! Because of local businesses like Tall Timbers Marina, Bollywood Masala, Indian Head Center for the Arts, Port Tobacco Marina and many more, we are able to pay our actors and writers and bring hilarious fun to the tri-county community."
This year, the company is running a summer murder mystery called "Murder at Low Tide" by local writers Paul Rose and Andrea Woodbridge.
Their first performance on May 14th is a fundraiser for the American Legion Auxiliary Unit #293 in Waldorf. They are raising money for a new Legion Hall. Kauffman says she has 4 other performances booked thus far, and she expects to have somewhere between 10 and 15 performances this summer.
Kauffman also believes in giving back to the community. The company recently donated $1000 to the United Way of Calvert County and will shortly be donating over $1300 to House of Ruth, an organization dedicated to ending homelessness and lifelong abuse for women and children in the Washington D.C. area.
You can find out more by visiting
www.hickorydickorydark.com
.
Service King Collision Repair Centers Merges with So. Md. Company
Richardson, Texas-based Service King Collision Repair Centers recently announced that it will partner with Wentworth's Collision Works and its pair of repair centers in southern Maryland. Service King and Wentworth's officially agreed upon and finalized terms of the merger Friday, March 18; operations under Service King management began immediately. The two collision repair centers included in the deal are located at 12860 H G Trueman Rd in Lusby, and 27725 Three Notch Rd in Mechanicsville.
"This is an important market for the Service King family and we believe that is reflected in our steady, concerted growth in the area," said Service King Market Vice President Matt Robbins. "Wentworth's Collision and its team match that strategic initiative seamlessly as they have served the community with superior service and quality repairs for more than 10 years. This partnership will only improve our service and continue Service King on its mission to be the collision repair provider of choice."
Service King operates nearly 300 collision repair centers in 23 states across the U.S. and in 2016 is celebrating its 40th anniversary.
Thompson Creek Window Company Reviews as a Top 100 Manufacturers by Window and Door Magazine
LANHAM—For the 7th year in a row, Thompson Creek Window Company is included in Window & Door's annual list of North America's largest manufacturers of residential windows, doors and/or skylights. The annual rankings are based on sales volume.
Thompson Creek Window Company is close to completion on their new manufacturing facility in Upper Marlboro, Maryland which will triple the output of current window production. The new 117,000 square foot window manufacturing facility will contain a Research and Development Laboratory and increased training space. The project in expected to be completed around June 2016.
"Manufacturing our own windows is a key competitive differentiator for Thompson Creek Window Company. We eliminate the middle-man and deliver value directly to our customers by selling, manufacturing and installing our windows. This national level recognition - for our regional success - is a testament to Thompson Creek's superior products and installation along with the best customer experience in our industry, which we create every day," said Rick Wuest, President and CEO, Thompson Creek Window Company. "I am proud of the recognition earned by our top notch team members for the work they do every day to delight our customers and make them house proud."
Chick-fil-A at First Colony Center offering FREE tutoring to elementary and middle school students
CALIFORNIA—Chick-fil-A at First Colony Center has partnered with Chopticon High School National Honor Society and Ryken Student Government to provide free tutoring to elementary and middle school students every Thursday from 5-8 pm. The high school students receive community service hours and a complimentary meal from Chick-fil-A in exchange for their tutoring services. The younger students receive tutoring at no cost.
Voni Craig, marketing director, said they are excited at how at how quickly the program has become successful. One parent recently commented, "We had a meeting with her (daughter's) teachers today. They can tell that the tutors have made a difference."
When: Thursdays during school 5-8pm
Where: Chick-fil-A at First Colony Center
45150 First Colony Way
California, MD 20619
301-862-1018