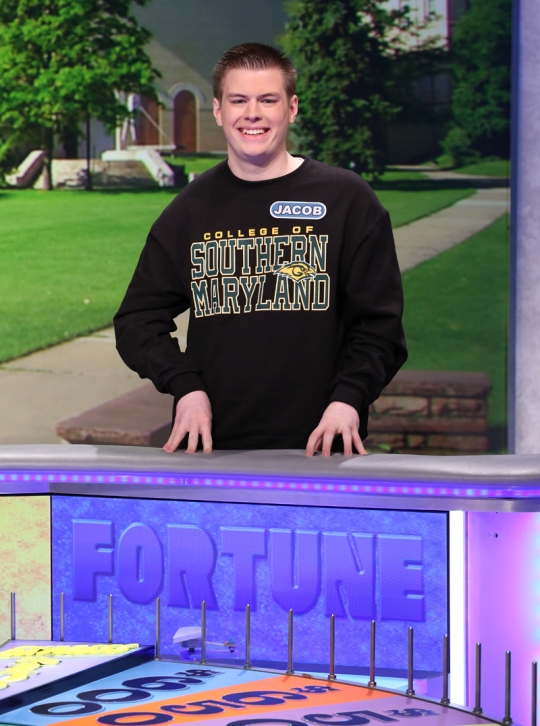 CSM computer science major Jacob Heddings, 19, of Charlotte Hall, will appear as a contestant on "Wheel of Fortune-College Edition" which airs on WJLA on March 31.
Wheel of Fortune
CSM computer science major Jacob Heddings, 19, of Charlotte Hall, will appear as a contestant on "Wheel of Fortune—College Edition." Heddings went for an open audition at a Wheelmobile location where his name was randomly chosen for an interview. He learned in early January that he was chosen to represent CSM at a taping at Sony Picture Studios in Culver City, California, outside of Los Angeles. Heddings is on track to graduate from CSM in fall 2016 and plans to transfer to complete a bachelor's degree in computer science. Locally, Hedding's Wheel of Fortune segment will air at 7 p.m. March 31 on WJLA.
A Passport to China—from Southern Maryland
The College of Southern Maryland's Global Initiatives Committee is presenting "A Passport to China: Chinese Calligraphy Exhibit," which will be on display between the La Plata and Leonardtown campuses and includes performances on the La Plata and Prince Frederick campuses. The exhibit will be in the Library Resources (LR) Building on the La Plata Campus April 4-15. A day of activities is planned for April 12 including a demonstration by a calligraphy artist at 1 p.m. and a traditional Dragon Dance at 3 p.m. The exhibit moves to Building A, Room 206 on the Leonardtown Campus and will be on display April 18-30. The Prince Frederick Campus will host a traditional Dragon Dance 3 p.m., April 19. For information and locations, visit www.csmd.edu/PassportToChina.
CSM Robotics Team is World Championship Bound for Third Year
The College of Southern Maryland's collegiate robotics team, the Talons, has garnered a third consecutive invitation to the VEX-U World Championships, this year in Louisville, Kentucky, April 20-23. "The team had scored high enough in the Programming Skills challenge in the global rankings in order to qualify for a spot," said Bernice Brezina, professor and interim chair for Business and Technology Division, and the team's faculty advisor along with Ronda Jacobs, director of Student Success Center, and Bill Luyster, an adjunct faculty member. The Talons team is comprised of current CSM students and alum now pursuing bachelor's degrees including, from left, John Hamel of Mechanicsville, Tierra Harris of Hollywood, George Jenkins of La Plata, Allison DeCarlo of Charlotte Hall, Chad Baker of Mechanicsville, John Ingram of Leonardtown, Michael O'Conner of Solomons, Kevin Jackson of Lusby, Bradley Evans of California and Zoe Lambert of Hollywood, and not pictured, Ryan Achterberg of Lusby, Cody Graham of Great Mills and Matt Wilkinson of Leonardtown. The Talons will compete with 50 community college and universities from around the world. For more on the competition, visit
https://www.robotevents.com/catalog/product/view/id/28674/category/631
. For more on the Talons, visit
http://stem.csmd.edu/events_csmroboticsVEX.html
.
CSM Students Make All-Maryland Community College Academic Team
Four College of Southern Maryland students will be recognized for their exemplary academic achievement in earning second team honors for All-Maryland Community College Academic. Mallory Haselberger of Waldorf, Stephanie Hayes of Marbury, Joseph Turner of Chaptico and Robert Wilson of Hollywood were nominated by CSM President Dr. Brad Gottfried and Phi Theta Kappa (PTK) advisors to the All-USA Academic Teams and recognized by the Maryland Council of Community College Presidents and the Maryland Association of Community Colleges.
The students have been invited to attend the recognition ceremony at the Turf Valley Country Club in Ellicott City on May 4 and they will be recognized at the CSM Honors Convocation reception May 18 at the La Plata Campus. For information on CSM, visit www.csmd.edu.
CSM Students Granted Professional Media Credentials to Cover Film Festival
College of Southern Maryland students in Christopher Marks' news production course will be granted professional media credentials to cover the 2016 Annapolis Film Festival which gets underway March 31. The four-day event will showcase more than 70 films and feature film makers, directors and industry guests.
This is the first time in the event's history that college students will attend the event as media to view films and interview directors and panelists for a news show as part of their class.
Participating students include Alex Albrittain of Faulkner, Meghan Bennett of La Plata, Maleik Lewis of Upper Marlboro, Michael Moses of Waldorf, Amber Simpson of Waldorf, Charles Thompson of Bryans Road and Cuyler Williams of Waldorf.
For information on CSM's Digital Media Production associate degree program, visit
http://catalog.csmd.edu//preview_program.php?catoid=9&poid=2116&returnto=1145
.
CSM Students 'Soaring' After Tour of SMHEC Engineering Labs
College of Southern Maryland engineering majors toured the classroom and lab facilities at the Southern Maryland Higher Education Center in California to get a first-hand look at where they could spend their junior and senior years as University of Maryland students. Among those attending were Eddie Bowie of Hughesville, center, and Christopher Simmons of Marbury, left, who received instruction on the flight simulator from Naval Air Warfare Center Aircraft Division Program Analyst Kenneth Abell.
Through a partnership with the A. James Clark School of Engineering at UMD, the Navy and SMHEC, CSM students can earn scholarships, summer internships and employment with the Navy after earning their bachelor's degrees.
"During the tour, current CSM students were able to see former CSM students hard at work, and former students gave advice on studying hard when they get accepted in the program," said CSM Pre-engineering Program Coordinator Shadei Jones. "It was refreshing to witness the students' excitement in connecting what they were learning in the classroom to practical applications."
For information on engineering partnership program, visit
http://stem.csmd.edu/events_internship.html
.
2016 Leading Edge Awards to Honor Top Businesses for Their Positive Impacts within Region
CEO Nominations Due April 1; Sponsorships Available
Southern Maryland's leading businesses and executives will be honored at the 16th Annual Leading Edge Awards ceremony, beginning at 6 p.m., June 8 at the Greater Waldorf Jaycees Community Center. The annual event celebrates forward-thinking individuals and businesses that spur economic growth with efforts and decisions that make real impacts.
Awards will be presented for CEO of the Year, Charles County Technology Company of the Year, Calvert County Business of the Year, Small Business of the Year, Southern Maryland Minority Chamber of Commerce Business of the Year and CSM Partnership in Education.
Located in one of the fastest-growing regions in Maryland, the Southern Maryland business community and its CEOs face a unique set of financial, technological and workforce challenges, and the LEA provides the opportunity to celebrate corporate success and to recognize those individuals responsible for encouraging economic growth and vigor in the region.
Nominations for CEOs that deserve recognition for their contribution to the economic vitality of Southern Maryland—-CEOs who inspire their organizations, exude success and make a difference in our community—-may be submitted to the Corporate Center at the College of Southern Maryland through April 1.
The 2015 CEO was Don Smolinski, president and CEO of All American Harley-Davidson. Other CEOs who have been recognized previously include Austin J. "Joe" Slater Jr., Kevin Poole, William F. Childs IV, Eric W. Franklin, Brianna Bowling, Christine Wray, Kimberly Oliver, Gore Bolton, Wayne Swann, Luther Grainger, Christine Stefanides, Greg Billups, Joe Yearta and Lloyd Harrison III.
To qualify, nominees must be with a business located within Charles, Calvert or St. Mary's counties, be in a position of leadership in a Southern Maryland business (private sector), and be available to attend the ceremony, June 8, at the Greater Waldorf Jaycees Community Center.
Sponsorship levels are available in Platinum, Gold and Silver and include table for eight for awards dinner and reception. Additional seats are available for $75. For information about sponsorship opportunities or to attend visit www.csmd.edu/LEA or call 301-934-7837 or email blahman@csmd.edu .
CSM Presents Classical Pianist David Kane, April 3
The College of Southern Maryland continues the 2015-16 Ward Virts Concert Series with a performance by classical pianist David Kane beginning at 3 p.m., April 3. Kane's performance is the fifth of six in the series, all of which are held at the Prince Frederick Campus, 115 J.W. Williams Road, Prince Frederick in the Multipurpose Room of Building B.
Born in 1955 in Glasgow, Scotland, Kane began playing piano and composing music at 8 years old. Kane has performed with notable jazz artists such as Woody Shaw, Dizzy Gillespie, Steve Kujala and Dave Liebman. He has also performed with classical orchestras and musicians such as the Baltimore Symphony Orchestra, the National Symphony Orchestra, the Twentieth Century Consort, the Kennedy Center Orchestra, Joshua Bell, Charlotte Church and Kathleen Battle.
Kane is well-versed in the art of composition, having composed over 250 scores for the National Symphony Orchestra Education Office, the Kennedy Center, the Strathmore Center for the Arts, National Geographic Television and PBS. His movie scores include "Buffalo Bushido," "Crazy Like a Fox" and "Tiny Magic." For television, he composed the themes for "Nature," "Taboo" and "Stories from the Vault."
The Ward Virts Concert Series is presented and sponsored by the CSM Foundation and is also sponsored by Dr. and Mrs. Henry Virts, Edward and Patricia Mehosky, Exelon Corporation, Nancy Powell Hempstead in memory of Roger Powell, and Stovy and Anne Brown.
Grants are provided by the Arts Council of Calvert County and Maryland State Arts Council.
Admission is free and seating is open but limited. For information, contact 443-550-6011, rfleming@csmd.edu or www.csmd.edu/Arts. The final performance schedule for the 2015-16 Ward Virts Series is the Octtava Duo (piano), May 1.