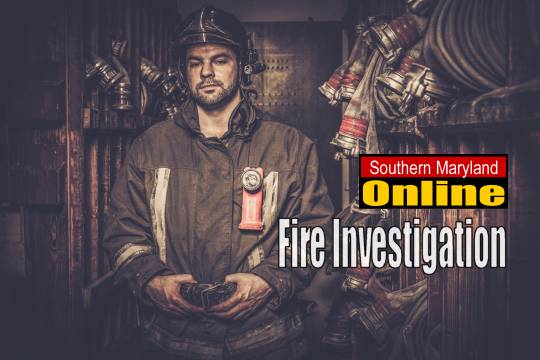 Apartment fire spreads to attached commercial business
INDIAN HEAD—An Apartment Fire at 4135 Indian Head Hwy, Indian Head, Charles County, on March 28 around 8:36 a.m. spread to an attached commercial business and caused an estimated $100,000 in damages to the structure and $50,000 to the contents.
The juvenile occupant was reportedly awakened to the smell of smoke as the fire was discovered by neighbors, who called 9-1-1. The fire quickly grew and spread into the apartment and business, requiring a two alarm response before it was brought under control.
The fire involved 45 firefighters from Indian Head VFD and Potomac Heights VFD and took approximately one hour to control.
One Potomac Heights firefighter received a laceration to a finger and was transported to the local hospital for treatment.
Abandoned vehicle set on fire
HUNTINGTOWN—A 2011 Chevrolet Impala was discovered on March 27 around 9:15 a.m. after a fire in the interior of the vehicle caused an estimated $8,000 in damages to the vehicle. The Impala was found by a neighbor.
The deputy state fire marshal who investigated listed the preliminary cause as "incendiary."
The location of the vehicle was 1321 Neptune Lane, Huntingtown, Calvert County. The vehicle is owned by Russell Washington, Jr.
Anyone with any information regarding this incident is asked to contact the Office of the State Fire Marshal, Southern Regional Office, at 443-550-6820.
Shed destroyed by fire
LA PLATA—A 16 x 20 Shed located at 8345 Hudson Drive, La Plata, Charles County was destroyed by fire on March 23 around 1:37 p.m.
Losses are estimated at $8,000 to the structure and $12,000 for the contents.
The joint investigation with the Maryland Forestry Service and the Maryland State Fire Marshal determined the accidental fire was the result of improperly discarded debris ashes which extended to a nearby shed, destroying the entire structure and it's contents.
The fire was discovered by a passer-by.
The one-alarm fire involved 40 firefighters from La Plata Volunteer Fire Department and took 30 minutes to bring under control.