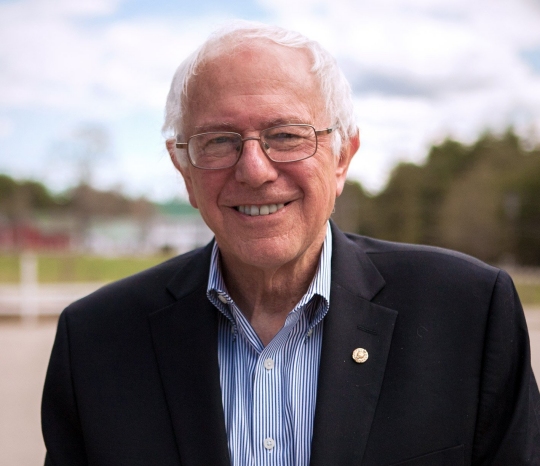 U.S. Sen. Bernie Sanders. (Campaign press photo)
BALTIMORE
(March 28, 2016)—U.S. Sen. Bernie Sanders' campaign announced on Monday the formation of its Maryland steering committee. Benjamin Todd Jealous, former president and CEO of the NAACP, will serve as the committee's chair.
"The Bernie Sanders campaign is building a movement to ensure the American Dream flourishes for future generations," Jealous said. "Together we will replace the era of mass incarceration with an new era of massive access to affordable higher education, an end to endless wars, and a reinvigorated economy that lifts up businesses on main street, side streets, and back streets… not just Wall Street."
"When you survey the candidates of those who are running whether it's Trump, Cruz or Hillary Clinton, there is but one candidate in my mind who best represents and best speaks to the pains, the problems and the complexities of black people and that is Sen. Bernie Sanders," said Dr. Jamal Bryant. "It is my prayer, my hope and my vote that he will be the next president of not just Black America, but the yet-to-be United States of America."
Full list of Bernie 2016 Maryland Steering Committee (as of March 28, 2016)
Benjamin Todd Jealous, Chair, Former President and CEO of the NAACP - Baltimore
Dr. Jamal Bryant, Co-Chair, Pastor of Empowerment Temple AME Church - Baltimore
State Senator Paul Pinsky, Co-Chair - Prince George's
State Delegate Jimmy Tarlau, Co-Chair - Prince George's
Valerie Ervin, Co-Chair, Working Families Party, Executive Director - Montgomery
Bob Muehlenkamp, Coordinator, Social justice and Trade Union Activist - Montgomery
Wala Blegay, Attorney and Activist - Prince George's
Montgomery County Council member Marc Elrich - Montgomery
State Delegate Cheryl Glenn - Baltimore City
Ken Zinn, National Nurses United - Montgomery
Roxie Herbekian, UNITE HERE Local 7, President - Baltimore
Kibby Rada, Baltimore County Democratic Central Committee - Baltimore
State Delegate Shane Robinson - Montgomery
Keanuu Smith-Brown, Student Outreach Coordinator, Students for Bernie - Anne Arundel
Travis Tazelaarm, Community and Environmental Activist - Montgomery