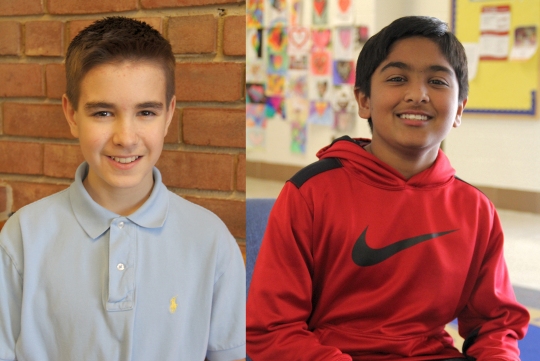 Milton M. Somers Middle School sixth grader Haakon Berglund and Piccowaxen Middle School seventh grader Hargunn Sandhu.
Two middle schoolers to compete in state Geographic Bee
Two Charles County Public Schools middle school students—Milton M. Somers Middle School sixth grader Haakon Berglund and Piccowaxen Middle School seventh grader Hargunn Sandhu—will compete April 1 in the Maryland National Geographic Bee.
Students who earn the top spot in Geography Bee events coordinated by their schools advance to the state level of competition. Additionally, both Berglund and Sandhu completed an online qualifying test. Each year, students in grades four through eight participate in the National Geographic Bee coordinated at their schools. The contest is designed to encourage teachers to include geography in their classrooms, spark student interest in the subject and increase public awareness about geography.
Featured questions range from what kind of habitat is part of Biscayne National Park in Florida and near what European country can sea kayakers explore islands off the Dalmatian coast, to in what present-day city did Chinese emperors live in seclusion.
Berglund and Sandhu will compete along with 102 other state qualifiers at the event on April 1 at the Maryland Public Television studios in Owings Mills. The state winner advances to the National Geographic Bee Championship at the National Geographic Society May 22-25 in Washington, D.C. State winners also receive $100 and the National Geographic book, "The National Parks: An Illustrated History." The national champion receives a $50,000 college scholarship and lifetime membership in the National Geographic Society.
The national champion also receives an all-expenses paid Lindblad expedition to Southeast Alaska aboard National Geographic Sea Lion, including Glacier Bay National Park, in recognition of the 100th anniversary of the National Park Service.
This is the 28th year for the Bee and the National Geographic Society annually invites nearly 100 students in each of the 50 states, District of Columbia, Department of Defense Schools and U.S. territories to compete in state Bees.
Visit www.natgeobee.org for more information.
Somers SeaPerch team eligible for national competition
A team from Milton M. Somers Middle School is eligible to compete at the national SeaPerch competition in May after being named the overall winner at a regional event held earlier this month. The Somers Titans team of sixth graders Megan Anderson, Samuel Chernoff, Luca Silverans and seventh grader Byron Franchi was named the top team among 16 competing teams at the Southern Maryland Regional SeaPerch Competition held March 16 at Henry E. Lackey High School.
SeaPerch is an underwater robotics program in which students build and operate an underwater remotely operated vehicle (ROV). Students build their ROVs from kits while using engineering and science concepts with a marine engineering theme. Students in the SeaPerch program also learn how to problem solve, apply technical applications and work as a team.
The competition was broken down into three categories: an obstacle course, poster presentation, and fast and furious competition.
In the obstacle course, students worked together to navigate their ROV through an underwater series of rings and competed to complete the course in the fastest time. In the poster presentation portion of the event, teams delivered oral presentations about their robot design, construction challenges and what they have learned through the SeaPerch program to a panel of judges. In the fast and furious part of the event, teams competed for the fastest time while driving their robots a distance of 10 meters to a finish line.
The Somers Titans team received a first-place win in the obstacle course competition and second place in the poster presentation. They were selected as the overall winner for having the best average score in the poster and obstacle events. Coach of the Titans team is Amy Arnold, a science teacher at Somers, and Stephen Possehl, a Somers parent volunteer.
As overall winners, the Titans team is eligible to advance to the national level competition, scheduled for May 20-21 at Louisiana State University in Baton Rouge.
Two other teams from Somers placed at the event. The Somers Tobor 2003 team of sixth grader Aastha Patel and seventh graders Jomari Brown, Natalie Fox and Hudson Wright received first place in the fast and furious category and second place in the obstacle course challenge. Arnold and Possehl also coach this team.
The Somers Bad Unicorns team received third place in the obstacle course challenge. Team members include seventh graders Maxwell Mitchell, Sahil Patel, Erin Possehl and Ebin Sebastian, and Arnold and Possehl work with this team as coaches.
Teams from John Hanson and Benjamin Stoddert middle schools, and St. Mary's Bryantown School also competed in the event. Visit
http://www.seaperch.org./index
to learn more about the SeaPerch program.
County students named Carson Scholars
Five Charles County Public Schools (CCPS) students were recently named 2016 Carson Scholars, a national distinction that recognizes academic achievement and humanitarian qualities as well as provides a $1,000 college scholarship.
Selected are Daniel McKenzie, fifth grade, Berry Elementary School; Aaron Sellow, fifth grade, Daniel of St. Thomas Jenifer Elementary School; Alayna Steinmetz, fifth grade, Dr. James Craik Elementary School; Jori Watson, fifth grade, Mary H. Matula Elementary School; and Benjamin Williamson, fifth grade, William A. Diggs Elementary School. They are among 625 students selected from nationwide schools for the Carson Scholars Fund this year and will be honored at an April 10 ceremony in Baltimore.
Thirteen additional CCPS students received a Carson Scholars scholarship renewal. They are: Carla Arquero, junior, North Point High School; Eileen Browning, sixth grade, Milton M. Somers Middle School; Owen Butler, eighth grade, Piccowaxen Middle School; Sarah Chen, junior, Maurice J. McDonough High School; Brett Culhane, junior, Henry E. Lackey High School; Tyler Dixon, junior, La Plata High School; Christian Fisher, senior, North Point High School; Alyssa Gerhart, seventh grade, Benjamin Stoddert Middle School; Autumn Gray, freshman, La Plata; Madelyn Mudd, eighth grade, Piccowaxen; Gabrielle Sandy, senior, Lackey; Connor Smith, junior, North Point; and Dennis Whitley, IV, senior, North Point.
Scholars who are recognized through a renewed scholarship status are recognized for maintaining high academic standards and a strong commitment to their communities. More than 840 scholars were renewed this year.
Each year, the Carson Scholars Fund awards $1,000 college scholarships to a select group of high achieving students in grades four through 11 who demonstrate outstanding academic achievement and humanitarian qualities. Students must have a minimum 3.75 grade-point average to be considered. The scholarships are invested for the students' college education.
At the awards ceremony, each recipient will receive a medal and framed certificate of achievement and their school will receive a trophy to recognize their scholar's accomplishment.
The Carson Scholars Fund was founded in 1994 by world-renowned pediatric neurosurgeon Benjamin S. Carson and his wife, Candy, to motivate and reward academic excellence in young people. To date, the Carson Scholars Fund has awarded more than 7,300 scholarships and has scholars in all 50 states and Washington, D.C.
For more information, visit the Carson Scholars website at www.carsonscholars.org.