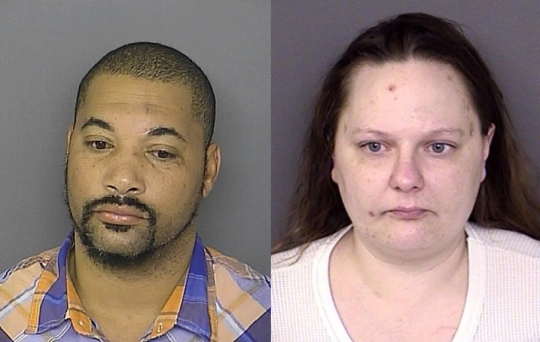 John Wendell Young, a/k/a "John-John," 41, of Chaptico and Kara Pickeral, 32, of Hughesville, a/k/a "Kara Walker" and "Kara Casey."
LEONARDTOWN, Md.
(March 20, 2016)—The St. Mary's County Sheriff's Office Vice Narcotics Division today released the following incident and arrest reports. The Division is an investigative team comprised of detectives from the St. Mary's County Sheriff's Office and Federal Drug Agents (HIDTA Group 34). The Division was established on September 1st, 2007.
John Wendell Young
, a/k/a "John-John," 41, of Chaptico, was indicted as a result of a vehicle pursuit. Young was charged with Possession of Cocaine with the Intent to Distribute, Resisting Arrest, Failure to Remain at the Scene of an Accident and other traffic related offenses.
Joel Shawn Mitchell
, 29, of Mechanicsville, was observed by detectives purchasing Adderall in the parking lot of a Mechanicsville business. He was stopped, detained and charged with the drug violation. The distributor was located and identified, charges are pending.
Detectives received information regarding a fraudulent prescription being passed at a local pharmacy. The prescription was placed in the name of Nicole Lewis. The suspect who actually created the false prescription is
Kara Pickeral, 32, of Hughesville
, a/k/a "Kara Walker" and "Kara Casey." Detectives detained and subsequently charged Pickeral with Attempting to Obtain a Prescription by Fraud. The prescriptions were for Xanax and Ambein, however she was found to be in possession of Oxycodone as well.
Disclaimer: In the U.S.A., all persons accused of a crime by the State are presumed to be innocent until proven guilty in a court of law. See: http://so.md/presumed-innocence. Additionally, all of the information provided above is solely from the perspective of the respective law enforcement agency and does not provide any direct input from the accused or persons otherwise mentioned. You can find additional information about the case by searching the Maryland Judiciary Case Search Database using the accused's name and date of birth. The database is online at http://so.md/mdcasesearch . Persons named who have been found innocent or not guilty of all charges in the respective case, and/or have had the case ordered expunged by the court can have their name, age, and city redacted by following the process defined at http://so.md/expungeme.