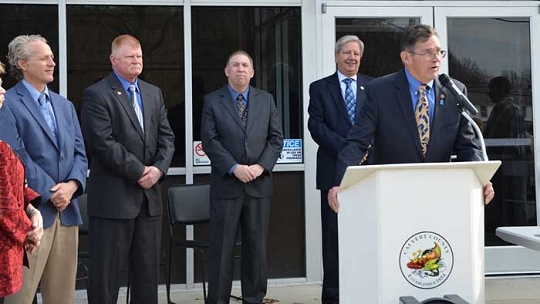 Calvert County Commissioner Pat Nutter provides opening remarks during the grand opening of the Harriet Elizabeth Brown Interim Community Center. (Photo: Calvert Co. Government)
PRINCE FREDERICK, Md.
(March 18, 2016)—Prince Frederick's new community center, bearing the name of Calvert County's favorite daughter Harriet Elizabeth Brown, opened March 1 to applause and speeches from her descendants, community leaders and government officials.
Brown was a teacher in Calvert County in the 1930s when she successfully fought a landmark legal battle for equal pay for African-American teachers with the help of her attorney Thurgood Marshall. Learn more about Brown and her profound impact on history at the Maryland Women's Hall of Fame.
The center is located at 901 Dares Beach Road. Amenities include a game room with a pool table and foosball table, a computer lab, two dance and fitness center rooms and a large multipurpose room. Center hours are Monday through Thursday, 8:30 a.m. to 10 p.m. and Friday and Saturday, 8:30 a.m. to 11 p.m. For more information, call Calvert County Parks and Recreation at 410-535-1600, ext. 2649.