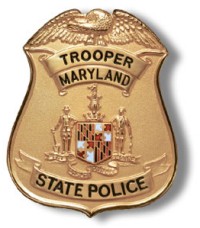 PRINCE FREDERICK, Md.
(March 14, 2016)—The Prince Frederick Barrack of the Maryland State Police (MSP) today released the following incident and arrest reports.
DRUG TAKE BACK DAY, MARCH 26: The Maryland State Police in cooperation with CAASA (Calvert Alliance Against Substance Abuse) and the Calvert County Sheriff's Office will host a Prescription Drug Take Back Day on Saturday, March 26. The drop off locations are available seven days a week, 24 hours a day in a continuing effort to keep prescription medications out of the wrong hands. Keeping a household free of unused prescription medications is an important step to curtailing the prescription drug abuse issue in Calvert County.
The drop off locations are located at Maryland State Police, Barrack U and the Calvert County Sheriff's Office.
ACTIVE WARRANT, POSSESSION OF PERCOCET: On 3/7/2016 at 3:06 pm, Trooper Warrick observed
Zachary M. Sullivan, 24 of Huntingtown
, driving in the lane next to him on Rt. 4 near Plum Point Rd. in Huntingtown. Tpr. Warrick was aware of an active warrant for Sullivan and initiated a traffic stop. Sullivan was placed under arrest. During a search incident to arrest, Percocet was found. Mr. Sullivan advised he did not have a prescription for the drug. He was incarcerated at the Calvert County Detention Center and was additionally charged with Possession of the CDS.
DESTRUCTION OF PROPERTY: On 3/8/2016 at 2:51 pm, Trooper Kaitz investigated a complaint for possible attempted burglary / destruction of property in the 9300 block of Sea Oat Court in North Beach. A door jamb to the vacant residence had been broken and several young adults had been witnessed sitting on the steps of the residence in recent days. Investigation continues.
POSSESSION OF COCAINE & METHAMPHETAMINE: On 3/10/2016 at 2:54 am, Trooper First Class Matthews responded to the 800 block of Oyster Bay Place in Dowell for a reported suspicious vehicle parked in a garage. It took numerous attempts to awaken the driver,
Faisal Mouloua, 20 of Fairfax, Va
. Drugs and drug paraphernalia were observed inside the vehicle. A probable cause search revealed cocaine, crystal methamphetamine and marijuana. Mouloua was arrested and incarcerated at the Calvert County Detention Center for drug charges.
WARRANT SERVICE, DISORDERLY CONDUCT: On 3/10/2016 at 10:47 am, Trooper First Class Esnes responded to Calvert Memorial Hospital Emergency Room for a reported disorderly subject.
Randy A. Boarman Jr., 29 of Mechanicsville
, was located in the parking lot. While attempting to handcuff Boarman, he broke free and fled on foot. He was caught and arrested. Boarman was taken back into the hospital for a pre-existing self inflicted laceration on his wrist. He again became disruptive and had to be physically restrained in order to administer a series of pain medications. After treatments and a psychological evaluation were completed, Boarman was taken to the Calvert County Detention Center.
THEFT: On 3/12/2016 at 3:23 pm, Trooper First Class Costello responded to the Stoney Kingfisher's Restaurant in Solomons for a theft that had already occurred. The manager reported that four suspects entered the restaurant, ordered food items and beverages and left without paying. Surveillance video was provided and two of the suspects were identified. One was a juvenile, she was located, arrested and released to her parents.
Rudolph M. Johnson, 20 of Lusby
, was also identified. Charges are pending for Johnson. The other two suspects to date have not been identified. Investigation continues.
POSSESSION OF PRESCRIPTION DRUGS AND MARIJUANA: On 3/13/2016 at 12:27 pm, Trooper First Class Newcomer stopped a vehicle on Bayside Rd. in Chesapeake Beach for traffic violations. A strong odor of marijuana was emitting from inside the vehicle. The driver,
Nicholas T. Doerk, 19 of Chesapeake Beach
, and a juvenile passenger were placed under arrest for possession of marijuana, possession of prescription drugs for which neither had a prescription (Morphine and Xanax) and possession of drug paraphernalia. The juvenile was released to his mother after being transported to the hospital for a possible overdose. Doerk was incarcerated at the Calvert County Detention Center.
DUI Arrests
Troy A. Grimes, 32, of Chesapeake Beach, arrested on 03/16/2016 @ 08:45 pm by TFC T. Newcomer
Disclaimer: In the U.S.A., all persons accused of a crime by the State are presumed to be innocent until proven guilty in a court of law. See: http://so.md/presumed-innocence. Additionally, all of the information provided above is solely from the perspective of the respective law enforcement agency and does not provide any direct input from the accused or persons otherwise mentioned. You can find additional information about the case by searching the Maryland Judiciary Case Search Database using the accused's name and date of birth. The database is online at http://so.md/mdcasesearch . Persons named who have been found innocent or not guilty of all charges in the respective case, and/or have had the case ordered expunged by the court can have their name, age, and city redacted by following the process defined at http://so.md/expungeme.