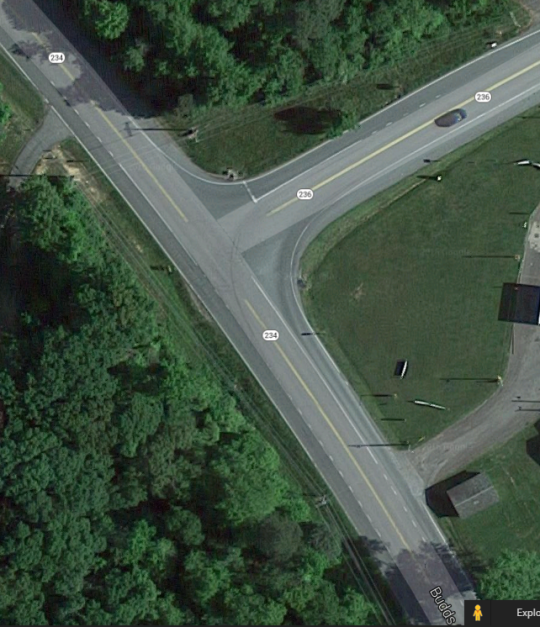 Intersection of MD 234 and MD 236; the general vicinity of the accident.
LEONARDTOWN, Md.
(March 14, 2016)—A pedestrian was struck and killed this morning on Budds Creek Road. The victim has not yet been identified. The driver was identified as William K. Halt, Jr., 41, of Mechanicsville.
UPDATE 15-MAR:
The pedestrian has been identified as Joseph Willie Hall, 48, of Waldorf.
UPDATE 14-MAR 1:33 p.m.:
Fox 5 News is reporting that Halt is a Charles Co. Sheriff's officer and was off-duty at the time of the accident.
The collision occurred on Maryland Route 234 (Budd's Creek Road) at Maryland Route 236 (Thompson Corner Road) in Mechanicsville around 6:32 a.m. Sunrise was at 7:19 this morning.
Maryland State Police investigators determined that a 2008 Chevrolet Silverado driven by Halt was traveling east on Budd's Creek Road. A vehicle in front of the Silverado stopped to make a left hand turn from Budd's Creek Road onto Thompson's Corner Road. The Silverado attempted to pass the vehicle on the right and subsequently struck the pedestrian.
The pedestrian was pronounced deceased at the scene of the collision.
The collision is currently under investigation by TFC W. Scarlett.