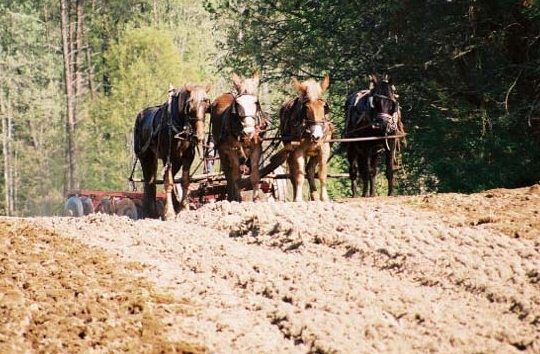 A horse-drawn Amish plow team prepares a field for planting off of Friendship School Road. (somd.com File Photo)
Dear Editor,
March 15 is National Agriculture Day and Governor Larry Hogan has proclaimed March 13-19, 2016, Maryland Agriculture Week to recognize the importance of agriculture to our economy and consumers. I want to take this opportunity to both thank those who are actively involved in advancing this important industry and to invite others to learn a bit more about what we do.
There are more than 12,000 farms in Maryland. Some raise livestock and horses, some raise vegetables, produce or grains, others raise nursery stock.
Most Americans are two or three generations removed from the farm and too many believe food comes from a grocery store. Far too many people are unaware of the role of American agriculture in their daily lives. Too few know that agriculture is responsible for providing the necessities of life—food, fiber, clothing, and shelter.
American farmers are working harder than ever, and it shows. Today, each American farmer feeds more than 144 people. And the need for food produced in the United States is dramatic. Agriculture is our nation's #1 export and vitally important in sustaining a healthy economy.
And it's not just the farmer who makes our food possible. The entire agriculture industry—from the farm fields to the grocery stores—serves as vital links in a chain that brings food to every citizen—and millions of people abroad.
Frankly, it's easy to take agriculture for granted in America. Our food is accessible, affordable and safe. Ag Day is a good time to reflect—and be grateful for—American agriculture.
I urge those of you in the industry to toot your own horn this week—tell people what you do. For those who have never been on a farm, please reach out—seek out farmers and let us tell you about our farms and our work. To find a farmer near you, visit www.MarylandsBest.net. Let us all work together to protect and grow this industry that is so critical to our quality of life.
Joe Bartenfelder
Secretary, Maryland Department of Agriculture