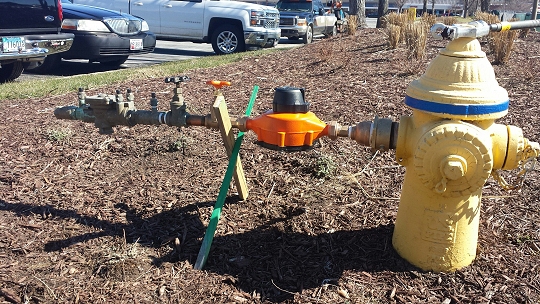 Photo shows an orange Charles County hydrant meter with a backflow preventer.
Residents Encouraged to Report Illegal Hydrant Connections
The Department of Public Works is requesting the public's assistance in identifying and reporting illegal connections to county fire hydrants. Any connection to a hydrant without a hydrant meter or with a hydrant meter issued by another water company or jurisdiction is theft of water service.
Charles County hydrant meters are painted orange to make them easy to identify. A hydrant meter of any other color, or not painted at all, is an illegal connection. In addition to a county-issued hydrant meter, all connections to a fire hydrant must include a backflow preventer. Connection to a hydrant without the use of a backflow preventer has the potential to contaminate our water supply.
The County only rents hydrant meters to qualified commercial establishments, such as land developers, landscapers, brick masons, swimming pool companies, and construction companies. The County does not rent hydrant meters to residents.
Should you observe someone connecting to a fire hydrant without an orange hydrant meter and backflow preventer, excluding the Fire Department, contact the Charles County Sheriff's Office at 301-932-2222. When calling the Sheriff's Office, please provide them with the street location of the hydrant connection and any identifying information regarding the vehicle. Please do not approach the individual.
For additional information about hydrant meter connections, please contact Kristy McAndrew at 301-609-5606. Citizens with special needs may contact the Maryland Relay Service at 711, or Relay Service TDD: 866-269-9006.
VanGO Routes on Mitchell Road May Experience Delays on March 9
VanGO routes servicing the College of Southern Maryland may experience delays on Wednesday, March 9 due to utility work scheduled to begin on Mitchell Road at 8 a.m. These routes include the 301 Connector, Bryans Road, and Newburg.
For updated information or questions, please call the Department of Community Services, Transportation Division, at 301-934-9305. Citizens with special needs may contact the Maryland Relay Service at 711, or Relay Service TDD: 800-735-2258.
County Accepting 2017 Maryland Agricultural Land Preservation Program Applications
The Charles County Commissioners wish to announce that applications to participate in Maryland's Fiscal Year 2017 Agricultural Land Preservation Program for Charles County landowners are now being accepted. Complete applications must be filed with the Department of Planning and Growth Management by close of business Friday, May 27, 2016.
The Maryland Agricultural Land Preservation Foundation (MALPF) was created in 1977 by the Maryland General Assembly as an agency of the Maryland Department of Agriculture and is governed by Agriculture Article, §2-501-2-515 of the Annotated Code of Maryland. MALPF partners with county governments to purchase agricultural land preservation easements that forever restrict development on prime farmland and woodland. The Foundation's statutory mission is to preserve productive farmland and woodland for continued production of food and fiber for the present and future citizens of the State.
For more information on the Program, landowners may visit the Foundation's web site at
www.MDA.Maryland.gov/malpf
. Interested applicants are encouraged to contact Charles County's Program Administrator, Mr. Charles Rice, at 301-645-0651 or RiceC@charlescountymd.gov to obtain an application and to receive assistance in completing the application.