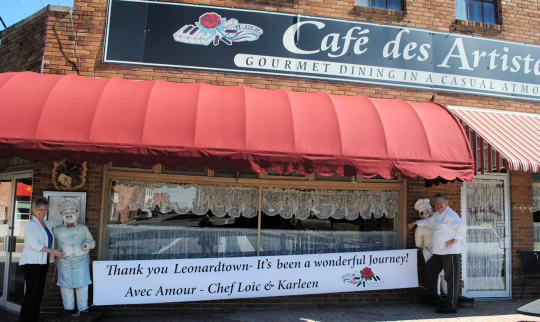 Karleen and Loic Jaffres in front of the restaurant they honed for 17 years. (Photo: Crista Dockray)
HOLLYWOOD, Md.
—Chef Brian Wilson, the executive chef of Montmartre, a French restaurant on Capitol Hill, has purchased Café Des Artistes.
"It was a dream come true, we were so worried about leaving this big hole here… we thought we would just be shutting down," said owner Karleen Jaffres.
According to Karleen, the deal went through Tuesday night (March 1) when Wilson signed the lease to the building and purchased the restaurant.
Wilson said he had found out about the restaurant through his father, who was classmates with one of the Café's customers, and approached the Jaffres just after the first of the year to express his interest.
Wilson told the County Times that this is the first restaurant he has owned. He said that it has been a dream of his for sometime to take the next step from executive chef to owner.
With the purchase finalized, the Café closed its doors this past Sunday to take an allotted three weeks to clean up and move out.
"We have spent more time here than our our home for the last 17 years," said Karleen. Wilson will then come in around April to set up and then plans to open somewhere around late May into early June.
The new restaurant will be keeping the French style, but according to Wilson, the menu will be tweaked a bit to include a combined rustic country, classic, and modern feel.
Wilson said that he has had much experience with French food, including his first job and current job, and considers Mediterranean food his main focus and specialty.
Although the menu will still have the same types of food, the name of the restaurant will be changed. The name has yet to be set in stone as Wilson is still contemplating what will be a good fit for the restaurant and Leonardtown.
"I hope to continue the same mentality, hospitality and warmth as Café des Artistes and I hope that customers will feel as welcome in my house and they did in the Jaffres," said Wilson.
Karleen and Loic are very pleased about the new owner.
"Not only is Brian a good chef, he is also very intelligent," said Karleen.
They are happy that he will be continuing the French theme.
I've had so many people say 'Where am I going to get my escargot?' and 'I've never tasted foie gras like this'. They are still going to be able to get it and that's what's great," said Karleen.
As for Loic and Karleen after their last day, they will be flying down to Florida to help Karleen's parents move to Pennsylvania. For now, they will be keeping their home base in St. Mary's County until they figure out their future plans.
For more local stories, visit the County Times newspapers at http://ct.somd.com/