"Breathing new life into old bones" at work at the Calvert Marine Museum
The Paleontology Department at the Calvert Marine Museum was recently awarded a Museums for America grant from the Institute of Museum and Library Services. Funding for the project, "Breathing New Life Into Old Bones" has allowed the Calvert Marine Museum to purchase Avizo 3D software and a MakerBot Replicator Z-18 3D printer to create models of specimens from their paleontology collection. It provides the museum the opportunity to print images and create visuals and hands-on models for use in educational programming, public exhibits, conferences, and peer-reviewed journals. CMM Paleontologists may now visualize, analyze, and understand the scientific data in the collection in ways that would be unattainable by other means.
"This software and printer will enhance our ability to share discoveries with the public, teach about life millions of years ago and promote understanding of why things are the way they are today," says John Nance, Assistant Curator of Paleontology at the Calvert Marine Museum.
The Institute of Museum and Library Services is the primary source of federal support for the nation's 123,000 libraries and 35,000 museums. Their mission is to inspire libraries and museums to advance innovation, lifelong learning, and cultural and civic engagement. IMLS grant making, policy development, and research help libraries and museums deliver valuable services that make it possible for communities and individuals to thrive. To learn more, visit
www.imls.gov
.
Chris Young At Calvert Marine Museum Saturday, June 4
With four Academy of Country Music Award nominations to his name, Chris Young will appear at the Calvert Marine Museum's PNC Waterside Pavilion on Saturday, June 4. Chris Young is a dynamic live performer who plays a powerhouse show packed with hits, including chart toppers, "Gettin' You Home," "Voices," "Tomorrow," and "I'm Comin' Over."
Don't miss this opportunity to see Chris Young perform live in Solomons with opening act William Michael Morgan—his hit "I Met a Girl" is rising in the charts now! Tickets are $39 for reserved seats and $49 for premium seats (additional fees apply) and go on sale to members of the Calvert Marine Museum on Tuesday, March 29 at 10:00 a.m., and on sale to the general public Tuesday, April 5 at 10:00 a.m. If you are not a member of the museum and would like an opportunity to buy the best seats in the house, visit
www.calvertmarinemuseum.com
or call 410-326-2042, ext. 16 to sign up before tickets go on sale.
Chris Young has amassed seven No.1 singles, five albums, eleven Gold/Platinum certifications, and four ACM nominations recognizing his recently released chart-topping album, I'm Comin' Over. He's an international ambassador for his genre, a talented songwriter, and a southern gentleman who is frequently declared one of country music's sexiest men by People and Nash Country Weekly magazines. Young is just as well known for his classic baritone as he is for melt-your-heart ballads and is winning audiences across the globe.
Proceeds from the Waterside Music Series support the education and preservation efforts of the Calvert Marine Museum. This event would not be possible without the generous support of many local businesses. Sponsors include: Prince Frederick Ford/Jeep/Dodge, PNC Bank, Bozick Distributors, Inc., ECS, Tidewater Dental, Directmail.com, Holiday Inn Solomons, All American Harley-Davidson, Quality Built Homes, 98.3 Star FM, Bay Weekly, Quick Connections, Southern Maryland Newspapers, Isaac's Restaurant, Papa John's Pizza, O'Brien Realty, American Eagle Electric, Sherry Carter, United Rentals, Kelly Generator & Equipment, Comcast and Metrocast.
Gates open at 6:00 p.m. with food and drinks available on the grounds. Showtime is 7:30 p.m. Chairs and coolers are not permitted. For additional information or to purchase tickets, please visit the website at
www.calvertmarinemuseum.com
. To reach a staff member, please call 410-326-2042, ext. 16, 17 or 18.
CMM Orientation Video Wins a 2016 Telly Award
The Telly Awards has named the Calvert Marine Museum Orientation Video as a Silver winner in the 37th Annual Telly Awards. With nearly 13,000 entries from all 50 states and five continents, the Telly Awards are one of the most prestigious in video/film production (second to the Emmys). Silver is the highest award and approximately 7 to 10% of entrants are chosen as Silver Telly Award winners.
The Calvert Marine Museum contracted with Think Speak Act, LLC to produce a new video welcoming visitors to the Calvert Marine Museum. This project was made possible by a grant from the Maryland Heritage Areas Authority. The "Welcome to the Calvert Marine Museum" video is a winner in the non-broadcast/cultural category.
Think Speak Act, LLC is a very efficient, effective and compact production pair, with main videographer and audio engineer, J. Michael Roche and primary writer, producer and editor, Tanya Spann Roche. An award-winning "green" video production company since 2004, they have over 45 years of combined production experience from broadcast and documentary to PSAs, campaign spots and web videos.
"We are thrilled that the orientation film has garnered this prestigious award. Working with Tanya and Michael Roche, the Think Speak Act team, was an absolute pleasure. We told them that we wanted to give our visitors a behind-the-scenes look at the museum they don't see, in fact can't see, on a visit, and I think Tanya and Michael achieved that," said deputy director, Sherrod Sturrock.
Founded in 1978, The Telly Awards honors excellence in outstanding local, regional, and cable TV commercials and programs, the finest video and film productions, and online commercials, video and films. It is one of the most sought-after awards by industry leaders, from large international firms to local production companies and ad agencies.
Judges consist of a group of highly qualified advertising, production and creative professionals that have previously won a Silver Telly Award. They are from all regions of the United States, representing large and small firms including advertising agencies, TV stations, production houses and corporate video departments. To find out more about the Telly Awards visit their website at
www.tellyawards.com
.
CMM Fossil Club Announces Scholarship Opportunity
The Calvert Marine Museum (CMM) and the CMM Fossil Club have partnered to offer the Betty (Sandy) Roberts Scholarship for Natural Sciences. Southern Maryland graduating seniors (public or private high school, home school, or etc.) in pursuit of post-secondary education focusing on natural sciences, are invited to apply.
One scholarship in the amount of $500 is available yearly (as funding or suitable applicants permit). Preference is given to applicants with interest in the fields of Paleontology or Geology, but the scholarship is open to applicants pursuing education in any of the natural sciences (e.g., Biology, Chemistry or other Physical Sciences).
Applications are being accepted now through March 31, 2016. For more information and to obtain an application, visit
calvertmarinemuseum.com/DocumentCenter/View/2017
. For other questions or concerns, email John Nance at nancejr@co.cal.md.us or call 410-326-2042, ext. 40.
Mail completed applications to:
Scholarship Committee
Department of Paleontology
Calvert Marine Museum
P.O. Box 97
14200 Solomons Island Road
Solomons, Maryland 20688
John Barber Prints are Back
Limited edition, signed and numbered collector prints of John Morton Barber's "Buying Oysters at Drum Point" are available again at the Calvert Marine Museum Store. John M. Barber is a nationally acclaimed artist and premier chronicler of Chesapeake Bay maritime life. These rare prints capturing a piece of Southern Maryland's history are only available at the Museum Store and are the perfect addition to any artwork collection.
The original painting was commissioned by the museum in memory of James H. Buys, the first chairman of the museum board, and is part of the museum's permanent collection. "Buying Oysters at Drum Point" depicts a typical scene that was once very common to this area, but is never seen today. Shown in the picture is the Wm. B. Tennison buying oysters from the skipjack Apollo, just inside Drum Point.
The Tennison was built in 1899 at Crabb Island, Maryland, as a sailing, oyster-dredging bugeye. She was converted to power in 1907 and spent her winters buying oysters from local watermen and taking them to oyster shucking houses. The skipjack Apollo was built in Solomons in 1914. The Drum Point Lighthouse in the print marked the entrance to the Patuxent River, but was moved in 1975 to the museum's waterfront.
The "Buying Oysters at Drum Point" prints are $150 each and available for purchase in the Museum Store or online at
www.calvertmarinemuseum.com
. Framed prints are also available in the Museum Store. For more information, call the Museum Store at 410-326-2750.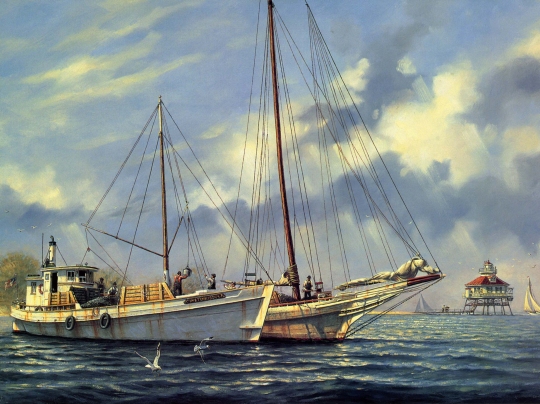 Color print: "Buying Oysters at Drum Point"