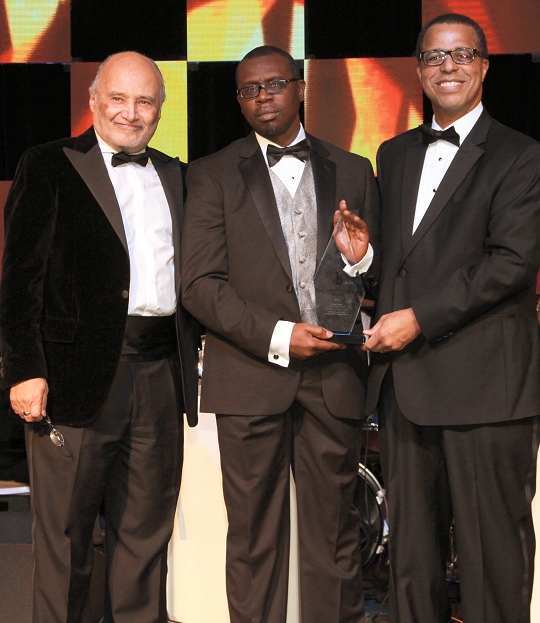 Ernest Yelder—a Naval Surface Warfare Center Dahlgren Division cybersecurity expert based at Combat Direction Systems Activity (CDSA) Dam Neck—accepts his 2016 Black Engineer of the Year Award from Dr. Ken Washington, Ford Motor Company Vice President of Research and Advanced Engineering, during the 30th annual Black Engineer of the Year Awards (BEYA) Gala in Philadelphia, Feb. 20. The three-day BEYA conference recognized the significant accomplishments of African-Americans in government and industry, who have achieved exceptional career gains in the fields of science, technology, engineering and mathematics. (U.S. Navy photo/Released)
PHILADELPHIA
(Feb. 26, 2016)—A Navy cybersecurity expert is receiving national honors for his impact on the protection of defense assets worldwide.
Ernest Yelder was honored as the 2016 Black Engineer of the Year (BEYA) for Outstanding Technical Contribution during BEYA's 30th annual Science, Technology, Engineering and Mathematics (STEM) Global Competitiveness Conference Awards Gala held in Philadelphia, Pa., Feb 18-20.
Yelder—a Naval Surface Warfare Center Dahlgren Division cybersecurity technical lead based at Combat Direction Systems Activity (CDSA) Dam Neck—is one of only three Navy engineers nation-wide to receive the award this year.
The three-day BEYA conference, sponsored by Career Communications Group (CCG), recognizes the significant accomplishments of African-Americans in government and industry, who have achieved exceptional career gains in the fields of STEM. The event attracts thousands of STEM professionals and also serves as a learning tool for students interested in pursuing professional interests in engineering.
"My story is not one of a young man struggling to escape urban blight but rather one with strong male and female role models that had faith in me," said Yelder during his acceptance speech. "Grandmother made it clear that 'can't' didn't exist in our family. Her words have resonated with me throughout my life. It's amazing how many challenges you can overcome without that word in your vocabulary."
Yelder—who volunteers as a mentor to students enrolled in local STEM programs—also credited the mentors who inspired him in STEM as a young student.
Throughout 2015, he led a 40-person team in the development of a specialized cybersecurity lab to enable advanced development, testing, training and implementation of new technologies. Long-term, the work performed in this lab is expected to provide significant cost savings to the Navy.
Yelder led the development of cybersecurity engineering capabilities since 2009 for NSWCDD's Virginia Beach-based command. He has more than 30 years of combined military and civilian experience in the fields of telecommunications, information technology, and cybersecurity.
During his 22 years of active military service, Yelder was selected as one of the 10 percent to attend the Joint Electromagnetic Spectrum Management School, which broadened his technical knowledge in the field of telecommunication.
In 2005, Yelder's technical expertise contributed to the process development within the newly established Office of the Designated Approving Authority for the Department of the Navy. He would later transition to the Cyber Asset Reduction and Security Task Force as a technical subject matter expert to execute the strategic plan in reduction of the legacy network infrastructure.
He attended a newly piloted course, "Network Vulnerability Defense" at Naval Station Northwest in 1995. This course was the first of its kind to introduce what is known today as the field of Information and Cybersecurity.
Yelder received his Bachelor of Science in Computer Information Systems from Trinity University in 2003. He holds a Global Information Assurance Certification in security leadership.
The Navy has participated in BEYA for the last 25 years. Additionally, in 2008, the Navy signed an agreement with CCG to promote further Navy participation in CCG events in an effort to reach a diverse workforce.
Commitment to BEYA represents the Navy's campaign to develop future engineers and scientists, and retain top-performing Sailors and civilians whose diverse backgrounds, experiences and skills are necessary to meet today's challenges.