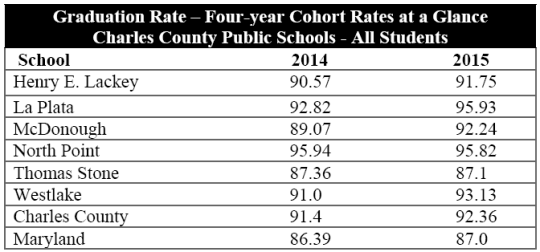 LA PLATA, Md.
(Feb. 17, 2016)—Charles County Public Schools (CCPS) graduation rate hit 92.36 percent in 2015, setting another record high and posting its fifth increase in five years, according to data released by the Maryland State Department of Education this week. As student graduation rates increase, the CCPS dropout rate continues to decline.
The CCPS four-year cohort graduation rate jumped nearly one percentage point from 91.4 percent in 2014 and has improved more than five points since 2010. The CCPS average exceeds the state graduation rate of 87 percent.
"I can't tell you how proud we are of the accomplishments of our students," Superintendent Kimberly Hill said. She credited principals, teachers and staff for helping students stay in school and graduate with their class. "None of this would have been possible without the hard work of students and staff and a strong commitment to the academic success of all students," Hill said.
Five of six high schools posted graduation rates greater than 90 percent. Henry E. Lackey High School's graduation rate jumped from 90.57 in 2014 to 91.75 in 2015. La Plata High School posted a 2015 rate of 95.93, up from 92.82, and North Point High School's graduation rate was 95.82, a slight decline from its 95.94 rate in 2014. Westlake High School improved its graduation rate to 93.13, up from 91 percent in 2014. Maurice J. McDonough High School increased its graduation rate from 89.07 to 92.24 in 2015, and Thomas Stone High School rate remained stable at 87.1, down slightly from its 2014 rate of 87.36.
Four-year cohort graduation rates by race/ethnicity are:
• Asian: 95.31 percent;
• African American: 91.93 percent;
• Hispanic/Latino: 87.74 percent;
• White: 93.63 percent;
• Two or more races: greater than 92.31 percent; and
• American Indian or Alaska Native: 81.25.
Graduation rates for other subgroups include:
• The graduation rate for students receiving free or reduced-price meals (FARMS) increased, from 82.2 percent to 84 percent.
• The graduation rate for special education students was 74.03 percent.
• The four-year cohort graduation rate for females dropped slightly from 94.37 in 2014 to 94.27 in 2015. A higher percentage of males graduated in 2015, up nearly 2 points from 88.56 in 2014 to 90.50 in 2014.
Hill said, "We still have work to do to close the achievement gaps for these subgroups."
The percentage of students dropping out of school also continues to steadily decline. The CCPS four-year cohort dropout rate reduced from 4.97 percent in 2014 to 4.30 percent in 2015. The State's dropout rate was 8.08 percent in 2015. Dropout rates provide a cumulative rate across the four years since the cohort first entered grade 9. This rate includes dropouts as those students who did not graduate after four years but did not return for a fifth year.
Six years ago, Maryland moved to the cohort graduation rate, which follows a set group of students from freshman year through their senior year. The State includes both the four-year cohort and five-year cohort rate in its accountability program. Data released this week is for the four-year cohort graduation rate for the class of 2015 and includes summer graduates. The calculation follows students from the time they first enter grade 9 and includes those who graduate after four years.
More information about graduation and dropout rates, along with other Maryland accountability measures, can be found on the 2015 Maryland Report Card at
http://reportcard.msde.maryland.gov/.