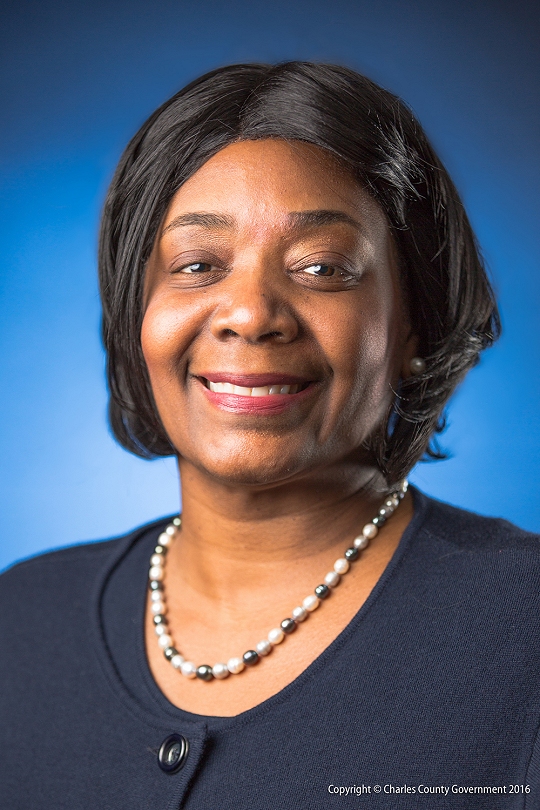 Rhonda L. Weaver.
LA PLATA, Md.
(Feb. 16, 2016)—Charles County Administrator Michael D. Mallinoff announced the appointment of Rhonda L. Weaver as county attorney. Weaver will begin her employment with Charles County Government on Monday, March 7, 2016.
Currently Weaver serves as a deputy director for the Prince George's County Office of Human Resources Management. She serves as senior policy advisor to county officials on employment and labor matters. Weaver is also a consultant with the Police Executive Research Forum, where she participates in research efforts and provides analysis on requested topics.
During her tenure with Prince George's County, Weaver served as the county executive's representative and head of county negotiation teams for 10 labor contracts. She provided oversight for interpretation and execution of collective bargaining agreements and wage/benefit legislation.
"We are pleased to welcome Ms. Weaver to Charles County Government," said Commissioner President Peter F. Murphy. "Her experience in local government law and in drafting legislation will be an asset to the Charles County Attorney's Office. Ms. Weaver's background shows she is ready to tackle any complex legal issues that may arise."
Weaver said, "I am humbled and grateful to be given this opportunity to serve as county attorney. I am confident that my years of experience in working with local governments will be invaluable as I take on this new endeavor. This is a wonderful opportunity to serve county government and the residents of Charles County."
Weaver's career experience included serving as an assistant personnel officer for Employee and Labor Relations and a Senior Assistant County Attorney in Anne Arundel County. She is an Adjunct Associate Professor at the University of Maryland University College where she taught and developed courses in the Legal Studies Program.
"Rhonda Weaver's professionalism, along with her vast career, expertise with both Prince George's County and Anne Arundel County, her reputation for hard work and a common sense approach to the law, makes her a welcomed addition to the Charles County Government team. I am happy she selected Charles County as her next place of employment," said Mallinoff.
As the county attorney, Weaver will be responsible for representing and advising county officials, agencies, and boards on legal issues; negotiating and writing and/or reviewing contracts; and coordinating and monitoring legal services provided by outside council or other public agency counsel. Her job duties include working with the county administrator to prioritize tasks to meet the needs of the Commissioners and directors, and to address constituent needs.
Weaver holds a Juris Doctor degree from Georgetown University Law Center in the District of Columbia and a Bachelor of Arts degree from Syracuse University in Syracuse, New York.