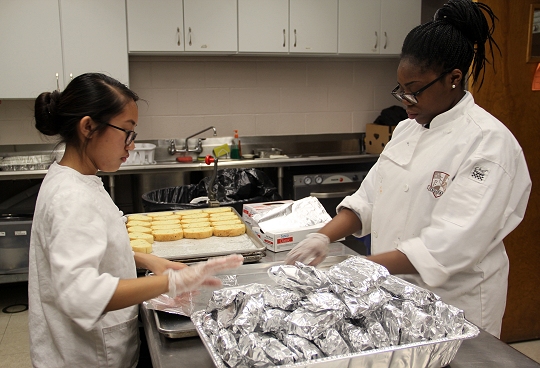 North Point High School culinary arts students Cayezel Balbonado, a junior, left, and Akira Moss, a senior, wrap garlic bread before dinner at Our Place soup kitchen in Waldorf.
LA PLATA, Md.
(Feb. 15, 2016)—Members of North Point High School's SkillsUSA chapter spent a recent Thursday putting their talents to good use when they volunteered at Our Place soup kitchen.
Our Place holds a free dinner once a week for anyone in need of a meal. Held 5 p.m. Thursdays at Good Shepherd Methodist Church in Waldorf, about 60 people show up each week to share dinner, said Veronica Haileyesus Bullock, who along with Deanna Gerhart founded the soup kitchen.
This is the second year that North Point's culinary arts students have cooked a meal and SkillsUSA members helped serve guests.
"We do it to help the less fortunate," said Akira Moss, a senior studying culinary arts. "I like to cook and I like to see people's expressions when they have good food."
The Builder's Clubs of Benjamin Stoddert and Theodore G. Davis middle schools will host a dinner in March at Our Place.
In April, dinners will be held on Mondays and Thursdays. For more information about Our Place, go to www.ourplacewaldorf.com.