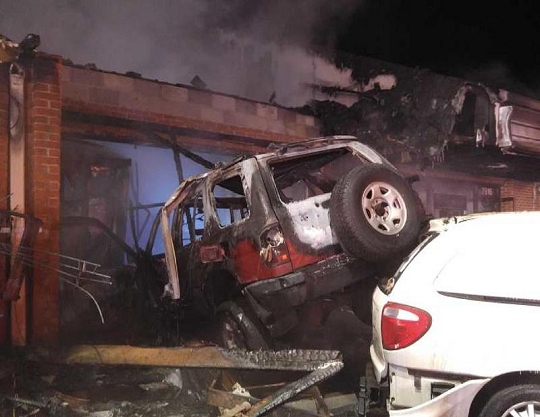 Vincent Troy, 32, of Upper Marlboro, drove his SUV into the Bright Center West strip mall located at the intersection of S/B MD 4 at Chaneyville Rd. in Owings, Md on the morning of Jan. 6. Floral Expressions, a flower shop owned by Aut and Connie Fuller, was destroyed. (Photo: Office of Md. State Fire Marshal)
CITY, Md.
(Feb. 9, 2016)—About a month ago, Aut and Connie Fuller had their lives nearly shattered when
a motorist crashed into their Floral Expressions business
of nearly 30 years, setting the building on fire and wiping out virtually everything they had.
Police determined the driver, Vincent Troy, 32, of Upper Marlboro, was suspected to be under the influence of an intoxicant and subsequently arrested for DUI/DWI.
Despite the bleak outlook, the couple didn't stop working to keep their business going, and with help from the local community they are set to reopen at a new location. It's a bittersweet moment, Aut said, since despite staying open under the most difficult of circumstances he realizes is will take a long time to even come close to the level of business they were doing.
"The insurance won't cover 30 years of loss," he told The Calvert County Times, adding, though, that the community almost immediately came together to help them reestablish themselves.
The crash occurred at about 12:30 a.m. Jan. 6 and it was 14-degrees outside in Owings that morning, Aut said, but that didn't stop other business owners they knew from coming out to help them.
One of the first was Maryland Country Caterers, he said, who provided sandwiches, hot chocolate "and more importantly a place to work," Aut said.
They provided a space in their warehouse for the husband and wife team, along with their staff, to continue filling floral arrangement orders. They had a funeral to provide flowers for the very next day, Aut said, and they couldn't afford to renege on their orders.
Moreover, they had weddings and other engagements for which they had floral orders to fill. Clients offered to release them from their obligations and go find other providers, Aut said, but they refused and continued working to fill orders.
This week they have moved out of the caterer's warehouse and now have a new storefront on Cox Road.
"It's been amazing," Aut said of the community's support. "People have been so generous."
Social media posts about their plight quickly made their way around the country, he said, and other florists soon began sending in money to help them become operational again.
"People just sent checks, $50 here, $100 there," Aut said.
Dwayne Crawford, owner of Family Auto Care, has been central to helping the Floral Expressions crew, Aut said. Crawford said he was one of the first out on the scene of the crash "to give them hugs" of support.
"The Fullers have paid it forward in our community for the past 30 years," Crawford said. "We wanted to let them know they were not alone."
Crawford organized an online auction in which 56 businesses each donated an item for bidding; the end result of the auction was $6,400 raised to help out the Fullers, he said.
For now the Fullers are busy trying to rebuild their business, but they are confident that they will succeed with the help of their many friends.
"We're still here," Aut said. "We're not giving up."