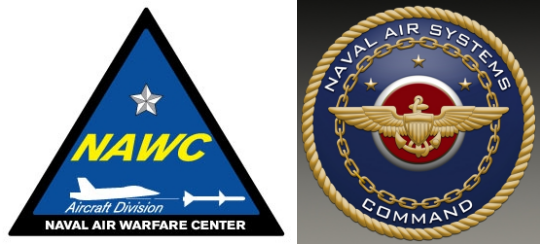 Navy logos for NAWC-AD Aircraft Division and NAVAIR.
HOLLYWOOD, Md.
(Feb. 8, 2016)—Since the construction of Naval Air Station Patuxent River more than 70 years ago, its core mission has always been to research, develop, test and evaluate new aircraft and related systems for the U.S. Navy. But, with the Naval Air Systems Command (NAVAIR) having made its home there, some defense industry insiders worry that the base's image as a hub for engineering and testing excellence has been overshadowed.
It is not difficult to see why. NAVAIR deals primarily in acquistion of weapons and other systems and is a massive $40 billion-a-year entity. The Naval Air Warfare Center-Aircraft Division (NAWC-AD,) which is a subordinate command to NAVAIR, in comparison does $3 billion each year in defense business and is the heir to what used to be the Naval Air Test Center at Patuxent River.
The difference though, is that NAWCAD is where the real work is done to ensure the future of naval aviation, insiders say.
"The perception we're concerned with is that after the BRAC [base realignment and closure] the Pentagon interfaces more with NAVAIR than with NAWC-AD," said Bob Wirt, executive director of the Southern Maryland Navy Alliance and former F-18 test pilot.
"The branding behind the image of naval aviation is getting lost in the quagmire of bureaucracy."
That branding, as a place where naval aviation is king and the chief attraction for work is the chance to actually touch cutting edge aircraft and technology, is important to make sure the best and brightest engineers and scientists, often just out of college, will come to work here.
That continual flow of new talent is needed, Wirt said, not just to ensure NAWC-AD continues to be competitive and relevant but that the country continues to get the best aircraft and weapons it can.
"That, very definitely, is a real challenge," Wirt said. "Getting them to come here."
Apparently, leadership at NAWC-AD is interested in reasserting its imporatance in the scheme of the naval air station, since Leslie Taylor, the executive director at the command, is set to give a presentation this month to the Patuxent Partnership about the importance the activity still holds.
If the brand of NAWC-AD is being obscured by its larger cousin at NAVAIR, then bureacracy and even higher policy is keeping it from reaching its full potential, said County Commissioner Todd Morgan, who for 35 years has worked in the defense contractor industry.
He said that many other government agencies realize the engineering and scientific testing infrastructure NAWCAD has to offer and want to have their project work done here, whether it be drone systems for special operations or border patrol and drug enforcement agencies.
The problem, he said, is that policy at the Pentagon level makes it difficult for funding to be committed to work at NAWC-AD for projects other than naval aviation.
"This is a goldmine waiting to be opened," Morgan told The County Times. "I think they could do more. Our argument is that it's all taxpayer money at the end of the day." Wirt said that personnel at NAWCAD were aware of the limitations they faced.
"Pax River works very hard but not always very smart because of policy," Wirt said. "They'd prefer not to do it that way."
NAWC-AD had to reassert itself, Wirt said, so it could stay at the top of its game both with technology and with those who make that technology possible.
"There is not a technology infrastructure like this one anywhere else," Wirt said. "It's second to none. You never want to get behind the power curve."
Read more local news stories in the St. Mary's County Times at ct.somd.com