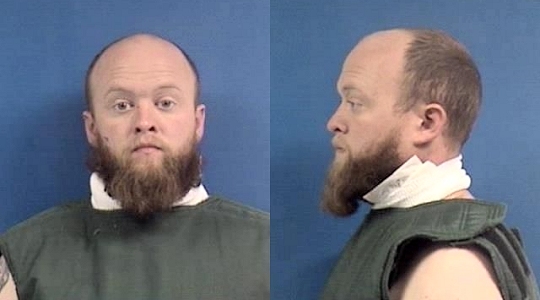 James Stewart Brown III.
PRINCE FREDERICK, Md.
(Feb. 8, 2016)—A seemingly suicidal man took police on a brief chase through Prince Frederick on Saturday after challenging them to shoot him as he held a knife. The man was ultimately identified as James Stewart Brown III, a 34 year-old white male of Chesapeake Beach. It was later learned that Brown had an open felony warrant for multiple sex offense charges.
Police were called to Whirlaway Drive and Gate Dancer Court for the report of a white Dodge Charger which was abandoned. Once on scene it was determined the vehicle was occupied. Police say Brown, the sole occupant, jumped out and stood behind the vehicle's door with a knife in his hand. Brown told Dfc. Wood that he had a knife and that he was just going to have to shoot him. Dfc. Wood was at a safe distance and was able to call for additional units to respond to the scene.
Police say that as additional units arrived, Brown jumped in his vehicle and locked the door while still armed with the knife. Deputies boxed the vehicle in and approached it to attempt to break out a window in order to gain access to Brown. Brown placed the vehicle in drive, drove over a curb, and a pursuit ensued.
Police say deputies perceived impending danger as citizens were observed outside enjoying the weather. Cpl. Phelps initiated a PIT on the vehicle to stop the pursuit and Dep. Mohler assisted by boxing the vehicle in. The PIT maneuver, or precision immobilization technique, is a pursuit tactic by which a pursuing car can force a fleeing car to abruptly turn sideways, causing the driver to lose control and stop.
Police say deputies again approached the vehicle and broke out the windows to extract Brown from the car. Brown was yelling for deputies to shoot him while he held the knife to his neck. Deputies on scene told Brown numerous times to drop the knife. Brown refused and began cutting his neck with the knife. Two deputies used Tasers to get Brown to stop cutting himself with the knife and to comply to commands so he could be taken into custody. Brown was eventually securely detained without injury to any deputies.
Brown had to be transported to Calvert Memorial Hospital to be treated for self-inflicted superficial injuries prior to being transported to the Calvert County Detention Center.
Brown was charged criminally with failure to obey a lawful order and disturbing the public peace. In addition he was charged with multiple traffic violations that occurred during the brief pursuit.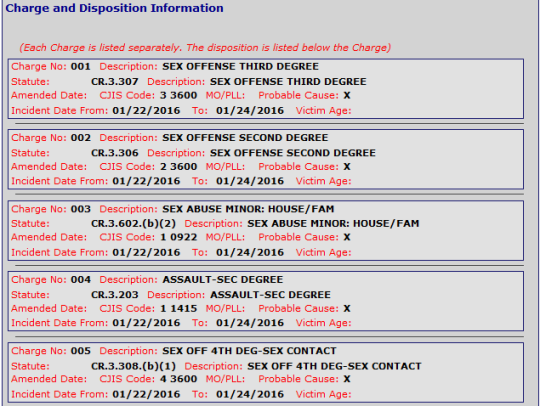 Charges against James Stewart Brown III for which he was wanted. An arrest warrant was issued on Feb. 1, 2016.
Brown was previously charged with assault and four sex offenses, including sexual abuse of a minor. The incidents allegedly occurred between Jan. 22 and Jan. 24, 2016. A warrant for his arrest was issued on Feb. 1, 2016.
Police say witnesses told them that the vehicle Brown was operating had been in the area for a couple of days.
Two CCSO units were damaged during the PIT and Box-In maneuvers which were used to terminate the pursuit. The damage sustained to both vehicles was cosmetic allowing both to be driven from the scene.